In Events on May 28, 2015 - 2:43 pm
2015 Battle Creek Banquet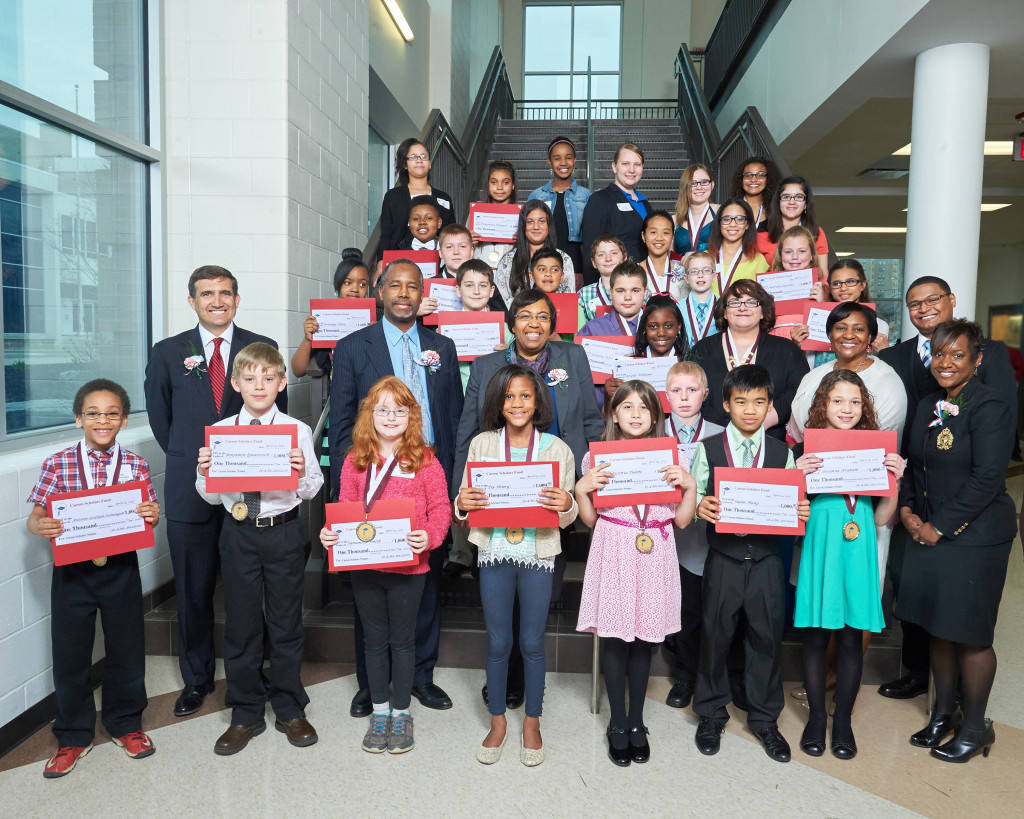 The 13th Annual Battle Creek Carson Scholars Award ceremony was held at Battle Creek Central High School in their multipurpose gymnasium. Several hundred gathered to celebrate the high academic achievement of this year's 27 new Carson Scholars and the 9 repeat scholars.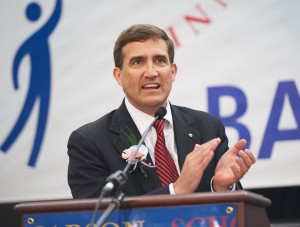 Emcee, Terry Burleson, was the first to congratulate not only the scholars, but their family, friends and supporters as well. A native of Battle Creek, he is currently Program Manager for the Battle Creek College Access Network and co-administers the Legacy Scholarship, coaching the forensics team at the high school in his spare time. He introduced La June Montgomery Tabron, CEO and President of the W.K. Kellogg Foundation.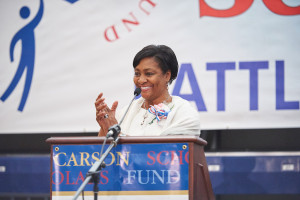 Ms. Tabron spoke of the wonderful opportunity her organization enjoys to be able to help students thrive and the thrill it is to witness the optimal development of children from kindergarten through 12th grade. The Kellogg Foundation has been proud to support the 282 total students who have received Carson Scholar honors over the years. With the theme of discovering promise and rewarding excellence she charged the students to do their best and be their best, because not only is "tonight all about you, but the future is all about you, too!"
The Battle Creek Central Jazz Band, under the direction of Brian Bucec, performed an exciting rendition of the 1940s hit, "In the Mood," by Glenn Miller, which had topped the charts for over 12 weeks back then. The performance was further enhanced with pivoting tenor saxophones in sync with the beat! Three of the band members were Carson Scholars.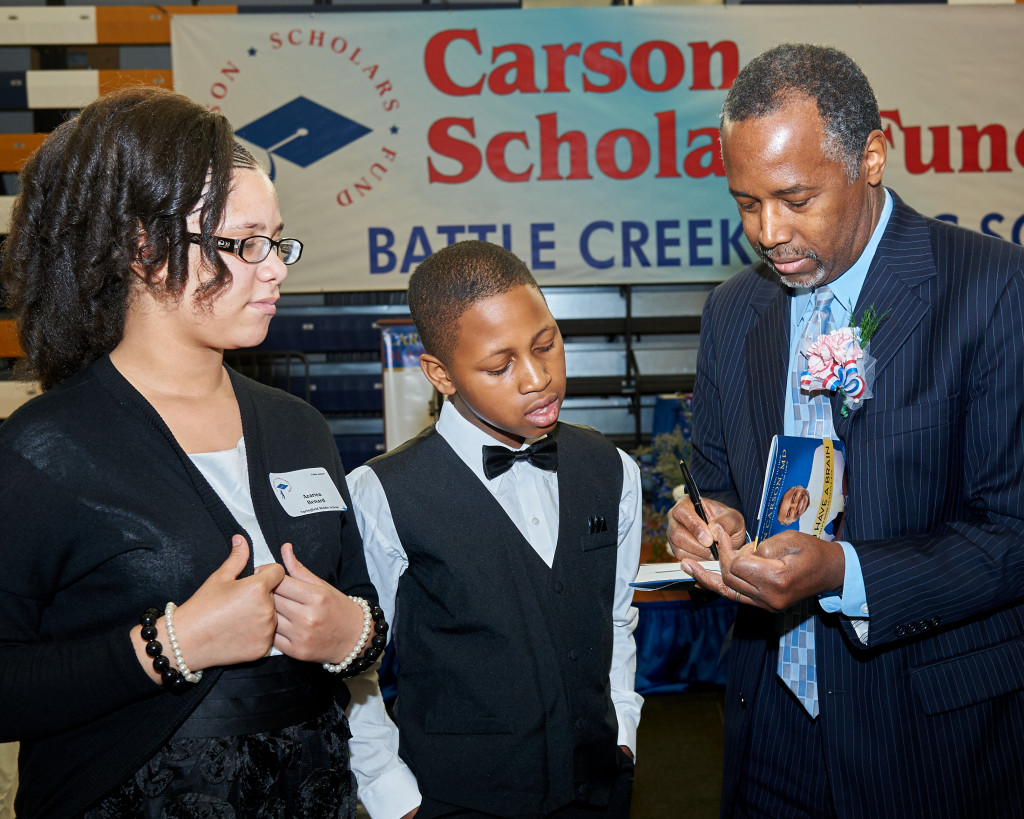 To view the entire photo album, click here.
Mr. Burleson followed with an introduction of the President and CEO of The Kellogg Company, John Bryant. He has an MBA from the renowned Wharton School of Business and has been at Kellogg for over 15 years.
The first thing Mr. Bryant mentioned was how this event is one the highlights of his year and felt it was a privilege to come and be a part of honoring future leaders in this way. He went on to describe Dr. Carson's struggles and how he overcame them to achieve his dream with the help of his mother. He closed with how happy he was to witness the growth of Battle Creek over the years to become a strong chapter with sustained success.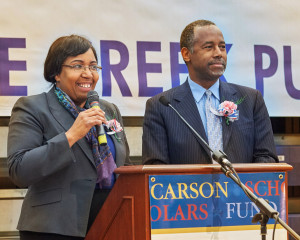 Dr. Ben and Mrs. Candy Carson then came to the stage to thank everyone for the efforts in making the event such a success and the students, families and educators for their dedication and sacrifice for these future leaders. Mrs. Carson described the Ben Carson Reading Room project, how it was started to provide children like Ben the boost he received from his mother's reading program and how it has developed into 131 reading rooms in 17 states and Washington D.C. She actually visited the local one in Urbandale Elementary earlier that day, describing the unique aspects of the room that reflect Battle Creek culture.
Dr. Carson shared the story of his mother's reading program and what a difference it made in his life. After reading about people of accomplishment, he realized the poverty that he hated was only temporary and it was under his control. If he worked hard he could elevate himself out of it! He stopped listening to negative people and he was too busy learning as much as he could so he could elevate himself! He said "that's why there is a caring component in our scholar requirements. Our hope is that you will be our leaders of tomorrow. You can be a different kind of leader, one who cares about other people and isn't always negative. Think about how we can use our collective strengths to solve problems and help one another." He then urged everyone to think out of the box and think compassionately. "You are the hope of our nation. Only with you will we have one nation under God, indivisible with liberty and justice for all!"
"Angel Eyes," another hit from the 1940's, was the next number presented by the Jazz Band, featuring a saxophone solo. Next, the Assistant Superintendent of Curriculum, Ms. Kim Parker-Devauld, started by thanking the Carson Scholars Advisory Board and the Battle Creek Board of Education for their efforts and continued with an introduction of the three specially selected student speakers.
Ariele Williams, a 4th grader at Ann J. Kellogg Elementary School spoke on how she came to love reading. At first she made herself learn to read to prove that she could do it. It didn't take long for her to love reading however and she then described her favorite book. Her conclusion was that reading always makes her feel better!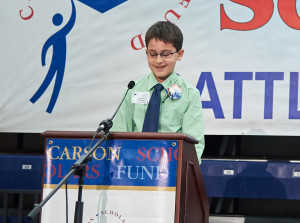 Arion Shabani is a 5th grader at Fremont Elementary who travels around the world with his family. From his travel experiences, Arion feels it is important to help others who are in need. He said "the best way to find yourself is to lose yourself in helping others." He even donates part of his allowance to a church charitable project called Kids Serving Kids.
Mah Sui is a 6th grader at Springfield Middle School who came to the United States three years ago from Burma. She said the most difficult challenge she had in the last three years was speaking and reading English. Most Burmese refugees don't speak English and she took it upon herself to help other refugees who were forced to flee their country to escape the unknown. She feels that hard work is important, because you can overcome any obstacle with hard work.
Mr. Burleson returned to the rostrum to request another hand for the stellar scholar speakers. His comments on how the impact of the Carson Scholars Program is being felt across the country, was an introduction to the video on some scholar alumni who have made their mark in the world.
The last musical presentation by the Jazz Band was the 1980's song, "Abracadabra" popularized by Steve Miller and inspired by Diana Ross.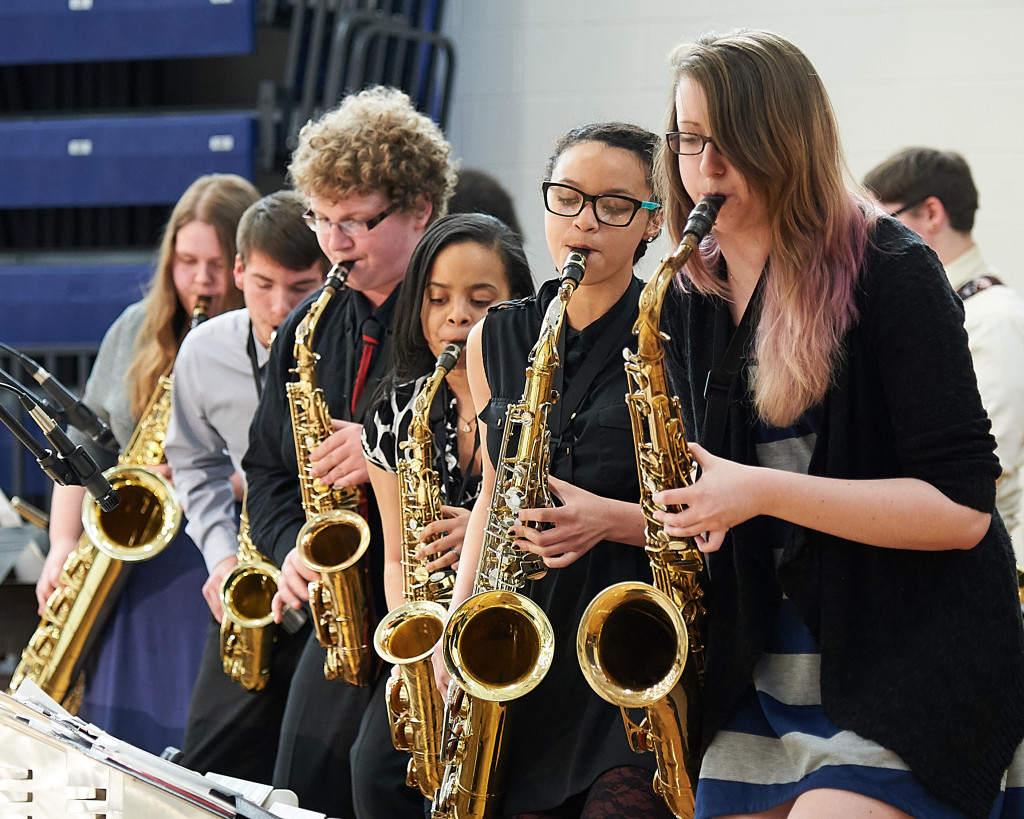 The latest initiative of the scholars program is a new book for young children about Dr. Carson's victory over obstacles.  A dramatic video featuring the book, Anything Is Possible: The Ben Carson Story, played on the screens.
The moment for which everyone had been waiting for had finally arrived! As Mr. Burleson announced each scholar and a few of their accomplishments, Dr. Carson carefully placed their medals over their heads, Ms. Parker-Devauld presented them with their certificate and Mrs. Carson, Mr Byrant and Ms. Tabron gave hearty congratulations with handshakes.
Thank you to W.K. Kellogg Foundation, Kelloggs and everyone for making the Battle Creek Awards Banquet such a success!