In Events on May 9, 2017 - 10:50 am
21st Annual Maryland Carson Scholars Awards Ceremony
Check out this recap of the 21st Annual Maryland Awards Ceremony by Candy Carson.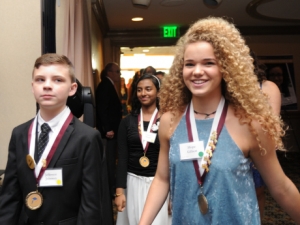 What a fabulous day at the 21st Annual Maryland Awards Ceremony!  The banquet always seems to get better, no matter how great the last time was. The VIP reception was very well done, with smiles all around, and photos with the scholars on the steps ran like clockwork! The students marching in double file were quite impressive and the reaction of the adult honorees just kept getting better as they watched the little ones marching with wide-eyed wonder.
Steve Harvey's jaw dropped as Lena Goldstein brightened the entire room during her opera solo. Michelle Bao, who played piano during dinner, could be a soloist at the Kennedy Center. She performed from a variety of genres like a pro, from classical to modern, and even some jazz. Jennifer Gilbert was a very poised emcee, executing her job effortlessly, and Dr. Nancy Grasmick was as smooth as ever, setting a wonderful tone for celebrating academic excellence.
The banquet was a jam-packed event with the over 280 scholars in attendance with their families,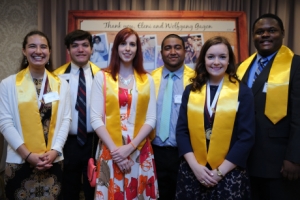 friends and educators. Bringing up the scholars who were featured in the Humble and Kind video was a treat that really displayed this year's banquet theme.  The ceremony of passing the torch from last year's Hall of Fame scholars to this year's was a wonderful touch and the balloon drop along with the confetti cannons at the end really put it over the top!
The charges by the adult honorees were a sort of a crowning glory for the day. Sia Kyriakakos, a successful artist who found another calling as teacher, was a perfect role model for the kids.  Discovering that she had a knack for getting through to less fortunate students and expanding on it….small wonder that she was the 2017 Maryland Teacher of the Year!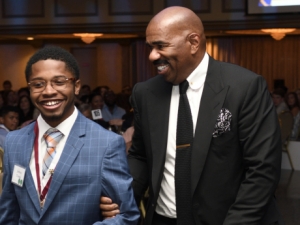 Dr. Tony Nobles, an inventor of over 155 medical devices, spoke on true success:  being valuable to those around you by obtaining more knowledge than anyone else on a subject and using that knowledge to help others. Steve Harvey encouraged the students with a similar message, but in his own unique, down-to-earth, inimitable style.  What a night!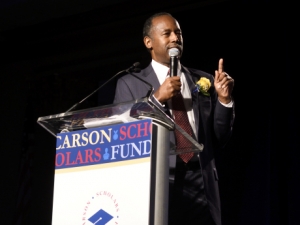 Dr. Carson was also able to share some words of wisdom. When Beth LeFriant shared about the Gagon donation in California, it was clear that everyone felt the electricity in the room!  Having scholars in the audience raise "Thank You" signs in the languages of the donors was another great touch. The day was a huge success all around.