In General on April 28, 2014 - 3:02 pm
Chicago Awards Banquet 2014
The Hilton Oak Lawn buzzed with excitement as the 3rd Annual Carson Scholars Awards ceremony was about to begin in the peaceful suburb on Chicago's south side!
Around 200 were gathered around tables of ten in the Astoria ballroom, named for the oldest settlement west of the Rockies, a nationally significant historic region at the west end of the Lewis and Clark Trail.
As the majestic beats of Rimsky-Korsakov's "Procession of the Nobles" rang throughout the hall, 33 new scholars followed by 13 re-recognized scholars marched from the rear of the assembly to the stage, alternately peeling off to the left and right as they continued their trek to their seats throughout the room. The scholars hailed from Illinois, Iowa, Minnesota, Missouri and Wisconsin, some traveling as much as eight hours by car!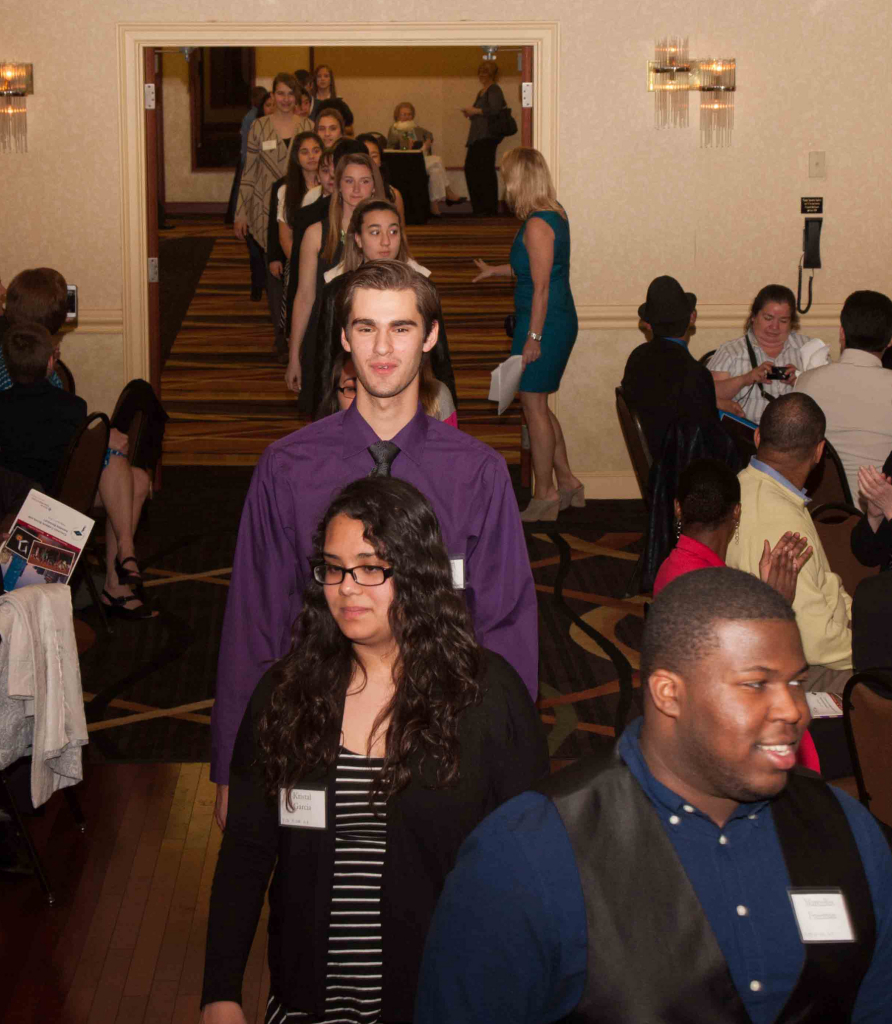 Once seated, the program began with veteran emcee Dr. Sandy Goldberg, host of Chicago's NBC-5 news series "Food for Thought," welcoming the attendees and sharing current statistics on the Carson Scholars Fund programs, revealing the existence of over 6,000 scholars in all 50 states! Up next was two-time Carson Scholar Noah Smith, a 6th grader at Gary Comer College Prep Middle School in Chicago who has dreams of becoming a traveling doctor to help people all over the world. His strong, clear voice led the audience in the Pledge of Allegiance.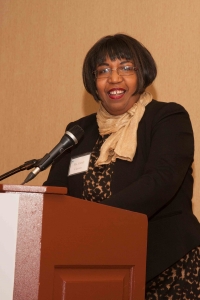 Candy Carson, co-founder of the organization, followed with how nice it was to be back in Chicago and on a sunny day (especially after the Polar Vortex that was the start of a long winter of extreme temperatures and record-breaking snowfalls)! That morning, she along with some CSF staff, and representatives from Advocate Christ Medical Center visited Covington School and Hannum School, two of the three Oak Lawn-Hometown District 123 Ben Carson Reading Room locations that would be opening that day. Later in the afternoon, Dr. and Mrs. Carson visited Hometown School, the host site for the Oak Lawn-Hometown reading room opening day festivities. In her description of the beautifully decorated and appointed rooms, she didn't leave out the fact that although the physical books aren't as many as traditional rooms, the organizers utilized some of the funds to provide access for more students by subscribing to 400 rotating electronic books. These would be available to the students of all six schools in the district, not just the ones who had a physical reading room installed! On behalf of the Carson Scholars Fund, she thanked Oak Lawn-Hometown District 123 Superintendent Dr. Paul Enderle, Principal Katy Spreitzer, Principal Kelly Zimmerman, Principal Anne Marie and their staffs for all their hard work and dedication.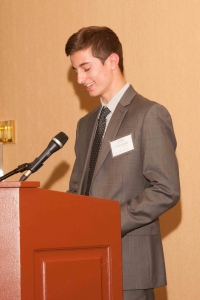 2014 scholar, math whiz and tutor, John Calzaretta, is a junior at Carl Sandberg High School in Orland Park, Illinois. As he prayed, he expressed his gratitude for the opportunities that God had put before everyone. Requested blessings on the evening and meal as well as the less fortunate were followed by a plea for the empowerment of God's Spirit to enable everyone to achieve great things in the future.
All eyes were then directed to the huge 20-foot tall screen in the corner, where every single one of the 2014 Carson scholars was featured, while dinner was served on cloud-white tablecloths with shiny royal blue satin table runners.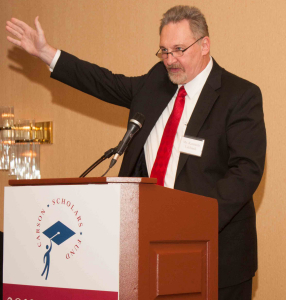 Ken Lukhard, president of Advocate Christ Medical Center ascended the podium after being introduced by Dr. Sandy as not only a staunch supporter of both arms of the Carson Scholars program in the Chicago area, but as the leading donor, who started the Chicago chapter three years ago. His commitment has opened new worlds to thousands of children through all the reading rooms and scholars who had been recognized over the years. He even serves on the national board. After joking about the on-going billiards tournament that he and Dr. Carson are engaged in, he began his talk with how we all wear hats. As an example, he enumerated the hats that he wears in the order of importance:
He is first and foremost a Christian, recognizing #1, that there is a God, and #2, that he is not Him!
He is a husband, and he introduced his constantly supportive wife Carla of 33 years who was present
He is a father of seven successful young people
He is a grandfather of three, with one on the way!
He is President of Advocate Christ Medical Center
He continued with his initial meeting with Dr. Carson through the National Day of Prayer event at his hospital. From that meeting Ken caught Dr. Carson's vision of keeping America strong by helping build the next generation's character & intellectual talents–a new "hat" that he enthusiastically embraced. He ended his remarks with a plea for other parties to contact him, who would be interested in helping take Chicago to the next level in this effort to shape lives in a profound way.
Central Academy 9th-grader and 2014 scholar Jade Miller is actually a published author of a children's book, "Sybil's Ride of Courage." This 14-year-old and her parents drove six hours from Des Moines, Iowa for the event. At this point in the program she favored us with a beautiful piano selection which happened to be one of her favorite pieces, the plaintively melodic "Cristofori's Dream" by David Lanz.
Alumni scholar, Patrick Reilly, first received his scholar recognition in 2012 when he was in high school in Wilmington, Delaware. He is currently a student at University of Chicago, majoring in history and enjoys non-fiction and political writing, including articles for the student newspaper. Once on the rostrum, he reminisced about the scholarship process in which the essay portion kindled his interest in writing and convinced him that it's his vocation in life. He shared how he appreciates the premium Dr. Carson has on giving back to others, even though he has accomplished so much, and plans to commit to doing the same wherever his career takes him. With congratulations and wishes for success and growth to the other scholars, he exited the stage.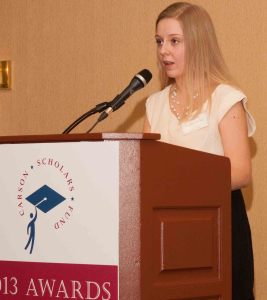 Future neurologist Vanessa Kalinowska is a 2014 Carson scholar and is in the 11th grade at H.L. Richards High School in Oak Lawn. In her introduction of Dr. Carson, she cited several of his most impressive accomplishments and gave a short history of the Carson Scholars Fund. She spoke of how Dr. Carson has not only inspired thousands but had truly done the same in her own life, where she strives to be the best that she can be in whatever situation she finds herself.
Early in his speech Dr. Carson stated there are two types of people: 1 – those who take responsibility and 2 – those who always have someone else to blame. His mother was one of the first types and instilled that same attitude in her sons. She never had the victim's mentality and never felt sorry for herself. He jokes that the problem was she never felt sorry for her sons either and always responded to any gripe, "Do you have a brain?" And if the answer was "yes," then she would say "Then you can think your way out of it!" She came up with ingenious solutions to problems as well, for example purchasing used clothing at a charitable store and repairing the flaws in a creative way so that others even wanted one like it! Or driving the family to the country on the weekend and asking a farmer if they could pick four bushels of corn, beans, strawberries, etc., three for the farmer and one for the family. Most farmers really liked that deal! She'd take the fresh produce home and can it so that they'd have plenty to eat year round!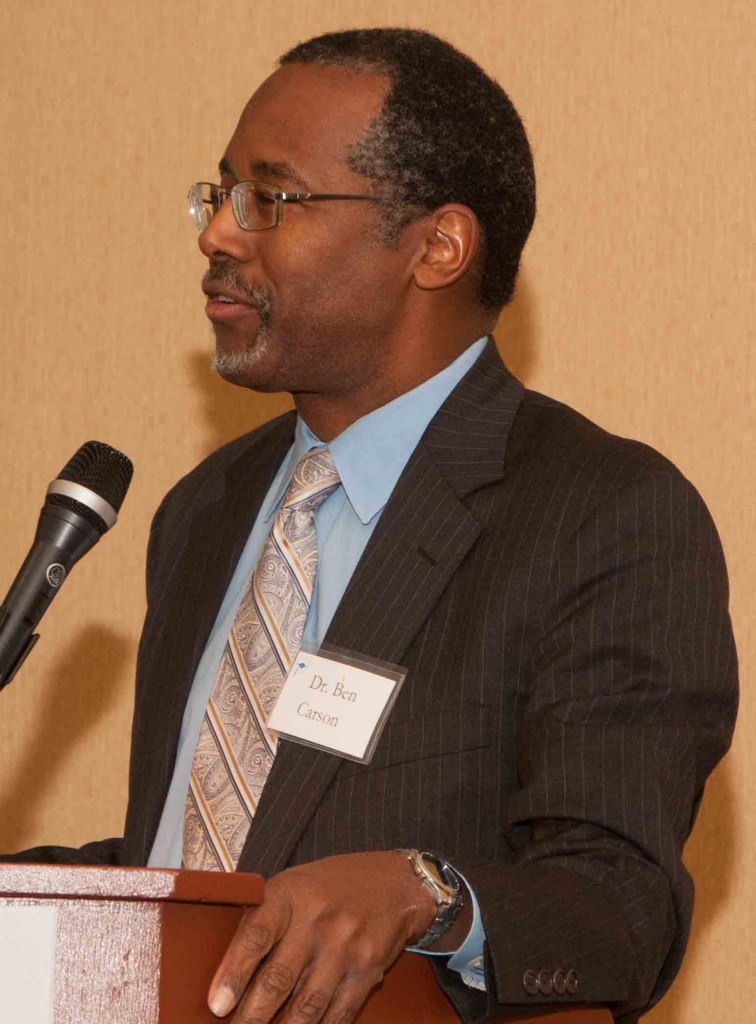 Dr. Carson proceeded with these thoughts that like his mother, "We not only need to take responsibility for ourselves, but we have responsibilities for those around us. And one of the keys to survival of America is to learn how 'we the people' are not each others' enemies. We need to learn how to work together to maintain this exceptional nation. And we are looking to you young people to get us back to 'One nation, under God indivisible with liberty and justice for all!'"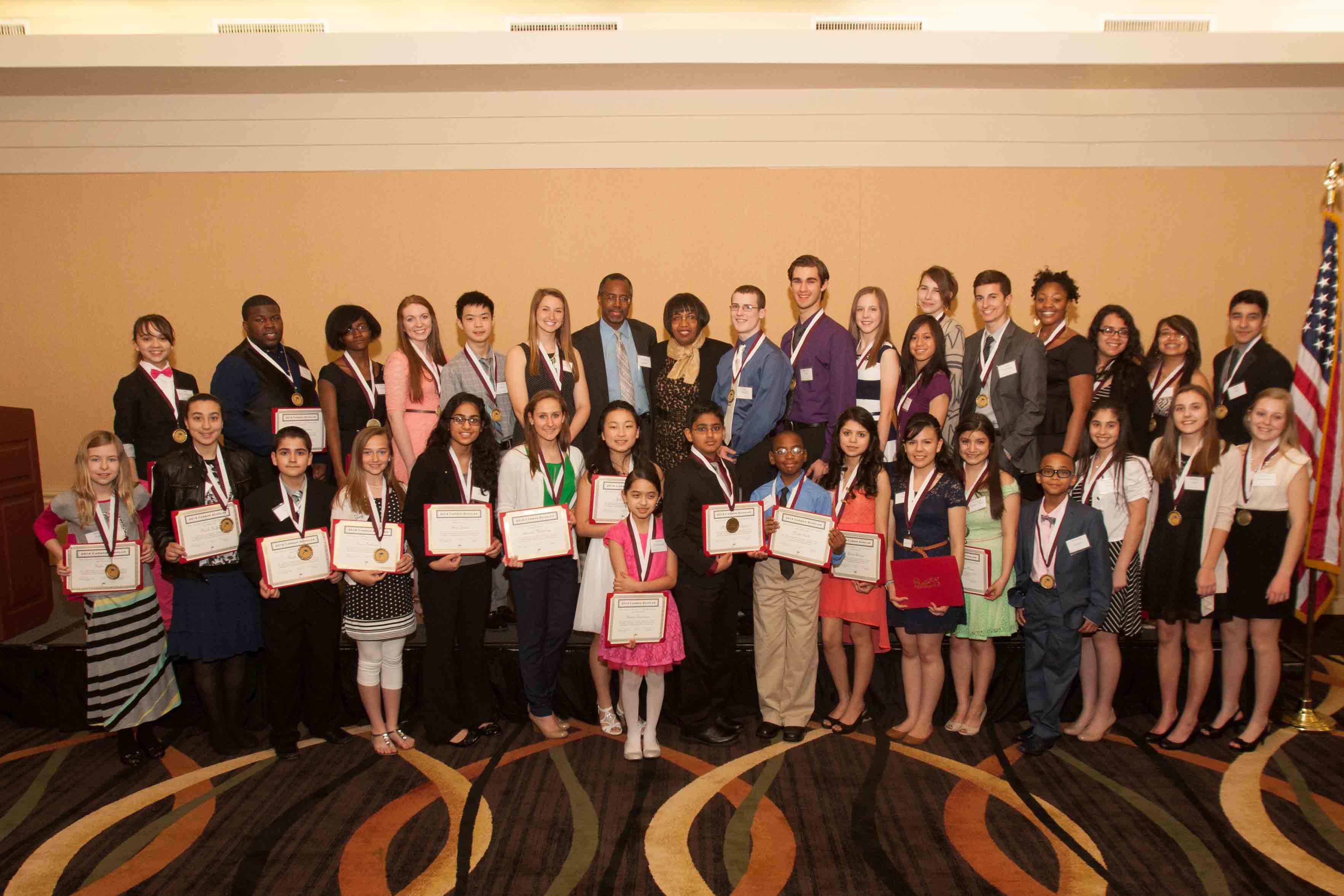 The scholar awards followed. After Dr. Sandy called out the names of the scholars, each approached from stage right to have their medal placed over their fancy hairstyles by Dr. Ben, followed by the presentation of their certificate by sponsor Ken Lukhard. Candy delivered her signature hug just prior to their exiting the stage.
After the scholars' glowsticks waving in celebration to the tune of "The Impossible Dream," the lights went up and the glow of the evening continued to shine in each scholar's face." Group photos taken on the stage were followed by hearty congratulations from all attendees!
Many thanks to Advocate Christ Medical Center and The Bonner Family and all who made this possible!
To see more pictures visit our Facebook album for the 2014 Chicago Awards Banquet, here.