We've come of age! It was the 18th Annual Carson Scholars Banquet to be held in the state of Maryland, celebrating the scholastic accomplishments of 166 new students and reaffirming the accomplishments of 141 more!
The huge square screens came to life as local Fox 45 anchor Jennifer Gilbert began broadcasting for the Carson Scholar News Network with on-the-scene reporter Caitlin Seluzicki, a seven-time Carson Scholar winner and graduating senior.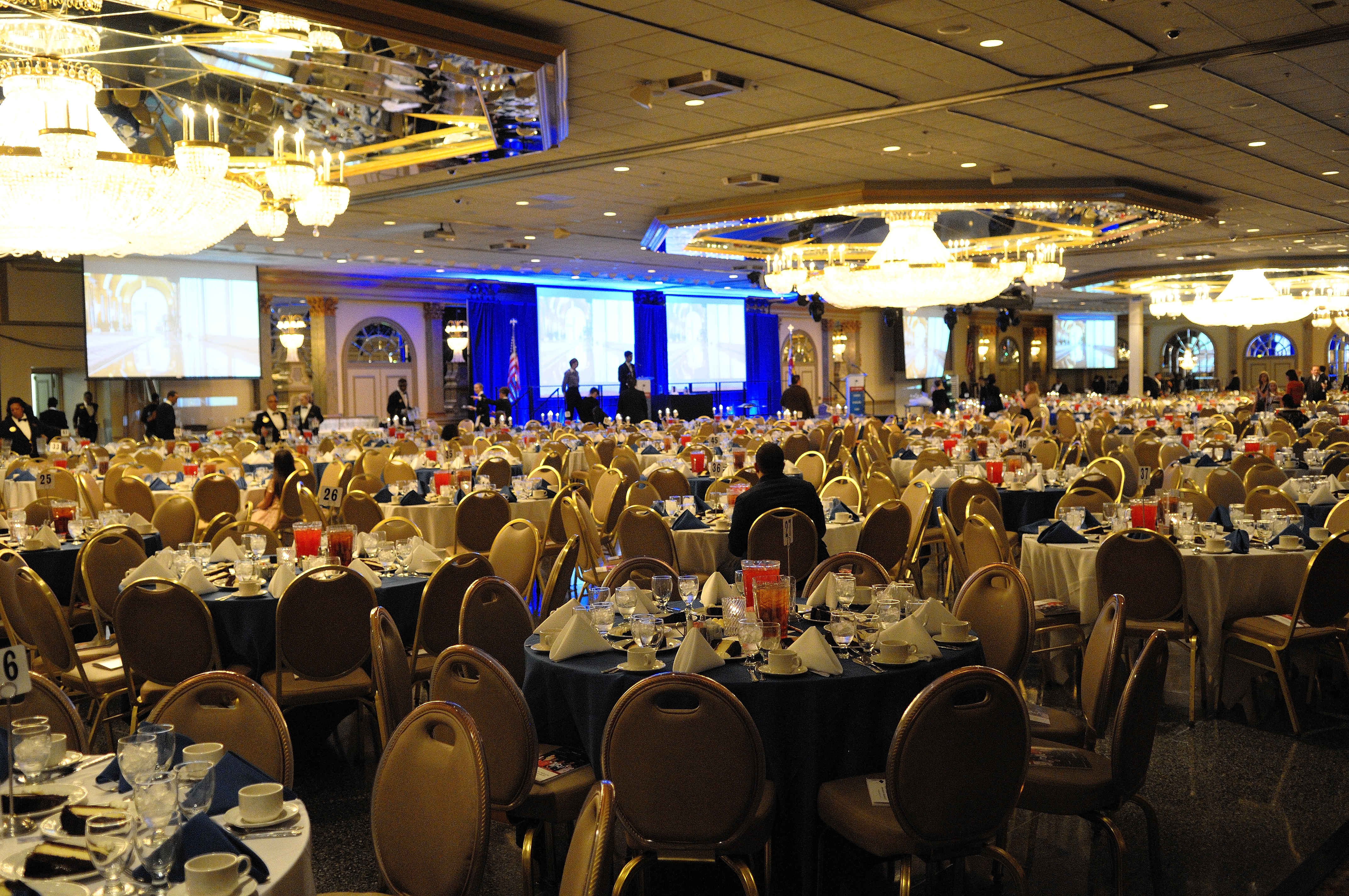 The brilliantly sparkling chandeliers paled in comparison to the brilliant, sparkling character and academic excellence shining through these students! Marching in double-file from the rear of the ballroom to the tune of the Carson Scholars Fund signature musical processional, Procession of the Nobles by Rimsky-Korsakov, the wonder of the recognition was reflected on the brightly intelligent visages of the students, the youngest of whom were only nine years old! One young lady recovering from a sporting accident processed in her wheel chair, and another young student was even using a walker, but he steadfastly made his way forward!
Four-year veteran emcee Sam Donaldson's welcome included the 2014 national statistics of 510 new scholars and 704 students who re-qualified for the high academic achievement award, bringing the total to over 6,200 scholars in all 50 states! His unique brand of humor shone through again in his comments.
Five-time Carson Scholar and future sports management entrepreneur Thomas McCusker is a 9th grader at North East High School who led the Pledge of Allegiance. He was followed by Kent County High School senior, Peyton Chance, a five-time Carson Scholar who currently serves as a student member of the Kent County Board of Education. His unique tenor voice resonated throughout the hall as he warmed our hearts singing his own rendition of the National Anthem a capella. Sam then called forward JorDonna Frazier, another five-time Carson Scholar who attends the Academy of Health Sciences as an 11th grader and plans to become a forensic pathologist. She gave a heartfelt blessing over the meal and event, expressing gratitude for the opportunities to be there and for all the people who made this possible.
During dinner, the room was filled with the classical stylings of Emily Cornett's cello, accompanied by her mother Eileen on piano. This high school junior, from the Baltimore School for the Arts, is a new 2014 Carson Scholar award winner.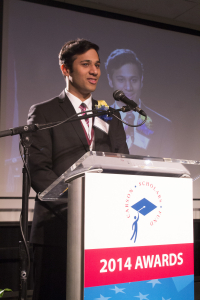 Business Insiders magazine had named the next scholar to be one of the 25 most impressive high school graduates! Shaun Verma, a freshman and pre-med student at Johns Hopkins University pursuing a degree in public health, is a two-time Carson Scholar winner. Shaun shared stories on his life, how he came to this country at the tender age of four and always had to take English as a second language. He made his appreciation known for the Carson Scholars Program and for being the first to receive the Legacy Award. He said hard work and faith are two key components to have in one's life because he felt that anything is possible if you put your heart, mind and soul into it. The 501(c)3 he started when he was 15 for bringing together healthcare professionals with middle and high school students – all with a special focus on the underserved communities – demonstrates his philosophy of sharing his talents with others who are less fortunate.He closed with an admonishment to his scholar siblings to believe in yourself to make your dreams come true!
Brand new 2014 scholar and 7th grader, Sophia Hartman was up next and hails from the legendary Magothy River Middle School. This school was not only the first to raise its own endowment, but the dedicated staff and students worked hard to make it the first to raise two endowments!As she introduced Dr. Carson, Sophia in her sweet style, quite comprehensively described her personal hero.
To introduce the next segment of the program, the screens took on new life, as videos depicted adult role model honorees of years past. Among them were General & Mrs. Colin Powell, NFL Football legend Art Modell and his wife Pat, the Baltimore Ravens amazing clutch kicker Matt Stover, Aramark founder and CEO Joe Neubauer and his wife Jeanette, Jerome "The Bus" Bettis, JB James Brown of Inside the NFL and Dr. Francis Collins, head of National Institutes of Health.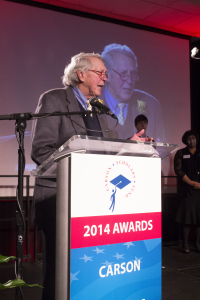 The first adult award was presented by Mr. & Mrs. Henry Rosenberg, who won the Generous Heart award in 2006. They noted some of the astounding accomplishments of former Oriole 3rd-baseman Brooks Robinson's 23-year career. In his address, Brooks stated that he was not a great player, but he had a passion for succeeding and determination. So the Sonya Award, which is presented to a person who demonstrates the determination and drive of Ben's mother, was very appropriate. Born in Arkansas, Brooks came to Baltimore at age 18, signing on with the Orioles in one of their minor league teams. But the results of his hard work and determination moved him to the majors in less than a year! He continued his determined efforts to become the best 3rd baseman ever in the field of baseball, earning nicknames like The Human Vacuum Cleaner and Mr. Impossible (for his amazing catches and his clutch hitting)! He was voted into the Hall of Fame with over 90% of the vote and has won numerous other awards including, 16 Gold Gloves, and now serves on the board of the Hall of Fame! He and his wife Connie give back constantly to charities across the country.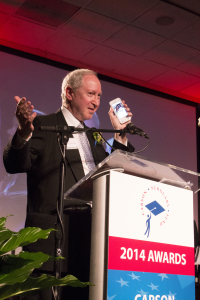 2002 Sonya Awardee, Dr. Nancy Grasmick, the former Maryland State Superintendent of Education who earned the distinction of having served in that capacity longer than anyone else is US history, introduced the next honoree, who shares her passion for education. The Leadership Award is given to someone who positively impacts society with innovative ideas, accomplishments and philosophies of encouraging others and giving back. Entrepreneur Aubrey Chernick certainly fits the description. Born in California, Aubrey was raised in Manitoba, Canada and earned his chemistry degree there. Although he was fired from his first job after only three months due to down-sizing, he did not view this as a loss, but saw this as an early advancement onto the next step in his career. It was during his work installing IBM mainframe computers, that he came up with his first innovative software program that filled a vacuum in the industry. Several programs later and with hard work, determination, and perseverance, his products are now utilized in 75% of Fortune 500 companies! He charged the students to not listen to negativity and to be aware of the various perspectives of others. How people think determines the way they do things, and he gave examples of how an action man, an idea man, a details man, etc. might clash on a project due to their various ways of viewing things, for example the action man might get frustrated with the idea man who would keep coming up with different ideas with the final decision continuing to be delayed.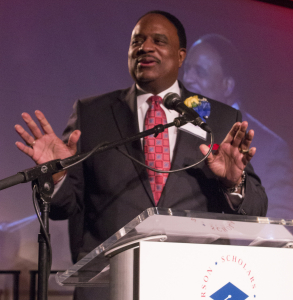 JB James Brown, winner of the Leadership Award several years ago, introduced the last honoree, who would receive the Power of Excellence Award. This honoree was someone that most had seen in their living rooms growing up, since he acted in the hit sitcom Growing Pains, and in several movies. Cited for his integrity and high morals in an atmosphere highly lacking such virtues, Kirk Cameron continues to serve his country and world through various humanitarian efforts.
Kirk's remarks to the students included praise of their success, and also what general reactions to that success might be. He said that when you stand out, you must stand up. There will be those who feel they must try to bring you down with ridicule and in other ways, but he encouraged the scholars to follow their dreams and remember that with God all things are possible!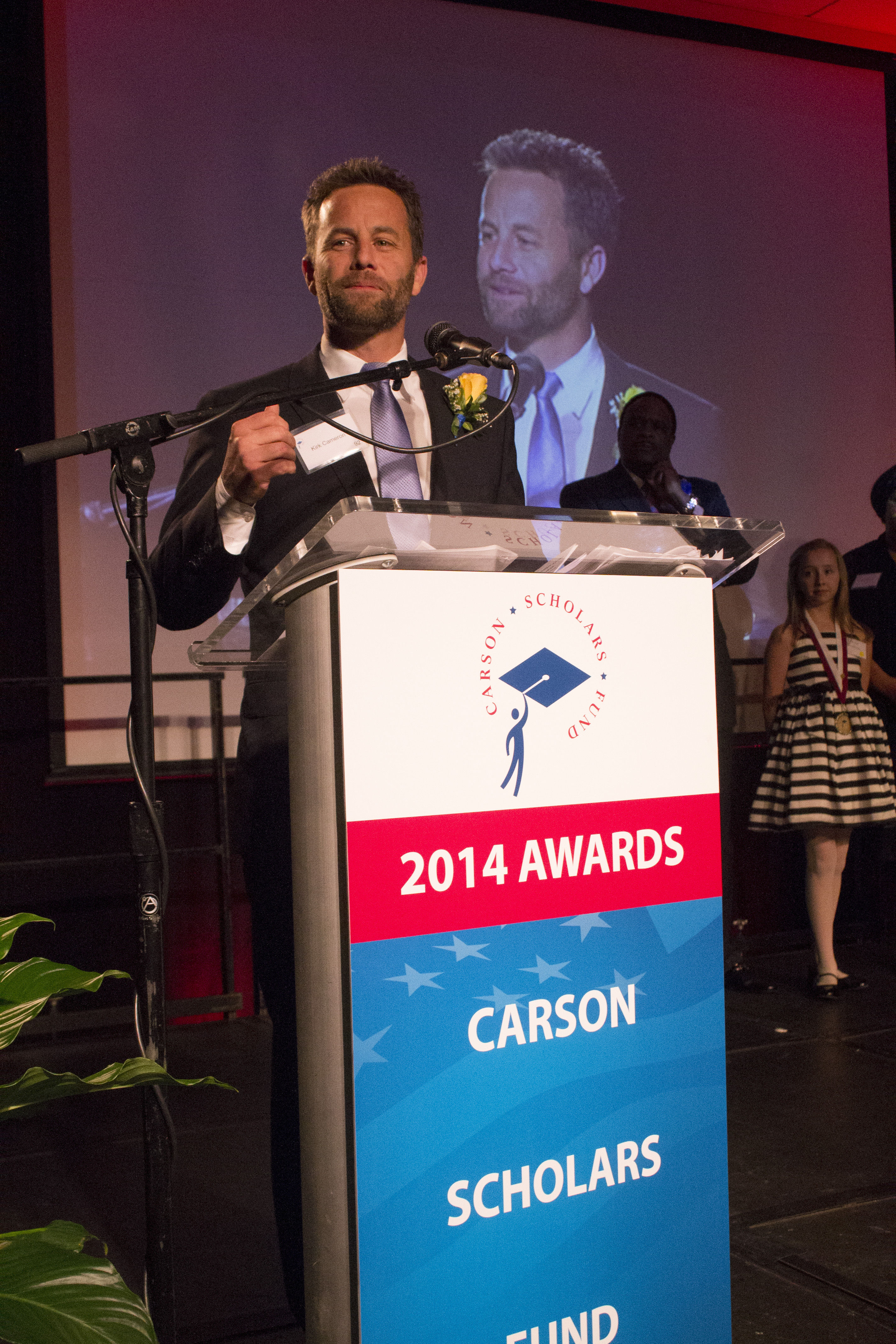 Everyone's attention was directed to the screens as sponsors, board members and CSF staff were thanked visually.
Dr. Carson spoke of his poverty-stricken formative years and how he overcame many obstacles to become a success in school and his career. He challenged the students to go where no one has gone before,to not be afraid to trailblaze and remember to not heed negative advice. In his conclusion he asked them to have courage to stand up for what is right.
This time when we were directed to the screens, the repeat scholars photos and school information was displayed to reflect their continued academic success. Several had won six times or more!!
As Sam announced that the time we had been waiting for was here, Ben and Candy crossed to the opposite side of the stage and the recognition of the newest scholars began! As a scholar's name was intoned, that student stood proudly at their table. At the end, as The Impossible Dream played overhead, glowsticks were waved by scholars signifying their shining contributions to society as role models for their peers.
Our deepest appreciation must be expressed for all who made this possible – for the excellent and highly competent staff at Martin's West, for our security expert Chief Stewart Russell, the sound system engineers, photographers, volunteers, the dedicated and hard-working Carson Scholars staff, the Carson Scholars board, the parents, educators, and students themselves, our generous sponsors and donors, and the friends of scholars who lent their support to help them achieve at such a high level!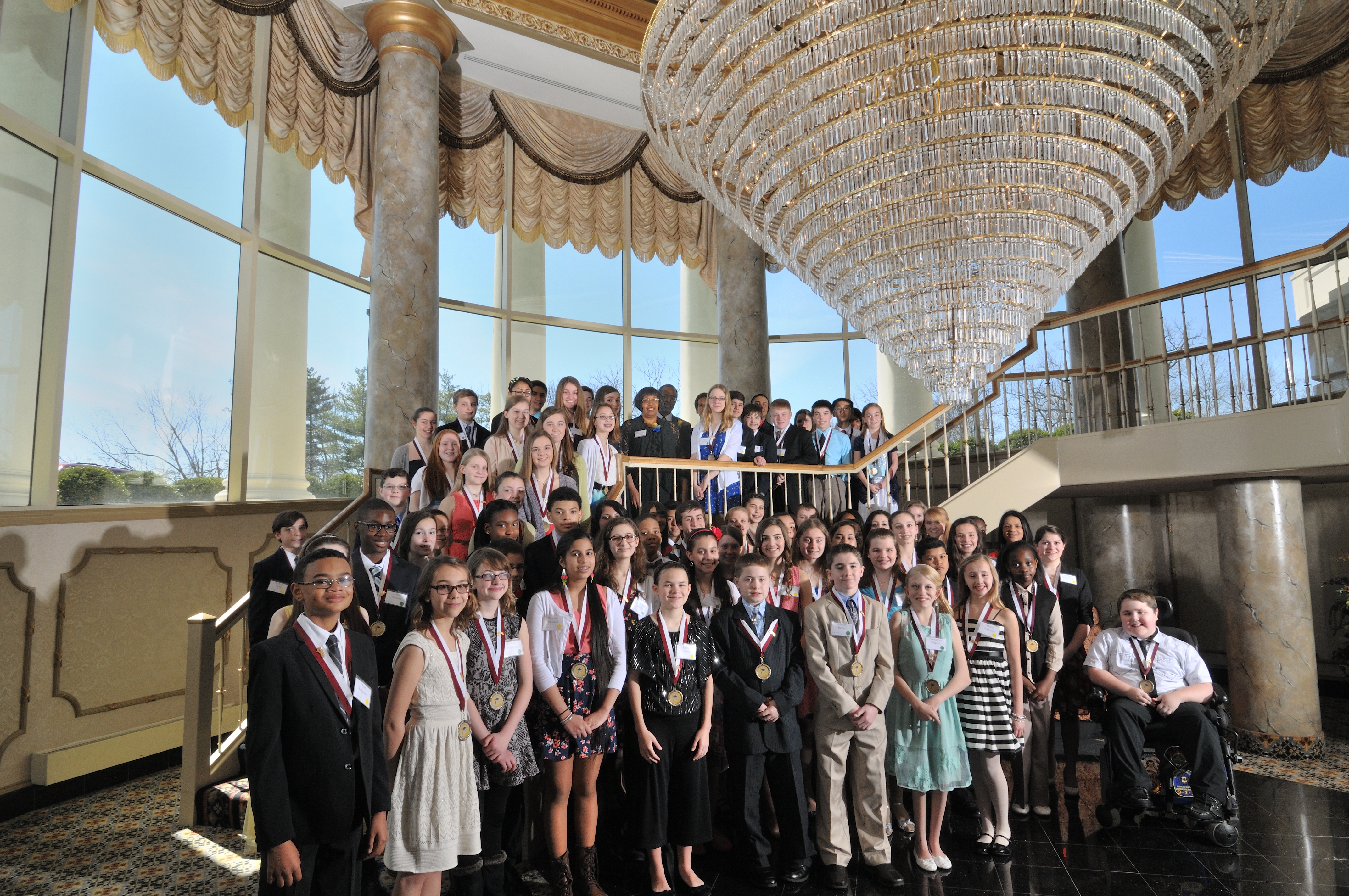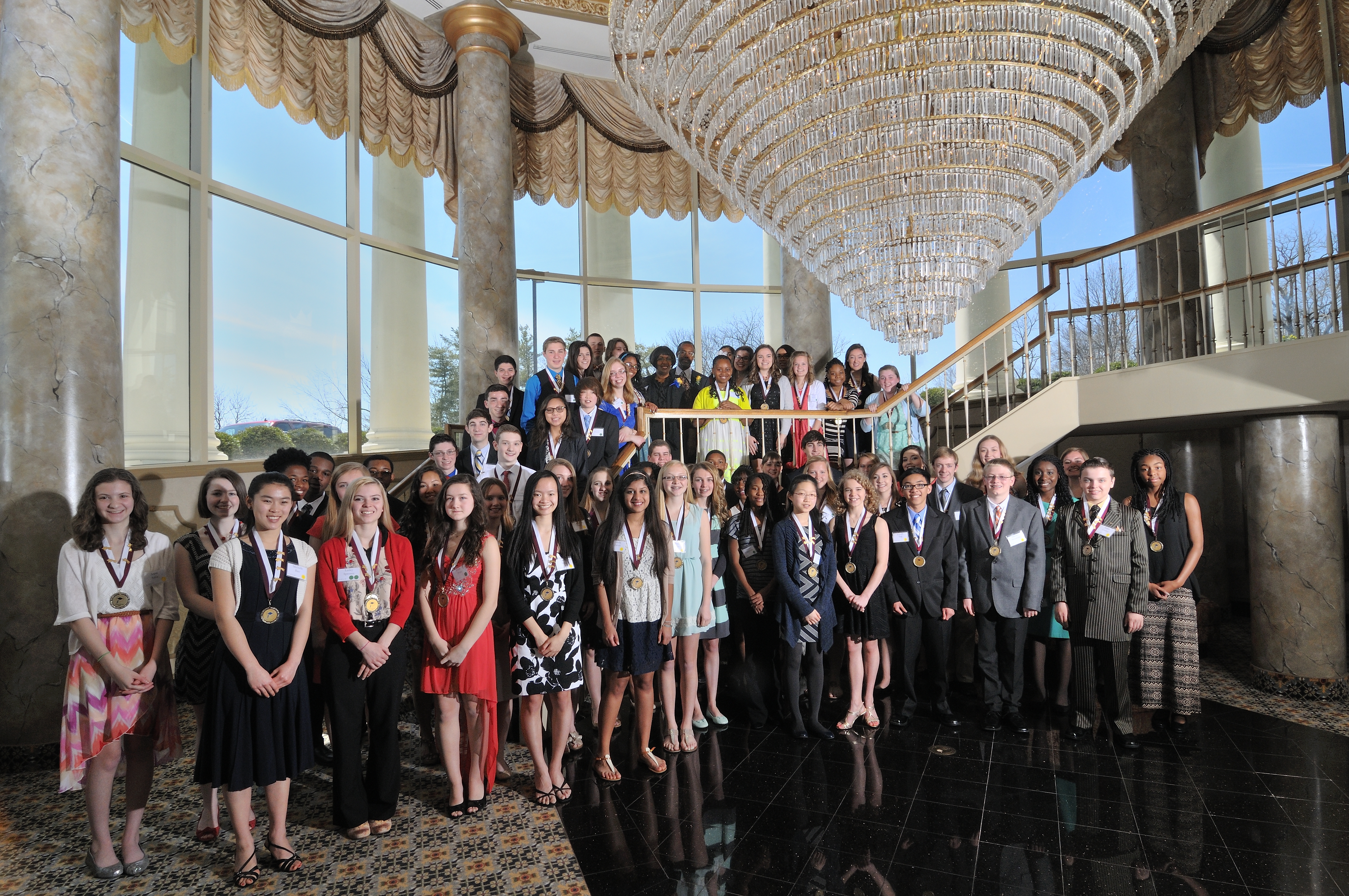 And we must thank our Carson Scholars who escorted our dignitaries to the rostrum:
Travis Brummert, 2014 scholar from Windy Hill Middle School
Tyler Dixon, two-time winner, La Plata High School
Steven Isett, five-time winner from Hereford High School
Skylar Podroza, two-time winner from Matapeake Middle School