In Scholarships on August 17, 2017 - 4:37 pm
Donor Spotlight: Tony Rose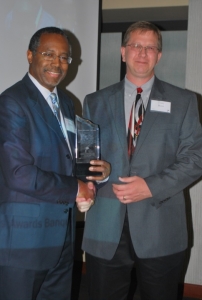 Mr. Tony Rose and his wife Sandy have been proud, committed supporters of the Carson Scholars Fund since 2013. Mr. Rose works as a Division Controller for ITW/Hobart, a food equipment manufacturer and service provider in Troy, Ohio and has previously been honored by the CSF with the Trailblazer Award for his pioneering spirit and his positive impact on society.
Mr. Rose has always had the urge to give back to the community and help others with his time, talent and resources. As his children grew, he learned to coach various sports, lead Boy Scouts and contribute to good causes. As his professional life flourished, he learned the satisfaction of lifting others up to their full potential. Over time he began to adopt a few tenets such as "to whom much is given, much is required", "give until it hurts", "if you see something good, help it grow", and his favorite local saying "come when you can, leave when you must". Eventually Mr. Rose realized that he had more to offer and started to look for a bigger way to contribute to society.
His new drive led him to serve on city council, run for school board and start thinking about his legacy. Prompted by his employer's generous charitable matching program, he began researching what it would take to start up a scholarship program, which led him to the Carson Scholars Fund. After stumbling upon CSF, Mr. Rose recalls thinking,
"What a novel scholarship concept! Recognize the scholar and not just the athlete; recognize the student while they are young and creating their path in life; recognize the student that can influence more students in the class room; recognize the student for their community involvement; and finally, reward this amazing student financially. You see, it is much more than just a scholarship and it matched perfectly with my goals."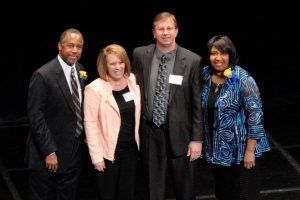 From that point on, Mr. Rose began working with the Carson Scholars Fund to create his own endowment, with the long term vision of creating one for the school that he grew up in, one for the school that his wife grew up in, and one for the school that his children attended. Learn more about endowments.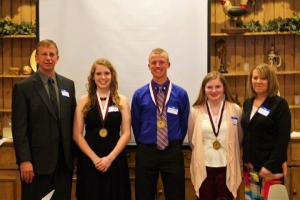 The Carson Scholars Fund is extremely proud to announce that Mr. and Mrs. Rose have now completed their three endowments, the Rose Aspiring Minds & Character Scholarship Endowments. They currently have nine Carson Scholars! Mr. & Mrs. Rose have made a profound impact on the Ohio region that will be felt for many years to come.
"I've been able to meet Carson Scholars at ceremonies in Indiana, Illinois, and Maryland and I've met the Hall of Fame Scholars. Trust me, these kids are absolutely AMAZING! I have no doubt these young adults will do incredible things and it is very rewarding to be a small part in helping it grow. I don't share this to boast, but I hope my personal story inspires you to reach beyond your current limitations and to THINK BIG."