In Reading Rooms on May 19, 2014 - 11:52 am
Flint, Michigan – Richfield Public School Academy Reading Room Opens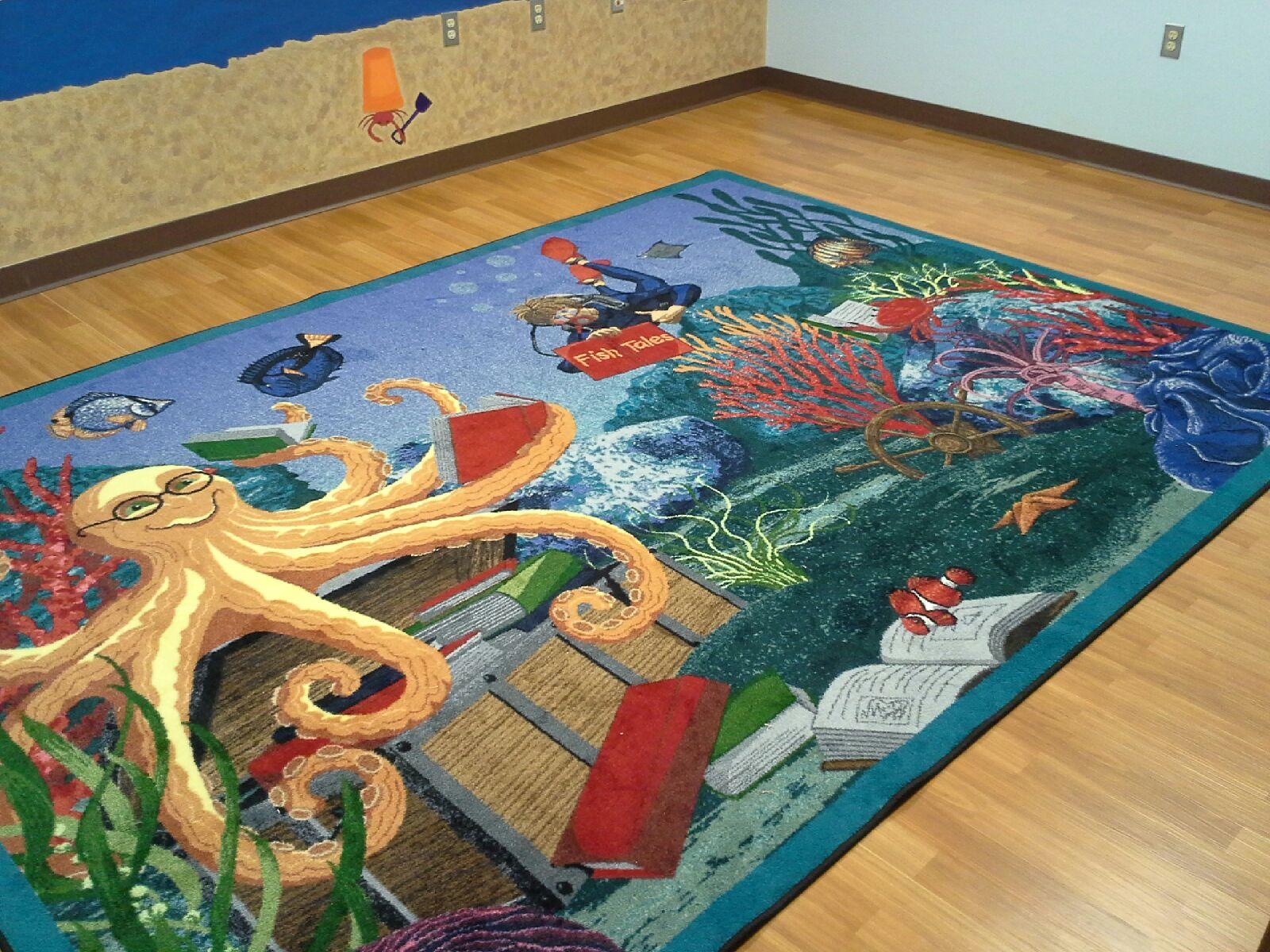 The rain had been steadily pouring all morning on the Michigan landscape, but it did not put a damper on the enthusiasm at Richfield Public School Academy in the centrally-located city of Flint. This public charter school was started by the Bay Mills Community College under a statute signed into law in 1994 by then governor John Engler. Bay Mills Community College, established by the Native American Bay Mills Tribe of Michigan's Upper Peninsula, has initiated several academies like this to improve public school students' academic success so they would be better prepared for college.
In the multipurpose gymnasium the children were seated by classes on the shiny oak floor, in seas of green, gray, cobalt blue or magenta T-shirts. At the rear of the room, behind the seated students, a group of cafeteria bench-tables had been converted by raising the table to a vertical position to be the backs of benches for the adult guests. Committee members and program participants were all settled on the dais.
The program began as Principal Angela Boyd gave a very cordial welcome to all and she invited Jalen Key to the stage.
Next, everyone stood to recite the Pledge of Allegiance, capably led by Jalen, a sixth-grade student.
Superintendent Pamela Haldy brought greetings from the department of education and spoke on how reading, the foundation of learning, played an important part in her life, spurring her on to not only academic success, but success in her career as well.
Introductions of special guests were made by Mr. Robert Wright, the RPSA Board President. These included Amanda VanKuren, Linda Lukken, Angelea Wilborn, Julie Hopper and Judge Jennie Barkey. Mrs. Carson's sister, Cerise Tounsel and friend Denise Marshall Walker, both consultants with Detroit Public Schools; and Dr. Jose Valderas, Field Representative for Bay Mills Community College were in attendance as well. Mr. Wright thanked the board and others involved and remarked how important reading is to opening new worlds and horizons. You can be anything you want to be, by reading and learning.
Mrs. Candy Carson, co-founder of the Carson Scholars Fund began her talk with the power of our amazing brains and how we can process two million bits of information per second with the fourteen billion cells and connections we have in our heads. She continued with a story of one of her husband's hemispherectomy patients. This child's condition could only be remedied by surgically removing half of her brain. However, the portion that was removed was the part where logic is processed. Post-surgery, concern over how she would do in math was uppermost in her parents minds. Yet this young eleven-year-old studied so hard over that school year that she had the top math scores in her class with only half a brain! Then the question, If she could do that with only half a brain, what can you do with a whole brain and a little determination, gave the students something to think about.
In a video, Dr. Ben Carson personally thanked everyone who contributed to the success of the reading room. He then spoke of the exciting experiences one can enjoy while reading and taking trips with new friends in books and learning about all kinds of things. He concluded with his charge that the person who has the most to do with what happens to you is you! You decide how much energy and effort you put into preparing yourself for the future and can reap the benefits of such endeavors for several decades!
In a special performance, several sixth-graders fearlessly mounted the stage one at a time to share their personal takes on the importance of reading and thinking big!
In closing, reading room committee member Mrs. Krista Ketterer expressed her appreciation for all the efforts that went into making the reading room a success.  Volunteers, sponsors and contributors were all asked to stand and be recognized.  Her invitation to the audience to join her in the library for the opening was met with enthusiastic anticipation!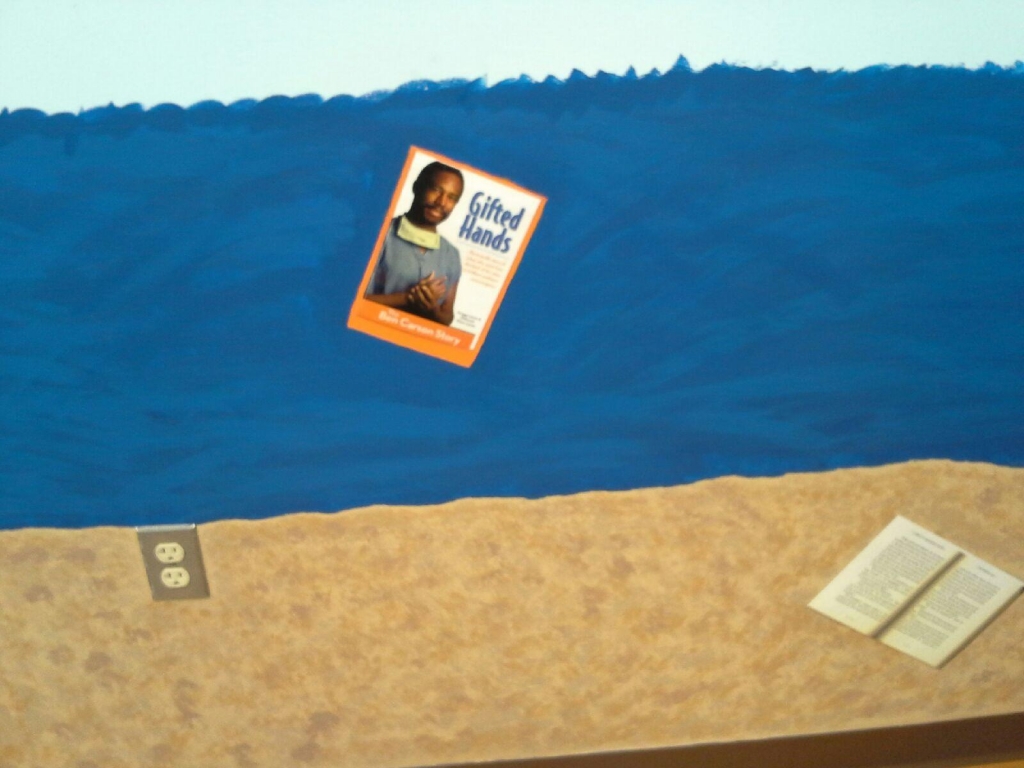 At the rear of the library a new window had been installed to draw everyone into the reading room! Framed with crisp, bright yellow curtains and decorated jauntily, it made all feel welcome to enter the new Ben Carson Reading Room that had formerly been used for storage.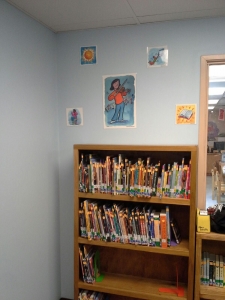 The vacation theme was selected for the room to provide for the students what they might not otherwise enjoy a day at the beach! Most impressive was the fact that almost all the renovations (goods and services) on the room were donated! From the newly installed window and the Pergo flooring donated by Smith and Smith Carpet to the personally crafted book shelves, made by Phillip Ketterer, the husband of committee member Krista Ketterer, this was indeed a community effort. The artist who painted the mural on the walls, Denny Walls is a senior at Clio Community High School of Genesee County and had actually been a student at Richfield in his formative years! This young man selflessly donated over 30 hours of his personal time to complete his part of the project during one of the busiest times of his life, as he completes his senior duties of exams and graduation prep, as well as college applications!
The mural is a work of art! In the lower part is sand with footprints and several amphibious sea creatures. This layer is topped by oceanic waves, with several books floating along, signifying the fluidity of learning and its continuous process. The sailboat on the horizon fosters the idea of thought out trips to faraway lands. And in the sky are charged clouds. However unlike regular clouds that would be charged with the ominous threat of lightning, these fluffy whites were filled with encouraging words, like "Reading = Knowledge" and "THINK BIG!"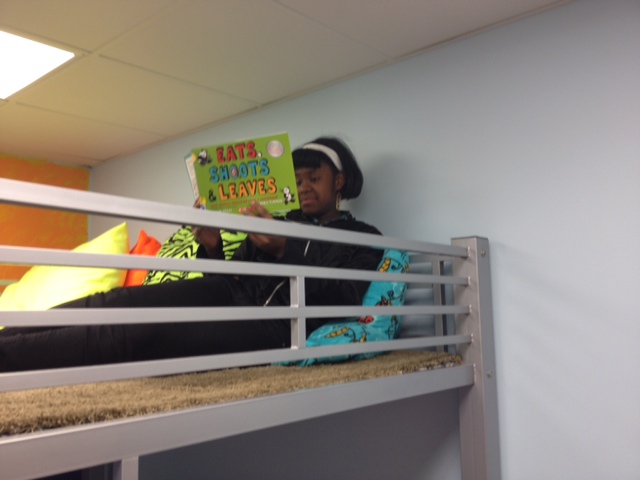 The comfortable carpet in the center of the floor helped create that soothing feeling of the ocean. A large octopus wearing eyeglasses reads a book, the scuba diver approaching him reads a book and the rainbow fish is also engrossed in a book near the treasure chest.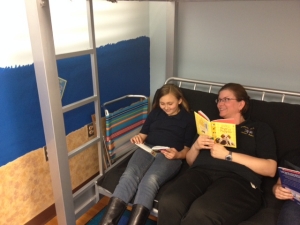 Beach chairs in colorful horizontal stripes beckon students to relax with a literary favorite, while Crayola-colored bookends and cheery posters give the room a happy aura. In one corner, a converted bunk bed with a futon sofa on the bottom has a carpet-covered base on top, populated with comfy bright-hued throw pillows for kids to lean into, enabling imaginations to soar while reading.
The huge reception cake was splendidly decorated with the THINK BIG logo and Dr. Carson's image in the center surrounded by frosting confetti and streamers and it was scrumptious to boot!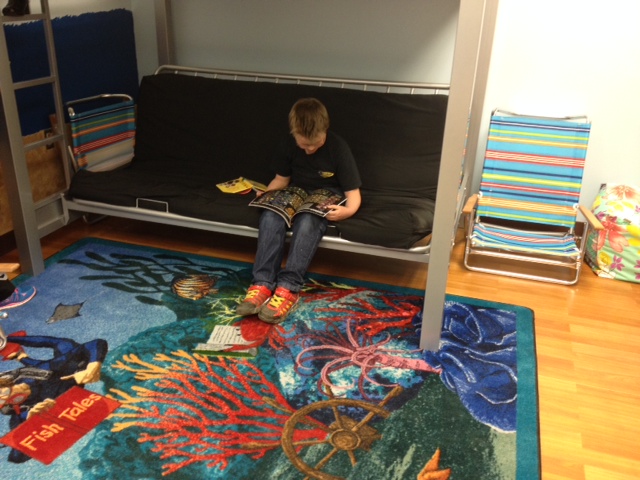 Special thanks go to Granger Construction Company, CITI, Inc., William Reichenbach Company, Smith and Smith Carpet and the reading room committee members.