Around 600 academic enthusiasts gathered in Bonita Springs, Florida at the Hyatt Regency Coconut Point Resort & Spa for the Annual Carson Scholars Awards Ceremony in the state! This is the largest assemblage of scholars ever in Florida! And it is the first time "repeat scholars" were honored.
Ambulating from the lobby to the Calusa Ballroom and Terrace, floor to ceiling windows afforded views of the lush South Florida flora causing a veil of calm to slowly float down on your psyche. And the star-studded carpet could not outshine the newest academic stars in Florida!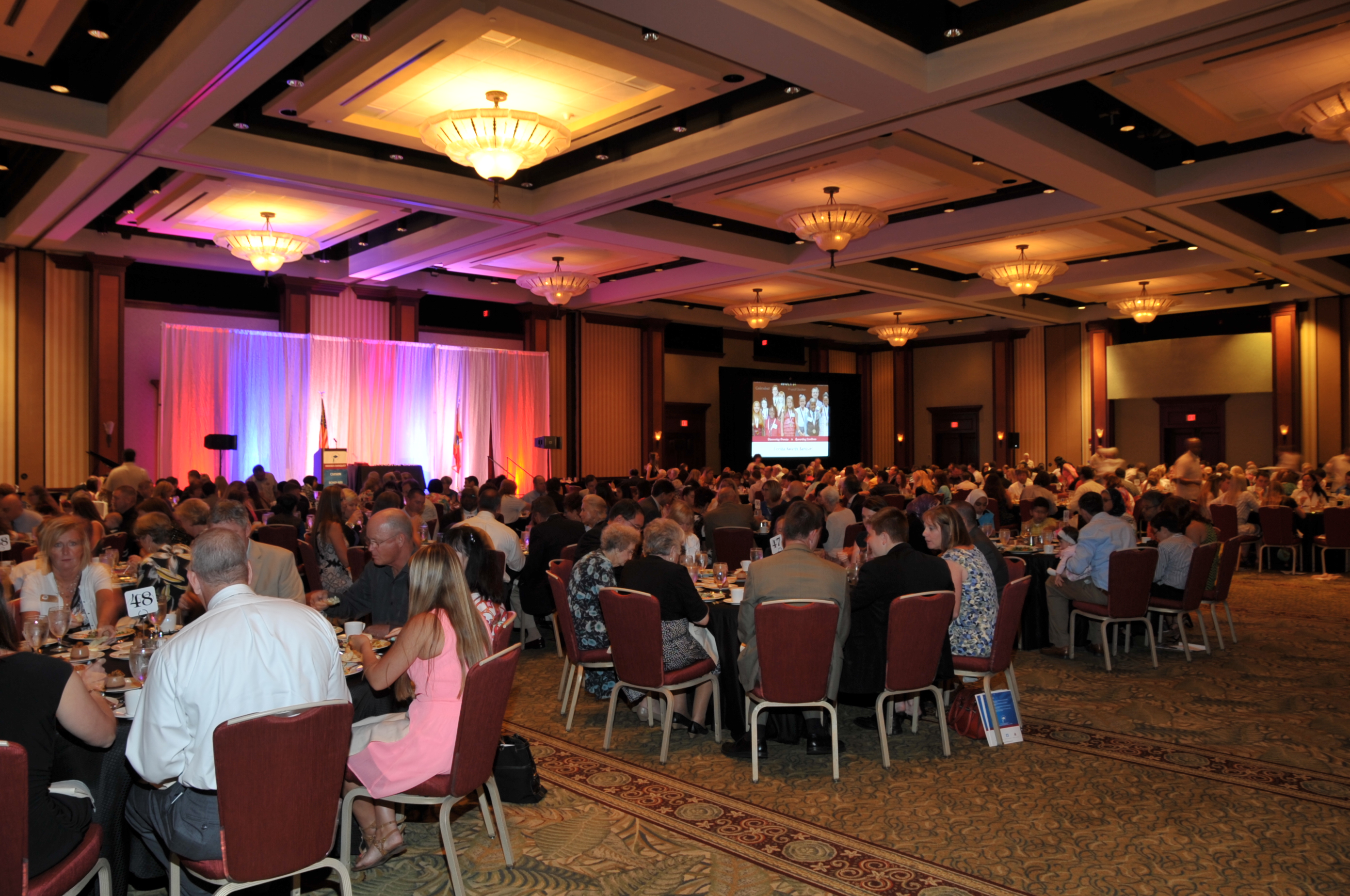 In the ballroom, the stage backdrop was composed of white crinkle fabric, where spotlights of red, white and blue cast their rays from floor to ceiling. The ceiling's population of 18 frosted pebble glass coneflower-shaped chandeliers created a warm glow on the attendees seated at dressy black brocade-covered tables with ivory napkins, completing the celebratory atmosphere.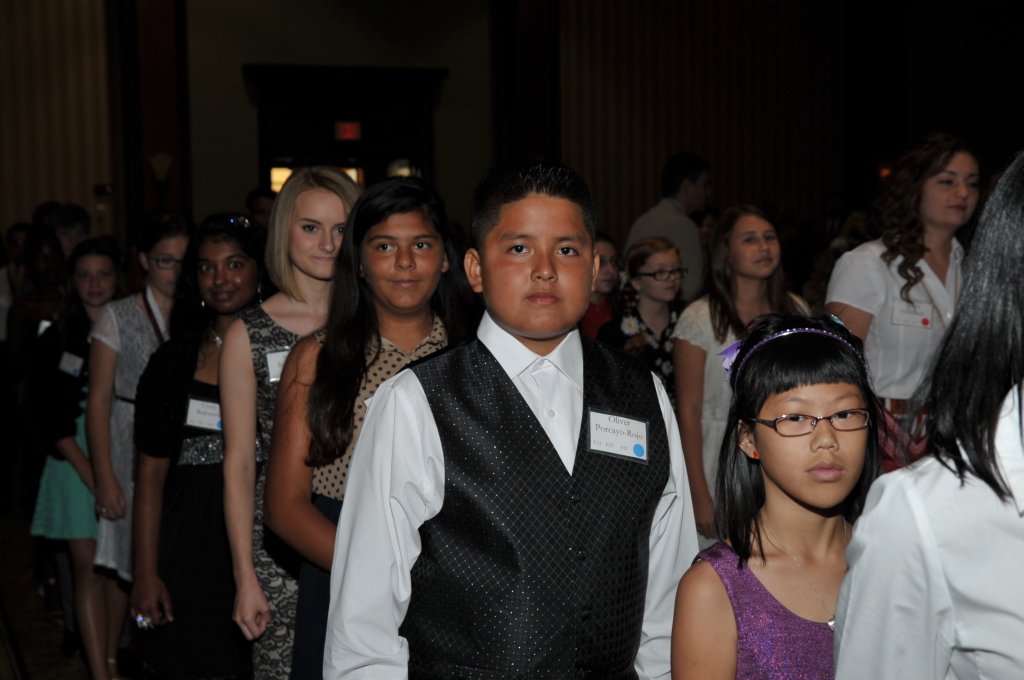 The trumpet fanfare of Procession of the Nobles heralded the newest Floridian Carson Scholars as they solemnly walked in double-file up the center aisle to the rostrum, turning outward in military precision to continue across the front of the room and ultimately to their seats.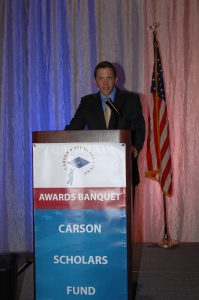 Emceeing the luncheon was Brian Colleran, sports director at NBC, Channel 2 who had interned at WBFF Fox45 in Baltimore a few years ago. It was through his contact there, Emmy-award-winning TV news anchor Jennifer Gilbert, that he became aware of the Carson Scholars program. He gave another reason for his excitement in being there: the fact that his wife chose the career of teaching and has served in that capacity for several years. So high academic achievement is one of their passions!
The welcome from Bill Frey, former educator turned successful real estate developer and philanthropist, was very stirring as he eloquently shared his thoughts on the importance of reading and education in general. This visionary who brought the program to the state of Florida shared how exciting it was to again witness the celebration of high academic achievement in so many, and to see the expansion to include scholars from all over the state!
Roland Park K-8 Magnet School for International Studies couldn't have been more proud of sixth-grader, Savon Watson, a 2014 scholar who then capably led the assembly in America's Pledge of Allegiance.
Music followed in the form of America the Beautiful, sung by two-time Carson Scholar winner and sixth-grader, Rebekah McDaniel of Gulf Middle School, while the huge screens in the front corners of the room displayed a close up image of waving "stars and stripes." In contrast to her small stature, this young lady had a big, resonant voice!
Invocation by John Sheppard began with "This is a day to rejoice," as he thanked God for the gift of life, asked for blessings on the occasion, the food and on each person there.
Then came the scholarly music of five-time Carson Scholar Matthew Fauerbach, a ninth-grader from Lehigh Senior High School, as he performed the popular "Serenade by Schubert" on piano. And while lunch was served, he shared other light classics. It was noted that some envious looks were exchanged by the adults, when the students' menu included chicken fingers and French fries with ketchup, while the more "mature" fare of wild rice and roasted chicken breast was delivered to their elders!
When Mr. Colleran returned, he shared the fact that Carson Scholars have the opportunity to win more than once. In turn, scholars who had won twice, and five times or more were asked to stand, after which applause resounded. There was one Floridian scholar who had the singular distinction of winning more than any others, Alysia Stroh, an 11th grader from Winter Park High School, has won seven times!
In her introduction of Dr. Carson, Maya Allione, a fifth-grade 2014 Carson Scholar from Gulf Elementary said, "We have all driven our own ships to the pathway of success, using the recipe of Dr. Carson's example of reading and working hard. He is a special person who has inspired millions."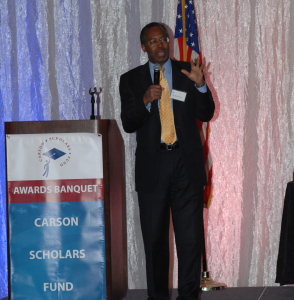 After Dr. Carson introduced the video of past adult honorees, he began his remarks with congratulations to each of the contributing constituents for the scholars' success. Continuing with the unexpected whirlwind of activity during his recent retirement, he built his speech around the THINK BIG acrostic. Within that framework, he gave a historical perspective of his life and our country, shared his recipe for success and presented sage advice on how to meet the needs of our country's future.
Dr. Nancy Graham, Superintendent of Schools in Lee County and Candy joined Dr. Carson on the rostrum to present the awards, while Mr. Colleran announced the 73 new and 77 repeat honorees and shared some of their accomplishments with the audience.
Special thanks to our supporters:
The Bill Frey Family
Mr. John and Mrs. Ellen Sheppard
Mr. Ted Baker
Mr. Robert DeMarco
Mr. John and Mrs. Takako Dobbins
The John and Aliese Price Foundation
Mr. Jerry and Mrs. Susan Speer
Mr. Kevin and Mrs. Christine Wydra
And a special thanks to our volunteers, Jessie and Bryan Monteleone, Alisa and Jimmy King, and Teresa Evans.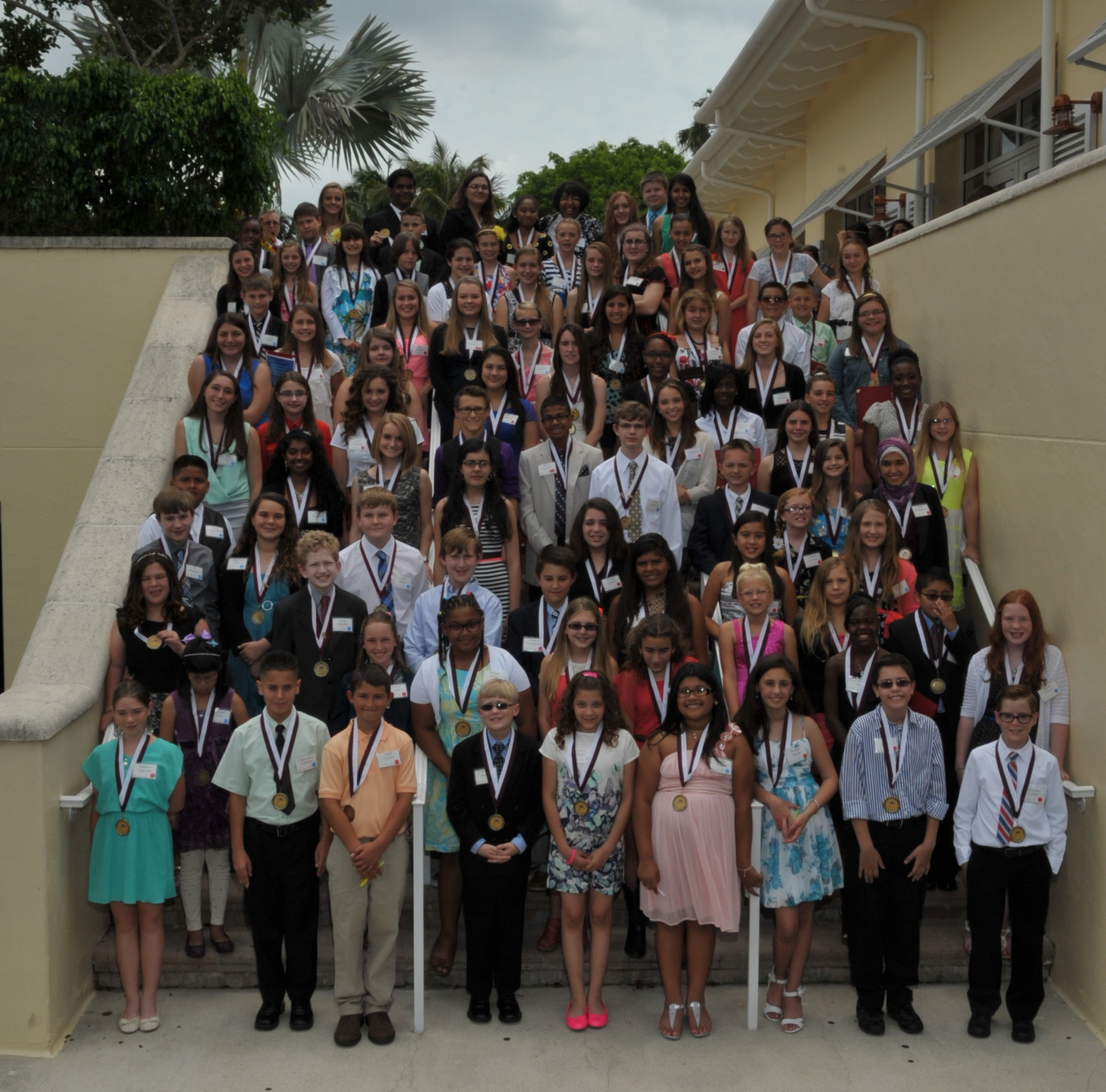 For pictures from our Facebook album of the 2014 Lee County/Florida Awards Banquet, click here.