In Scholars on December 1, 2017 - 10:13 am
Introducing Our Hall of Fame Class of 2018
The Carson Scholars Fund Hall of Fame includes individuals whose lives and careers are an integral part of our history. It honors outstanding Carson Scholar alumni who represent CSF's mission – those who have demonstrated success and excellence in the work force, who have excelled academically and who have made significant contributions in their communities.
As part of our 20th anniversary celebration, we introduced the first ever Carson Scholars Fund Hall of Fame. This inaugural class was comprised of 20 outstanding Carson Scholar alumni. Five outstanding alumni were inducted into the CSF Hall of Fame at various banquets during our 2017 awards season, bringing new ideas, new experiences and new goals to the already impressive group.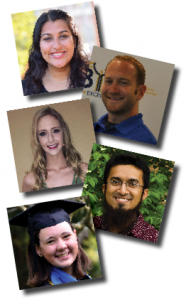 We are thrilled to announce that, for the second year in a row, five new inductees have been selected to join the Carson Scholars Fund Hall of Fame, representing an accomplished group of over 4,400 Carson Scholar alumni. Our 2018 inductees are scientists, healers, authors, engineers and philanthropists. They dedicate their time to mentoring and helping others. We will celebrate our new Hall of Fame members at our awards banquets this spring.
Meet our Hall of Fame members and check out the amazing things that they are doing in their work, on their campuses and in their communities. We would also like to recognize alumni who are Hall of Fame Honorable Mentions. Congratulations to all!