In Scholars on July 14, 2016 - 2:09 pm
Then and Now: Alumni Spotlight – John Connors
John is a 4-time Carson Scholar and 2014 graduate of Saint Joseph's Preparatory School. He is currently a rising junior in the McDonough School of Business at Georgetown University studying finance and marketing.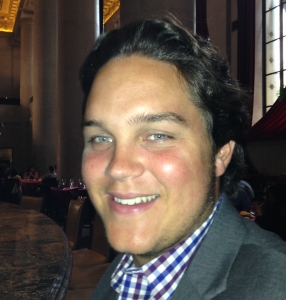 As a Dean's List student, John is involved in many extracurricular activities and clubs at school. He is the treasurer-elect of the Academic Council, also known as the business school student council. He has served as one of three elected representatives from the class of 2018 for the past two years. In addition, last year he was chosen to be the sole undergraduate representative on the McDonough School of Business Executive Council, which consists of the deans and distinguished faculty. He was able to be the undergraduate voice in discussing and voting on decisions that affect the future of the business school. Furthermore, John was selected to be a Research Fellow in the Department of Strategy at the McDonough School of Business. Athletically, John is a member of the Men's Rugby Team at Georgetown. He enjoys staying active by playing as the forward, or hooker, on the team.
Throughout the spring semester, John worked as a Student Honors Program Intern at the U.S. Securities and Exchange Commission in the Division of Economic and Risk Analysis. In addition, he is the Director of Finance and Development for Wearable Justice, a Georgetown-based, student-owned and student-run clothing nonprofit. They partner with several socially responsible fashion companies around the world to make ethical clothing options more accessible to students on college campuses and on a college budget.
John is currently living and working in Managua, Nicaragua for the summer. He was selected for the Fabretto Fellowship through the business school at Georgetown University. He serves as a Business Development Intern for the Fabretto Children's Foundation, an educational charity that establishes schools and education centers around the country of Nicaragua.
John's scholarship was sponsored by the Betty Metrinko Memorial Endowment.