In General on May 13, 2014 - 11:59 am
Pittsburgh Banquet 2014
80 degrees and sunny! What a fabulous day to do fabulous things and on the fabulous occasion of the landmark TENTH Scholar Awards Ceremony for the Pittsburgh Chapter of the Carson Scholars Fund! In the hall of the East Club Lounge area of Heinz Field, home of the Pittsburgh Steelers Football Team, the 91 new scholars and 152 repeat scholars from Ohio and Pennsylvania marched in to the triumphant musical fanfare.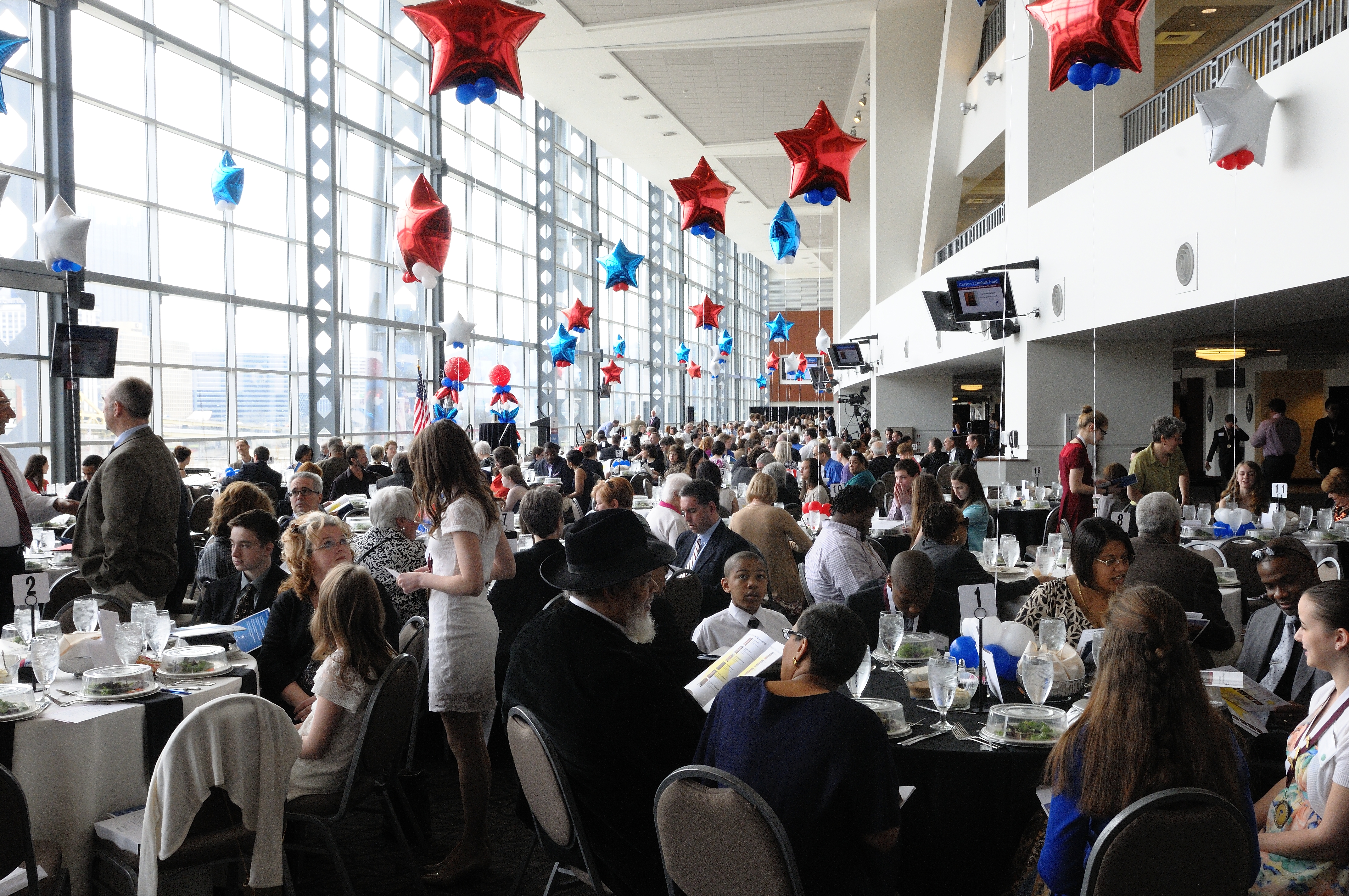 The emcee for the day was WTAE-TV commentator, Sally Wiggin, now the host of the new documentary "Chronicle." The series is barely one year old but has won several awards already due to the thorough coverage and uniquely creative treatment of the subjects by Ms. Wiggin. And in spite of her busy schedule, she has returned to emcee for the eighth time!
First, 2014 scholar Kenneth Martin's strong voice led the audience in the Pledge of Allegiance. Kenneth is in the sixth grade at Heritage Christian School in Canton, OH.
This was followed by grace, delivered by Amma Ababio, an eleventh grader at Pittsburgh Allderdice High School. Her prayer included gratitude for all who helped each of the scholars thus far and she thanked God for the opportunity to be there as well as for the meal.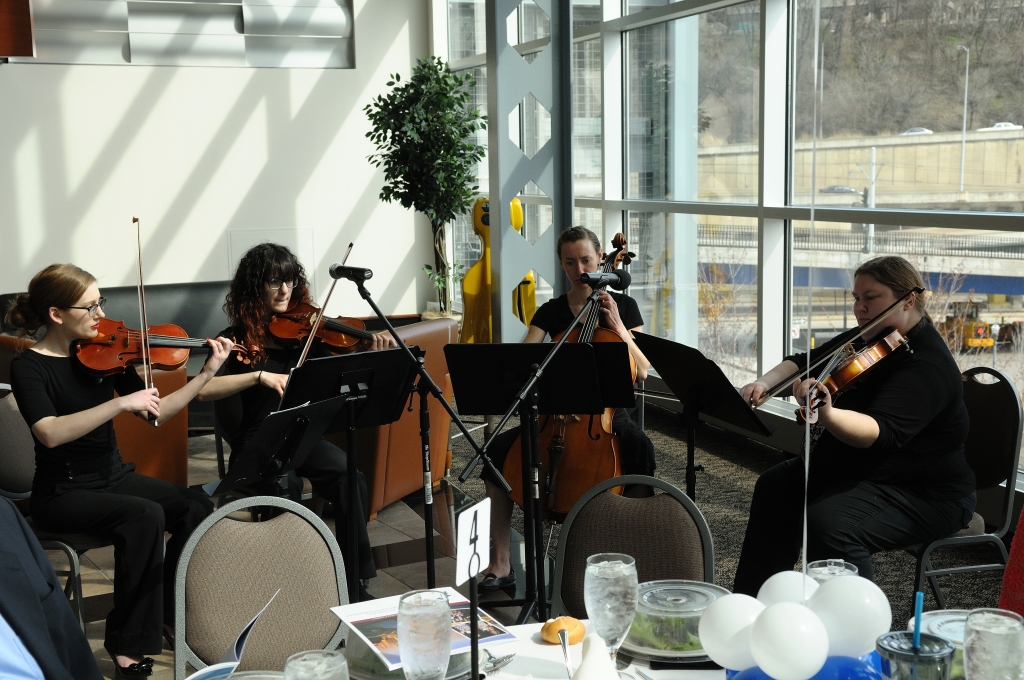 While lunch was served the scholars were once again celebrated individually on the huge screens attached to the walls above the pillars bordering the hallway. The traditional string quartet from Duquesne University graced us with classical melodies setting a warm tone for the event.
Ms. Wiggin returned with the history of the scholars fund nationally, as well as locally. Eighteen years ago the national organization was started to change the country's priorities, partly in response to an alarming survey comparing American students math and science aptitudes with respect to their counterparts in 21 other industrial nations, where our students were at the bottom of the heap! The organization has gone from 25 scholars in the state of Maryland in 1996 to over 6,200 in all 50 states and Washington D.C.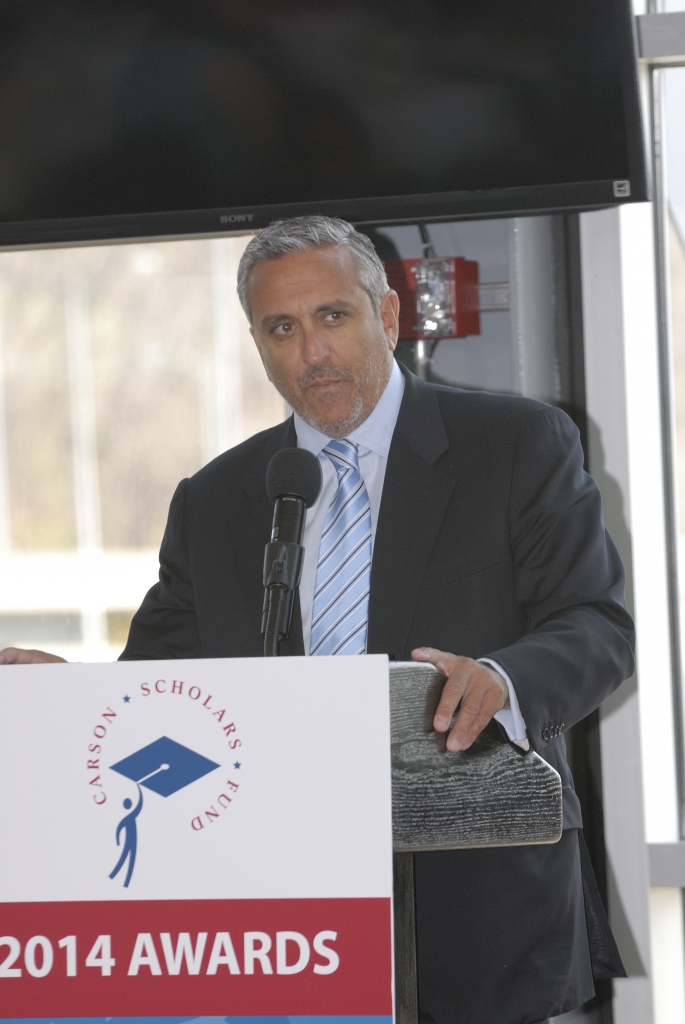 Then, just ten years ago, when Dr. Alfonso Costa joined the Carson's in their mission, Pittsburgh had 20 scholars. Over those years, more than 900 high academic achievers have been recognized and 37 of them have won the award five times or more! These exceptional students were asked to stand. It is particularly noteworthy that only two students in the history of the Carson Scholars have won nine times and both of these amazing scholars are from Pittsburgh! They are John Micklo and Logan O'Brien, who stood amidst thunderous applause.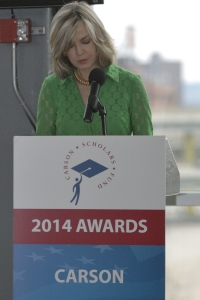 Sally continued with the fact that one of the unique aspects of the Fund is that students are recognized as early as fourth grade, with the opportunity to be re-recognized every year thereafter until they finish high school. One scholar, who won each year after receiving his first award, is five-time winner, Jordan Oeler. He would be speaking from an alumni perspective. This fourth-year student of international business at local Duquesne University had studied in Venice, Florence, Rome, Paris and La Milpa, Belize. He also was recently awarded the Dominion Distinguished Scholar Award, an honor presented to the one student who best exemplifies the intellect, character and business insight to succeed in today's global economy.
In Jordan's scholar reflection, he recalled that he sat in the other scholars' places when he was an eighth-grader preparing to enter the "big, bad halls of high school." Now that he's had a chance to narrow his interests to finance and international business, he is well on the road to achieving his dreams. Addressing the scholars, "We are here because of the dream to make a difference, and I encourage everyone to realize your own dreams. You are the people who will change the world!"
Next Sally introduced Dr. Alfonso Costa, the man who shared Dr. Carson's vision and has worked tirelessly to make that vision a success in Pittsburgh.
Dr. Costa stated that after hearing about all the accomplishments of the Pittsburgh area scholars he felt proud to have had a minuscule part in their success. Although the past ten years had evidenced various huge societal impacts including Pluto's demotion to a "dwarf planet," the devastation of hurricane Katrina and the launches of Facebook, Twitter and YouTube, what hadn't changed is the dedication of Pittsburgh educators who have prepared their students for success.
With attention directed toward the screens, PowerPoint images and collages framed in fireworks chronicled the Pittsburgh Chapter's exciting ten years of success in inspiring young people to reach for the stars!
Dr. Costa continued with an appreciation for the academic centers who continue to produce some of the "brightest and best" students from across the country and thanked educators and school administrators. He also recognized the steadfast donors and sponsors over the years, including:
Dr. Gerald & Mrs. Patti Loyacona,
Dr. & Mrs. Herbert Bazron,
Dave Murray of Rusmur Floors,
The Pittsburgh Steelers organization,
Mr. Robert & Mrs. Rosemarie Schuler,
Mr. Thomas and Mrs. Fran Donohue and
Mr. Tom and Mrs. Song Kehoe.
Thanks also went to Costa Land Company staff members Samantha Hirshberg and Kristen Malagise, led by Chief Operating Officer, Sarah Piccione, all who do an incredible job of fundraising, putting on fabulous events like today's banquet and keeping expenses down to almost zero! He also thanked Steelers defensive end, LaMarr Woodley who co-hosted the annual December fundraiser this fiscal year, and volunteer, Monica Fortuna, who has volunteered at all of the ten banquets and fundraisers.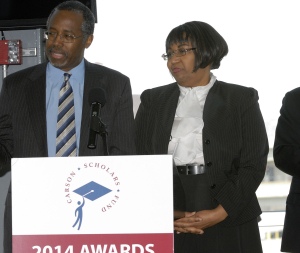 Coming to the rostrum next were the founders of Carson Scholars, Dr. and Mrs. Ben Carson, thanking everyone for coming as well as emcee Sally Wiggin for once again doing the honors. Considering how the process is really a combined effort, Dr. Carson congratulated the scholars as well as the parents and educators, since it's not easy to become a scholar and the competition is enormous. Another notable fact is that Carson Scholars Fund annually recognizes adult role models, sharing their stories to encourage the students' dreams. He directed us to watch the screens as a video of past adult honorees and their sage comments were displayed.
"Our legacy continues," intoned Dr. Costa, "with another inspiring adult honoree." Former Pittsburgh Steeler, Jerome "The Bus" Bettis, the recipient of the 2014 Leadership Award, has positively impacted society with innovative ideas, accomplishments and philosophies. An NFL Pro-Bowler, 2006 Super Bowl Champion and NBC Sunday Night commentator, off the field Jerome has made significant contributions to the community with the Jerome Bettis "Bus Stops Here" Foundation for abused and abandoned children in the Pittsburgh and Detroit areas, the Boys and Girls Club of America, Coats for Kids, The Mel Blunt Youth Home and the Jerome Bettis Friends Forever Scholarship.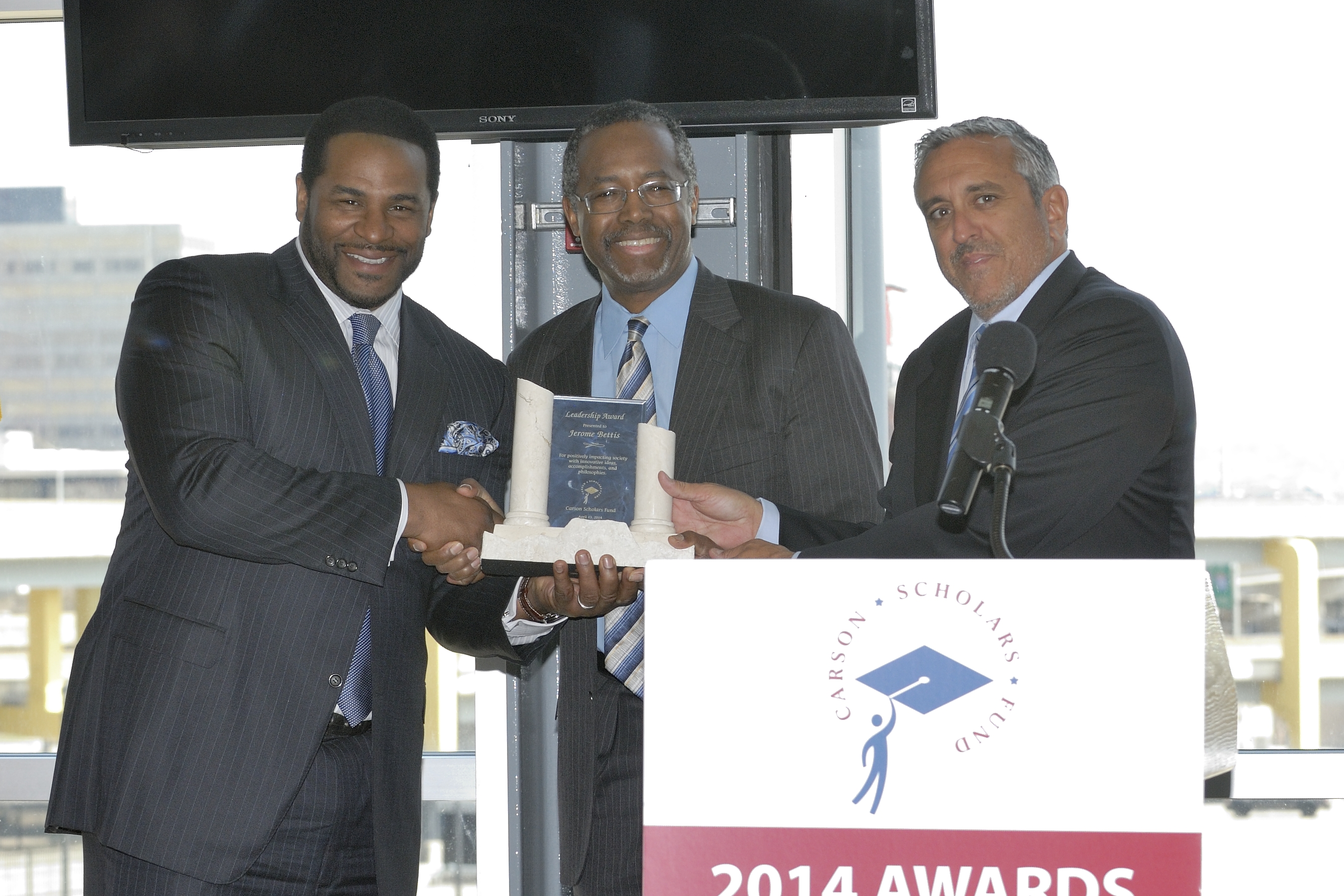 In his acceptance comments Jerome felt that, "leadership is doing the right thing and leading by example." In a story he shared from his childhood, he had developed deep admiration for Dr. Carson and after coming to Pittsburgh he met him through his good friend Dr. Costa. He also embraced the Carson Scholars mission and has whole-heartedly supported the Pittsburgh chapter from the beginning.
Dr. Costa continued, "The true measure of success is your ability to make others successful." He noted that the effects of a scholar have been shown in research revealing the exponential impact a scholar has on their classmates and peers at their school. But scholars also have an impact on their own families. In Pittsburgh, numerous families have two or more Carson Scholars as is the case of the Varlotta family, which has three! These unique academically-oriented families were asked to stand and be recognized.
In his introduction of his eldest son, Joe, Dr. Costa remarked that he was "proud to say that Joe is one of the smartest people on earth!" which he admitted was kind of difficult since his best friend is Dr. Carson. Joe not only completed his undergraduate degree at Yale, but went on to Harvard and is currently in the JD/MBA program at the Harvard Law School and Harvard Business School, where only ten are selected from a pool of 1500!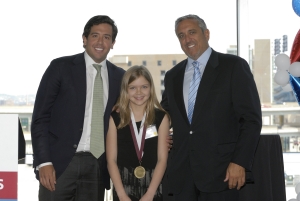 As the presenter of the next award, Joe Costa revealed that the special Rosalia Costa-Clark Memorial Award, was established to honor one of their beloved family members, his Aunt Rosalia "Lilly" Costa-Clarke, whose life was tragically cut short in 2004. His Aunt Lilly was a very successful attorney who also inspired him to go to law school. She was extremely kind-hearted, had a wonderful zest for life, loved animals and inspired everyone around her to be a better person. This award is always given to a student who most exhibits these wholesome qualities. The recipient of the award this year is Rose Cascio, a fifth grader at Liberty Elementary who aspires to become veterinarian.
In his keynote address, Dr. Carson shared that retirement isn't what he thought it would be. Since the National Prayer Breakfast, life has become extraordinarily busy with speaking engagements. Although he had been a surgeon, he revealed that he hadn't enjoyed the logistics of surgery, but appreciated the effect of it — being able to improve or restore quality of life to a family was exciting. Now, he feels called to attempt to restore quality of life to the nation.
He strongly feels that everyone has special gifts and talents, should figure out what they are and then proceed with a career that utilizes them. His also spoke of forces in our nation that are trying to divide us and how we should continue to focus on things that are good, come up with new things to help mankind and be willing to fight for the freedoms our founding fathers had established. It was 239 years ago when Patrick Henry was brave enough to say, "Give me liberty or give me death!" Remember the Star Spangled Banner's last line, "the land of the free and the home of the brave?" You cannot be free without being brave.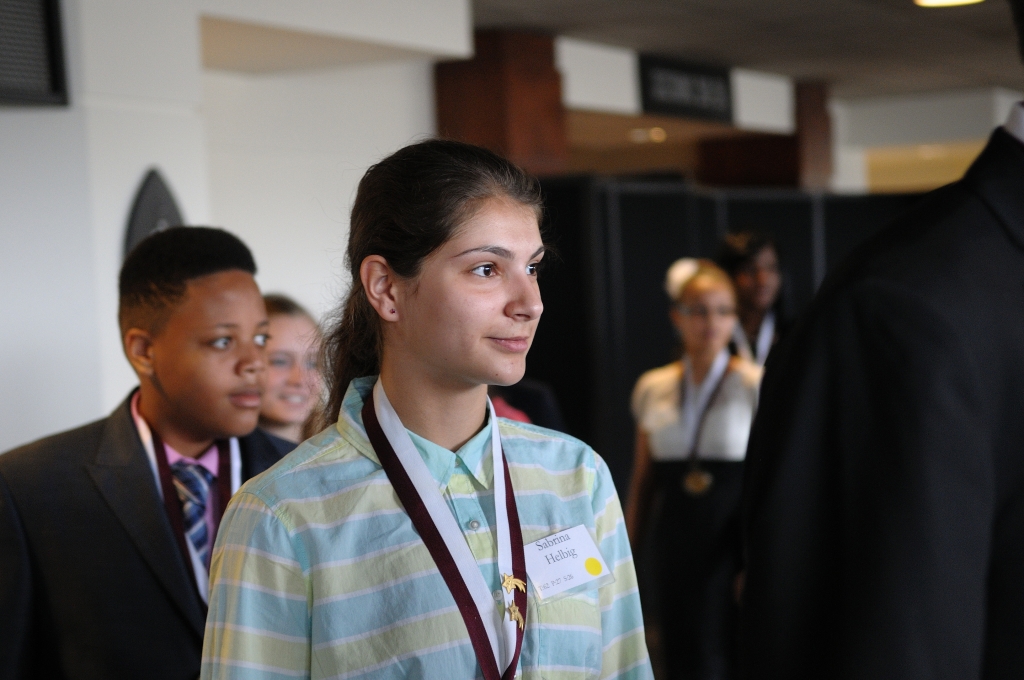 The program continued with the presentation of the 2014 scholar awards. As the names of the new 2014 scholars were read and the students came to the podium to receive their award, a PowerPoint played on the screens with details about each scholar.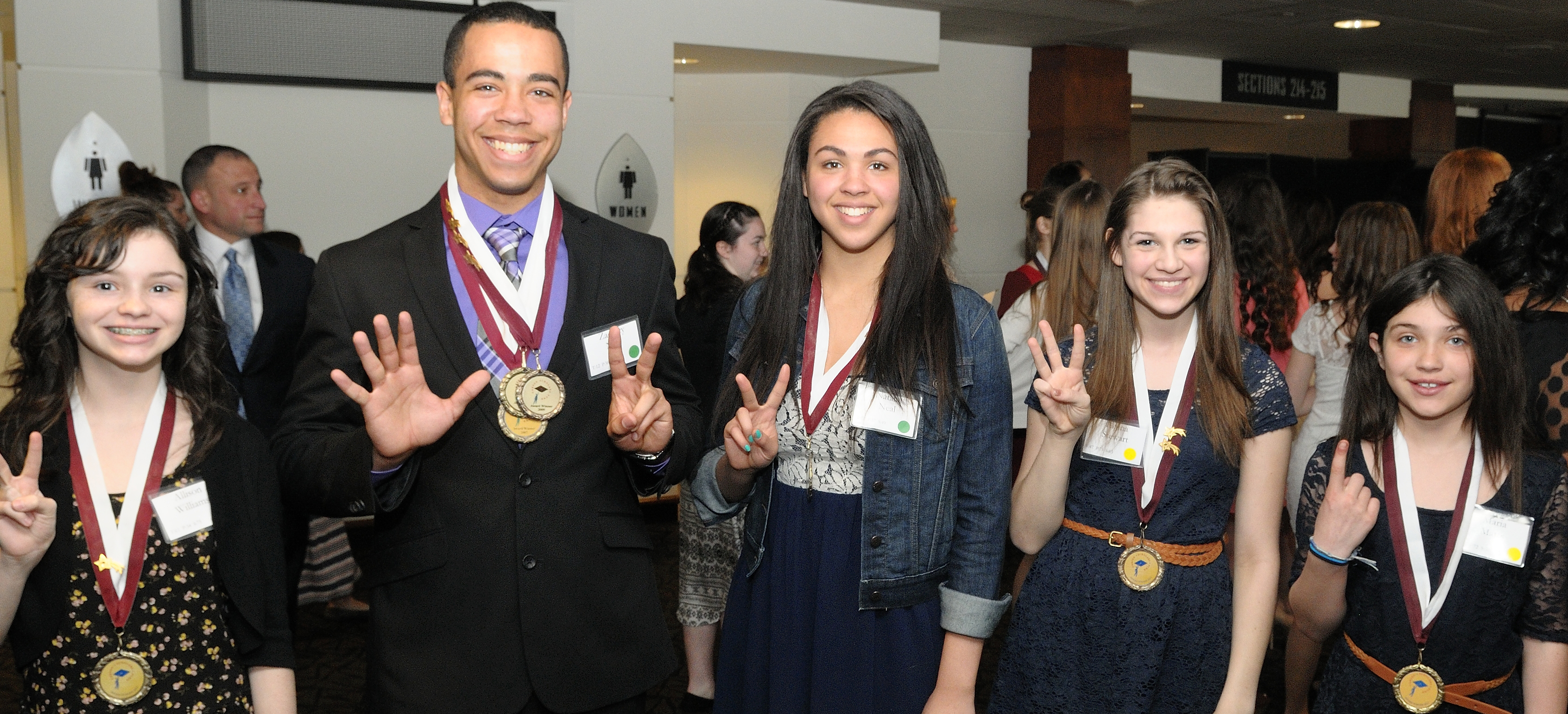 Afterwards, Sally commented on the volunteers who spent many hours judging, packing and mailing, assisting in the reading rooms.
Special thanks to the Pittsburgh Chapter for making the 2014 Pittsburgh Awards Banquet a huge success!
For more pictures from the 2014 Pittsburgh Awards Banquet, click here.