In Reading Rooms on June 8, 2017 - 3:01 pm
Reading Room Spotlight: Allamanda Elementary
The reading room at Allamanda Elementary School, sponsored by the Palm Beach County Chapter of the Carson Scholars Fund, opened on October 23, 2014.  Since then, the beach-themed room has been an inviting and relaxing space for students at the school.  During visits to the reading room, children grab a favorite book and climb up into a wooden beach chair or curl up in an oversized bean bag chair to read.  Students really enjoy reading graphic novels and books about animals when visiting the room.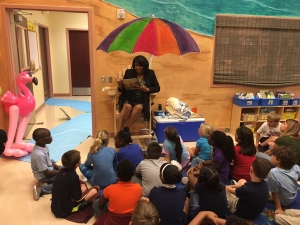 In addition to the reading room being used for independent reading, it is also used to celebrate literacy events for the school as a whole and for individual classrooms.  Allamanda Elementary often has special guest readers visit the reading room to read to students.  Mrs. Candy Carson visited to read for Ben Carson Reading Day in November 2016.
The students at Allamanda love the details and the tranquility of the room.  One second grade student loves going to the reading room "because of all of the books and the comfy seats."  Carolyn, a fifth grade student, thinks that "the reading room is a wonderful place to sit, relax, and unwind.  Its story will inspire you."  School staff members appreciate that the room is a quiet and cozy space where students can relax, read, and get away from the normality of the school day.  "Allamanda is passionate about reading.  Our Ben Carson Reading Room has some of the best books in the school.  Our kids LOVE to go there," exclaimed Principal Marilu Garcia.
Fast Facts
Enrollment: 670 students
Average number of students visiting the reading room per day: 25 students
Average length of visit to the reading room: 45 minutes
Frequency of visits:  Multiple times per day
Most popularly selected books:  the Amulet series and the Babysitters Club books
Fun fact:  Allamanda incorporated stability balls, alternative seating options, and desk cycles for cycling while reading into the room to promote health and wellness.