In Reading Rooms on November 30, 2017 - 11:25 am
Reading Room Spotlight: Center for Inquiry School 27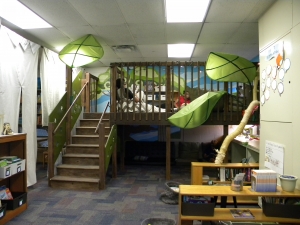 Center for Inquiry School 27, in Indianapolis, opened the doors to its reading room in June 2012 thanks to the Indiana University School of Medicine.  Located in a section of the school library, the reading room transports visitors to a forest full of books.  Students love the reading room's elevated tree house which they can climb up into with their reading materials.
Educators demonstrate the versatility of the reading room through a variety of different purposes and activities in the room.  Book groups, the reading club, and the poetry club use the room as the setting for their meetings and activities.  In addition to being a literacy space, the room also serves as a safe and soothing space where students can go for testing, a quiet space to work, or to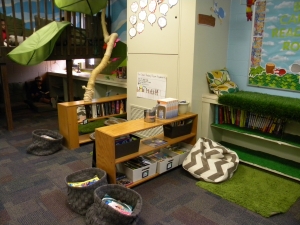 take a moment to re-center and decompress.
Since the opening of the school's reading room, educators have noticed increased excitement among students about reading.  They've also heard more discussions about books among students.  Students appear to be more motivated to visit the public library to check books out that they began reading in the reading room.  Over time, the school's literacy scores of students in grades K-6 have increased.  Having a reading room at the school is also appealing to parents of future students.
"We are an IB Magnet program. When we give prospective parents a tour of the library and show them the adjoining treehouse area they are very excited. I know that it adds to the value of the overall school program," says Kathleen Rauth, reading room coordinator for Center for Inquiry School 27.
Fast Facts:
Enrollment: 400 students
Average number of students visiting the reading room per week: 20-25
Average length of visit to the reading room: 20 – 30 minutes
Most popular books: The Elephant and Piggie series by Mo Willems, Babysitters Club graphic novels by Ann Martin, National Geographic fact books
Fun fact: College students who use the school library on Wednesdays have commented on how much they like having the option to work in the tree house area