In Scholars on January 11, 2017 - 10:07 am
Scholar Reflection: Ryan Briscoe
This scholar blog is written by Ryan Briscoe. Ryan is a 2016 Carson Scholar and student at Northwest High School.
Reflecting back on this past year, I am sharing a moment in my life that made a significant difference.
I had heard about the Carson Scholars Fund a few years ago through Dr. Carson's speech at the National Prayer Breakfast in 2013. Ever since reading Gifted Hands in early middle school, I was inspired by Dr. Carson's life.  The dedication of one individual inspired a vision which is now a legacy.  Recently, I was humbled as I had an opportunity to become part of this legacy and to meet Dr. and Mrs. Carson as a proud recipient of the 2016 Carson Scholar scholarship.  The experience of being in the midst of hard working student colleagues, dedicated to academic excellence while serving the greater humanitarian good, was truly inspiring.  One particular part of this ceremony that really resonated with me was a quote by Dr. Lisa Thomas, "When we pass from this world it's not the degrees or medals that will matter but the lives we have touched and the difference we have made".  Her speech was incredibly moving and her life story was also very inspiring.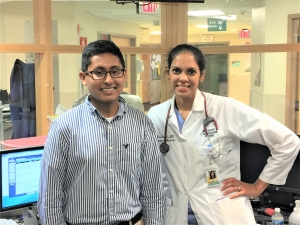 I was so inspired, I decided that I had to find a way to study under her. I was able to reach out to Dr. Thomas and she graciously invited me to learn about her work in real life.  Her generous offer allowed me to witness how she uses her skills and talents to serve people with urgent medical needs. Dr. Thomas is exceptionally talented and her caring nature is always seen as she treats all her patients.   Following Dr. Thomas and learning about her fast paced work day really encouraged me to work hard and follow my dream of becoming a medical doctor.
My experiences with the Carson Scholars Fund blessed my life in bigger ways than I could ever imagine. I was not only able to see Dr. and Mrs. Carson, who inspire me every day, but I was also able to meet Dr. Lisa Thomas, who encouraged me and gave me an incredible opportunity which brought me a step closer to my dream.