In Scholars on July 19, 2017 - 3:26 pm
Scholar Spotlight: Aissata Kone'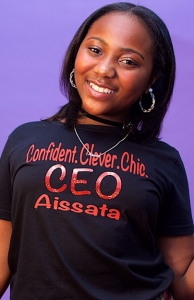 Aissata Kone', a 2-time Carson Scholar and rising 7th grader at KIPP West Philadelphia Preparatory Charter School, works hard to instill confidence in young girls through her very own small business. Aissata and her mother created Confident.Clever.Chic., a line of girls empowerment t-shirts and tote bags that bear positive messages about reading and doing your best in school. Aissata says that her products "are designed to build high self-esteem and bring awareness to how cool it is to get good grades".
Not only does Aissata promote confidence through her business, but she also gives back to her community. A portion of the proceeds from her t-shirts and tote bags is used to help people around Philadelphia. Aissata fed 75 homeless people at Love Park and Suburban Train Station in downtown Philadelphia, and works with Gaudenzia House of Passage Women's Shelter to provide personal care items to the women living at the shelter. She also sponsored and hosted a brunch at her school for all of the teachers to show appreciation for their hard work.
When she isn't running her own small business, Aissata is dreaming big and working hard towards her goals. Hoping to one day become a pediatrician, she strives to do her best in school and continuously achieves straight A's in her classes. As a member of her school's Reading Olympics team, Aissata and her teammates collectively read books throughout the school year and work together to gain comprehension of the books. Her team won first place at last year's Reading Olympics of Philadelphia, competing against other schools in the region to correctly answer the most questions about the books that they read.
On the weekends, Aissata enjoys taking jazz and hip hop dance classes and participating in Girl Scouts. Her favorite aspect of being a Girl Scout is having the chance to mentor younger troops about the importance of building each other up and making the world a better place.
Aissata's scholarship was sponsored by the Philadelphia Chapter of the Carson Scholars Fund.