In Scholars on July 6, 2017 - 3:01 pm
Scholar Spotlight: Gabriel Ramos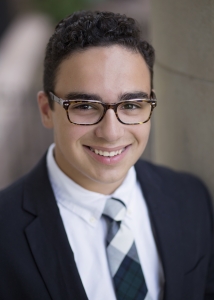 Gabriel Ramos is a 2017 Carson Scholar and a junior at North Pocono High School in Covington Township, PA. Gabriel believes in challenging himself academically. He is involved in his school's gifted and talented program and was named Pennsylvania Distinguished Gifted Student of the Year for 2016-2017 and 2013-2014 by the Pennsylvania Association for Gifted Education. He has taken independent studies in advanced Math and Latin, and completed an independent study in Biology as an eighth grader. Gabriel is involved in the North Pocono Odyssey Players Theatre Group, serves as advocacy and legislative chairperson for the PTSA, and is a National PTA Youth Summit Leader. He also participates in the Red Cross Club, National Honor Society, Math Club and on the golf team. He mentors elementary students in need of academic assistance and facilitates a Crazy 8's Math Club and a Rubik's Cube Club, teaching difficult math and physics concepts in a fun manner to encourage a love of math.
As an aspiring healthcare professional, Gabriel is already learning the ins and outs of research and legislation. He has completed research in behavioral science, studying the effects of multitasking and depression and social media use. He has also studied the topical antibacterial properties of turmeric on Staphylococcus under Dr. Namdari. With the help of Representative Marty Flynn, Gabriel wrote a healthcare reform proposal and is now working on a dental program grant through his internship with The Wright Center for Graduate Medical Education. Through the Wright Center, he will work in advocacy and legislation as well as grant writing. Recently, Gabriel was selected to represent The Wright Center at the American College of Physicians Leadership Conference on Capitol Hill to advocate for patients and health care reform.
Gabriel's dedication to serving his community has not gone unnoticed, amassing over 750 hours of service throughout high school. He achieved the rank of Eagle Scout at just 13 years old, and is deeply involved in his parish, where he serves as the youth representative on the Parish Pastoral Council.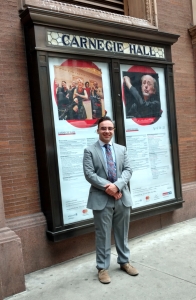 Through his blessing bags initiative, Gabriel donates bags filled with supplies to homeless women and veterans, donating over 200 blessing bags over the last year and a half. Some of those bags were given to a local women's resource center as Mother's Day gifts for the children to give to their mothers.
Gabriel also has a passion for music. As a member of the Choral Society of Northeast Pennsylvania, he sings opera and plays piano, jazz harmonica and saxophone. He has performed at Carnegie Hall and was named National Young Classical Artist, performing at Bloomsburg University's historic Gross Auditorium and Sordoni Theater.
After high school, Gabriel plans to major in classical studies and chemistry while finding a college that supports his desire to serve those around him. He aspires to follow in the footsteps of his father, a first generation American who educated himself out of poverty and is currently a rheumatologist. Gabriel hopes to dual specialize in pediatric and adult rheumatology while continuing to work with legislators to advocate for the best physician-patient care.
Gabriel's scholarship was sponsored by Mr. Jack Fernandez.