In Events on April 3, 2015 - 10:07 am
West Coast Carson Scholars Awards Banquet
The plunging cliffs leading to crystal blue water in Dana Point, CA were a majestic setting for the Sixth Annual West Coast Carson Scholars Awards Banquet. Students and families from all over the West Coast gathered to celebrate high academic achievement. Union Bank's Robbin Narike Preciado expertly led the festivities for the evening, emphasizing Union Bank's ongoing commitment to education. Many impressive Carson Scholars participated in the evening's program. Channing Lee not only led the Pledge of Allegiance, but also positively dazzled guests during dinner with her extensive talents on the piano. Channing is just in eighth grade! Jasmine Westerdahl, another gifted and multi-faceted student, gave the blessing. Adorable Arthi Haripriyan also provided a piano performance at dinner followed by Antony Alvarado's personally moving introduction of Dr. Ben Carson. The program featured a video presentation highlighting Carson Scholar Alumni and a sneak- peak at an upcoming children's book, Anything is Possible: The Ben Carson Story.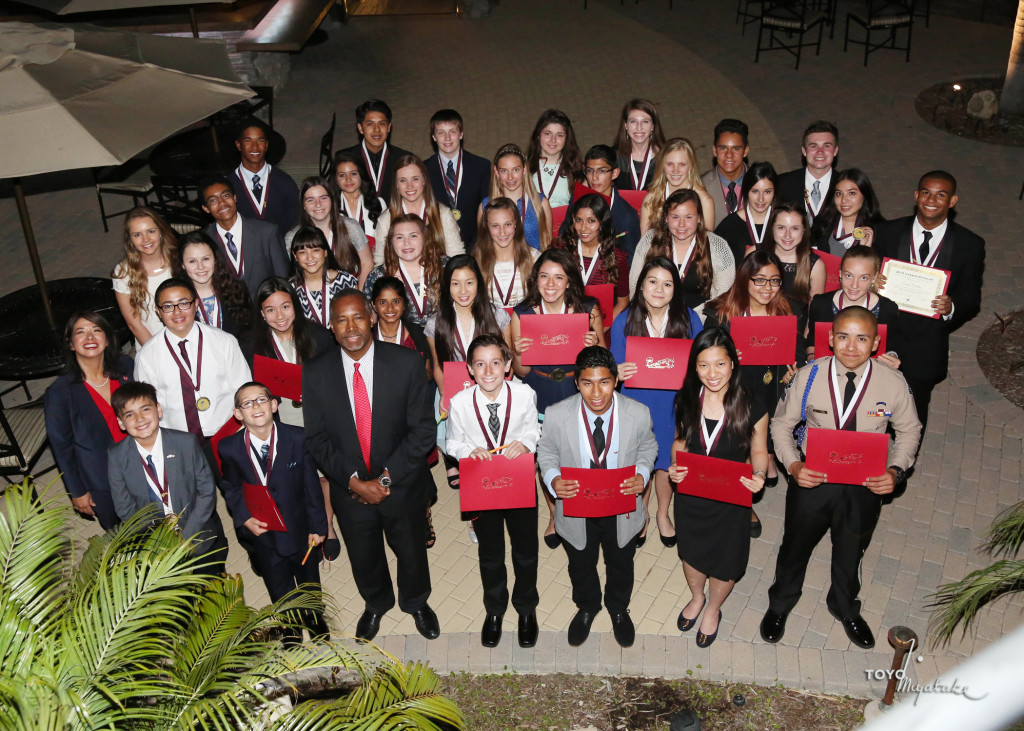 Dr. Carson was welcomed with an ovation by the remarkable audience. He shared the importance of utilizing one's talents to positively impact the world. Dr. Carson encouraged the scholars to seek creative solutions and to persevere in life. He took time to share the meaning behind every letter in "THINK BIG" so that his philosophy could guide scholars in the future. Next, Dr. Carson placed medals on the 2015 Carson Scholars while Robbin Narike Preciado shared their impressive accomplishments. CSF supporter, Beth LeFriant, handed certificates to the academic superstars. The night finished on a high note with a scholar photograph keepsake.
To view the entire photo album of the banquet, click here.
Sincere thanks to everyone who made this day possible:
Union Bank
Mr. John W. Amerman
Domenico Brunetto Family
Costco Wholesale
Ms. Joanne Curran
Mr. Stanley and Mrs. Monique Friedman
Mr. Jim and Mrs. Sandy Gosney
Ms. Tiffany Green
Mr. Richard Herron
Ms. Karyn Jackson
Mr. John and Mrs. Carole Jebens
Mrs. Doreen Khumalo
Ms. Beth LeFriant
Robbin Narike Preciado
Mr. and Mrs. Carl Pescio and the Pescio Family
Tucker Family Foundation
Mr. Matthew and Mrs. Jayneann Wikler
And especially the teachers and administrators responsible for inspiring the Carson Scholars