In Events on April 16, 2015 - 2:45 pm
2015 Chattanooga/Atlanta Awards Banquet
Upon entering the University of Tennessee at Chattanooga's Student Hall with its 30-foot-high arched ceiling perched just above tall windows, your first impression is of overwhelming openness — to new ideas, to new dreams, to new heights, to new…anything! The photos do not even do it justice. But that is just what Carson Scholars are all about — helping future leaders to not only dream, but to achieve those dreams!
Scholars and their guests, totaling to over 250 people from 8 states, gathered at the University of Tennessee at Chattanooga (UTC) for the annual Carson Scholars Awards Banquet.
David Carroll of WRCB-TV in Chattanooga came to UTC to emcee for the second time in celebration of the 44 new and 52 repeat scholars from the Southern states of the U.S., including Alabama, Arkansas, Georgia, Kentucky, Mississippi, North Carolina South Carolina and Tennessee.
He first called up fifth grade student and 2015 Carson Scholar, Kendall Smith, who capably led the assemblage in the Pledge of Allegiance. This poised young man from West Manor Elementary in Atlanta is also the winner of several science fair events and awards for leadership and sports.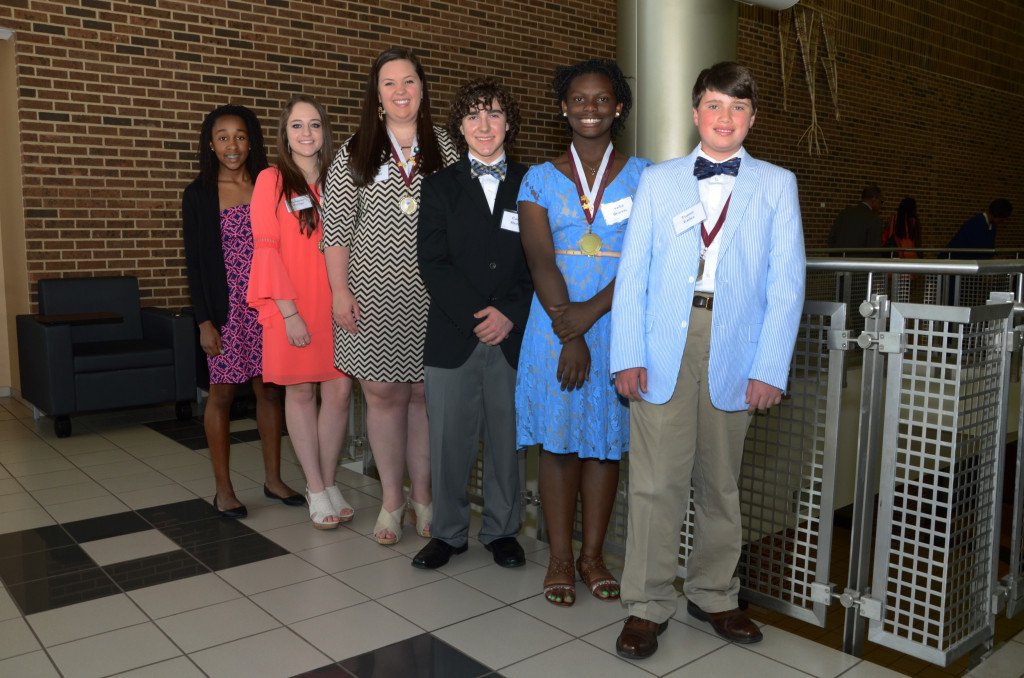 To view the entire album of the banquet, click here.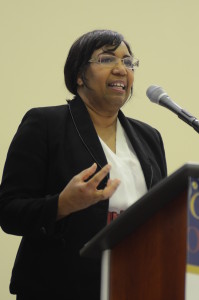 In Candy's welcome, she expressed Dr. Carson and her pleasure in having the ability to join everyone in Chattanooga to celebrate the academic achievement of the special students being honored. After thanking the teachers and other educators for their part in the successes, she articulated her appreciation for the partners whose funding made it possible, which included Dr. Sarah DeRossett, The Community Foundation of Greater Chattanooga, the Mountain Education Foundation, Verizon Wireless and the Sellaway Christian Fund. The volunteers were then asked to stand, which included Michelle Hunter, who was instrumental in bringing the scholars fund to Chattanooga, and Frank and Maritza Casagrande, who have volunteered for two years. She pointed out that the staff at the main office has managed the miracle of keeping the Fund's expenses under 10% and those that were physically present were identified and applauded – Reading Room Coordinator, Tammy Blazenyak; Events Coordinator, Jo Weisgal and Scholarship and Communications Coordinator, Kaylee Dougherty.
Three-time Carson Scholar winner, Katie Philyaw, expressed her prayer of gratitude for the food, the people who prepared it and for the people responsible for the occasion. She concluded with "May You always guide our hearts and minds in ways that are pleasing to You." She is a tenth grade student at Signal Mountain Middle-High School who enjoys raising funds for mission trips and serving on them.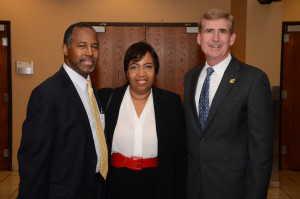 During lunch, the screens were alive with the scholars as each one was presented individually with their photos and accomplishments. After the meals had been served, the Chancellor of the University of Tennessee at Chattanooga, Dr. Steve Angle, came to the podium to congratulate the scholars. He emphasized the value and importance of education, since children are our future. He challenged them to take advantage of opportunities, to open doors, to discover ways to utilize their talents and included an invitation to strongly consider UTC for their higher education.
David Carroll returned to the stage, citing the stringent requirements of the award and the uniqueness of the Carson Scholars Fund since students are eligible to requalify for scholar status from grades 5 through 12. After having all 52 repeat scholars stand to be recognized, he singled out Bethany Burns (eleventh grade, Signal Mountain High School in Tennessee) and Dexter Davis, Jr. (tenth grade, South Atlanta School of Health & Medical Sciences in Georgia), who had each won five times! In addition, he singled out ninth grade student, Jasmine May, of Benjamin E. Mays High School in Atlanta because she won six times so far, which is well on her way to becoming a nine-time winner! The Carson Scholars Fund's alumni base has reached over 3,200 in number and the Carson Scholar Alumni video that played after showcased several successful alums.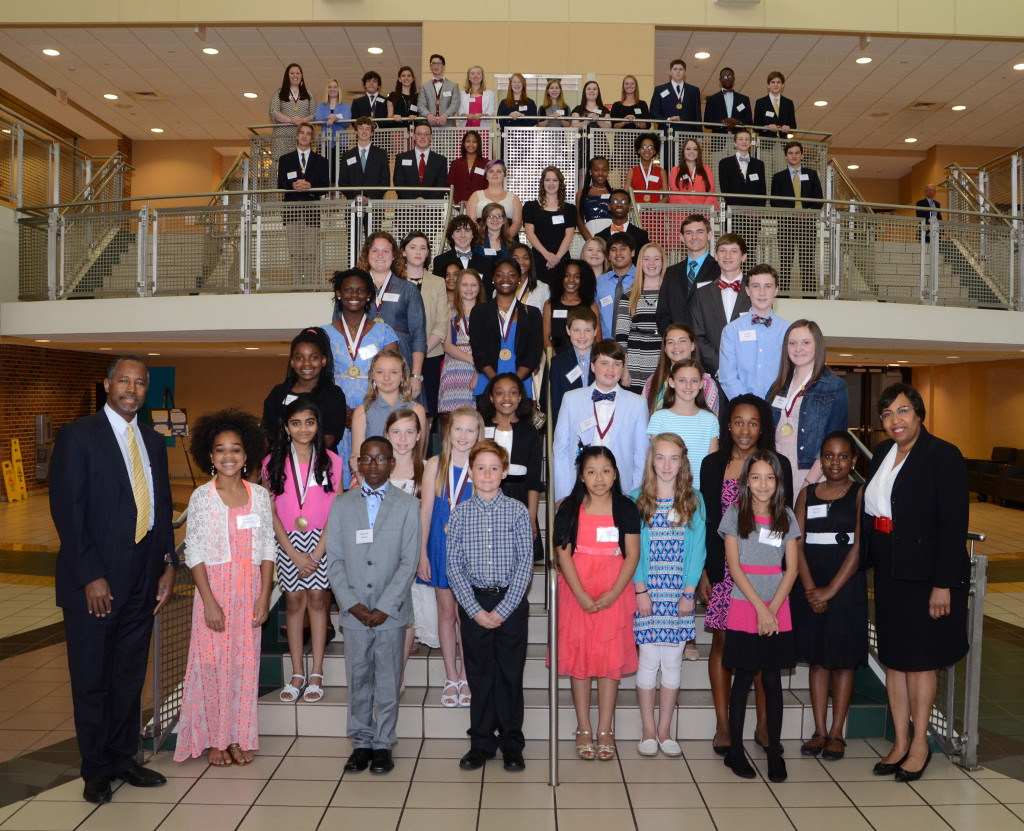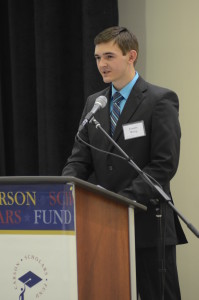 A future aeronautical engineer and U.S. Air Force pilot, ninth grade student Joe Wittig of Union Christian Academy in Fort Smith, Arkansas spoke highly (pun intended) of Dr. Carson in his introduction. He credited Carson's belief in education as "the great equalizer" for inspiring so many young people to excel. Joe also enumerated some of Dr. Carson's achievements including more than 60 honorary degrees and being one of the few in our nation to be honored with the Medal of Freedom.
Dr. Carson began his talk with an expression of gratitude for all who created the environment for the students to achieve including parents, grandparents, guardians, teachers and others. Being in Chattanooga brought Dr. Carson back to his roots, since his parents are originally from there. This fair city was where they met and were married before moving to Detroit. One of 24 children, Sonya was 13 when she married to escape a less than optimal situation. A few years later she discovered her husband was a bigamist. With the ensuing divorce, Sonya struggled to support her family, working 2-3 jobs at a time to stay off welfare. Desiring a better life for her sons, she prayed for wisdom and came up with that extracurricular reading program for her sons. Carson said he "developed a whole new mind-set after reading books." He spoke of thinking out of the box using his summer job experiences while in college as examples, noting that problems can be solved with intellect. When you really look at a problem and analyze it looking at facts and evidence then comparing it with history, you can come up with the best solution. But a lot of times that takes the courage to actually solve the problem as opposed to going along with the majority. The people who get things accomplished are the ones with the courage to step out of comfort zones and many times it takes years before it's appreciated. As he closed with his THINK BIG philosophy, he reminded the scholars that each of them represents intellectual talent, something they should continue to use for their own success and to help in the world around them.
Afterwards, Dr. Carson discussed the second initiative of the Carson Scholars Fund, the Ben Carson Reading Room Project. He and Candy said that the first two reading rooms in the state of Tennessee would be opened the next day in Murfreesboro at Northfield Elementary and Reeves-Rogers Elementary and Candy would be speaking there.
A new children's book, Anything is Possible was introduced as a video on the screens and was soon to be available through pre-orders and on the website.
The awards were then presented individually by Ben and Candy as David Carroll announced the honorees, with Frank Cassagrande facilitating, beginning with the first-time scholars and concluding with the repeat scholars.
A finale of a different color closed the program, since the usual "Impossible Dream" was not heard, but the students held their glow sticks up to let their lights shine anyway, as these dedicated role models have purposed to do every day!