In Events on May 7, 2015 - 9:35 am
2015 Chicago Awards Banquet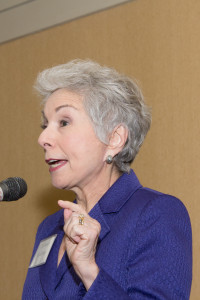 Emceeing for the third time, Dr. Sandy Goldberg, host of the series Food for Thought on local NBC affiliate News 5 in Chicago, opened the program with an earnest welcome. She commented on the stats of the scholars with there being 53 new and 55 repeat scholars from 10 states which included Illinois, Indiana, Iowa, Kansas, Minnesota, Missouri, Nebraska, North & South Dakota and Wisconsin. She said that as a grandmother of 9, she appreciates the Carson Scholars Fund affording children havens where they can read while encouraging them towards a successful future.
When she presented the Carson Scholars of 2015, they marched into the banquet hall, double file from the rear. They then split at the stage with the signature sound of Rimsky-Korsakov's "Procession of the Nobles" playing in the background. She called 11th-grader Thomas Botten III from Northside College Preparatory High School to the stage to lead everyone in the Pledge of Allegiance. Mr. Botten enjoys mentoring and wants to pursue a career in mechanical engineering.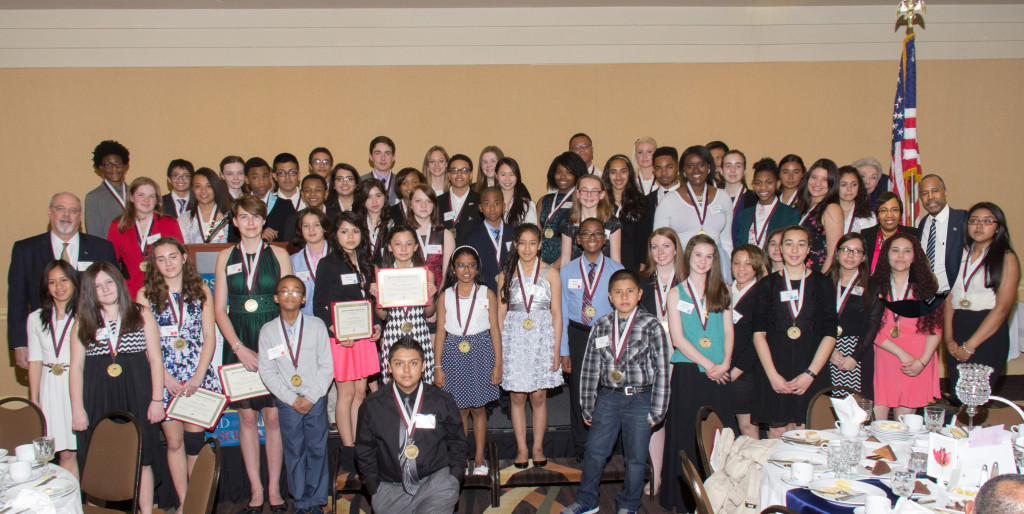 To view the entire Chicago Awards Banquet image gallery, click here.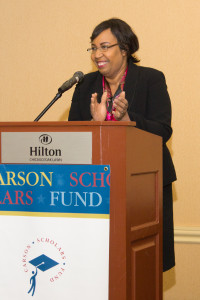 Mrs. Candy Carson also welcomed everyone to the 4th annual Carson Scholars Awards ceremony held in Chicago and proceeded to thank everyone who made the afternoon a success. She recognized all of those who made the special day possible. They included: educators and administrators; donors Will Gilliam and Kate Eller representing Advocate Christ Medical Center, which has sponsored all seven reading rooms and most of the Chicago scholars; Tony Rose with Illinois Tool Works Foundation, who has endowed two scholarships, as well as sponsored three scholars this year; Jack and Anna Berger who established a scholarship in the name of John W. Fountain, class of 1978 of Chicago's Providence-St. Mel School; volunteers, which included students from DePaul University Sam Tomko Jones and Anel Vacca with Professor Mary Miratello. Lastly, she thanked the Carson Scholars Fund's executive director Amy Warner, development director Mary Wright and the entire Carson Scholars Fund staff.
Sarah Smith, a 2015 Carson Scholar and sophomore at Michigan City High School took the stage to say the blessing. Sarah loves history and created a bit of history herself by becoming the first youth representative on the pastoral council at her church. In the blessing, she expressed appreciation for the opportunities provided by the Carson Scholars Fund for all the scholars, recognizing their achievements and thanked everyone who helped them through the process.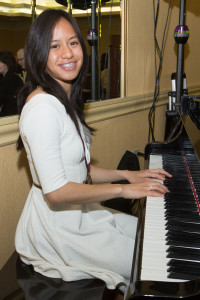 All the guests were invited to view the screen during lunch to see the scholars and their affiliated schools. While dinner was served, senior and two-time scholar, Michelle Delana, performed soothing classical music on the piano, which she has been playing for 10 years.
When Dr. Goldberg regained the stage, she acknowledged Ken Lukhard of Advocate Christ Medical Center for his leadership in establishing so many scholarships and reading rooms in the Chicago area. Because of Advocate Christ Medical Center, there were 53 new scholarships awarded and 7 new reading rooms created in the area.
Because Mr. Lukhard was unable to attend, Will Gilliam, Administrator of Professional Services, spoke on behalf of the local medical center.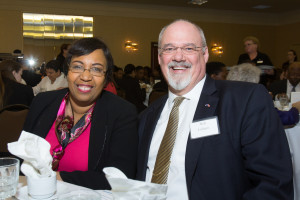 He began his remarks with a quote from Nelson Mandela saying, "education is the most powerful weapon which you can use to change the world." He said that "witnessing the high caliber of so many dedicated young people gives me great hope for the future." He asked us all to try to recall a teacher or coach who made a difference in our lives and continued with how we need more people who are givers and less who are takers. Advocate Christ Medical Center is committed to a broad vision to contribute to the community and supporting Carson Scholars is a part of it. They also aim to encourage students to follow their dreams, hold true to their faith and devote themselves to developing their gifts and talents that will make our whole nation stronger.
Dr. Goldberg returned citing historical statistics of the Carson Scholars Fund. She noted that although the initial group of scholars was only 25, to date, there have been more than 6,700 scholar awards, with an alumni network of over 3,200 impacting the country in a positive way.
Following a video showcasing several Carson Scholar alumni, Manaal Ali, an 11th grade student at Harrisburg High School in Harrisburg, South Dakota, came to the podium. A member of the Health Occupation Students of America (HOSA), as well as her student congress, choir and yearbook committees, she shared what it means to be a Carson Scholar. The 17-year-old delivered her entire speech without notes or cards, speaking of her various lofty goals of becoming an educator, author, physician and philanthropist. Her work with the student-led group of HOSA gave her an enlightening, hands-on experience of life in the medical field including the rigors that produce time away from family and sacrifice. But comparing it to the satisfaction of helping those around you, there is no comparison. She concluded with how Dr. Carson has lived this kind of life as she introduced him.
Dr. Carson congratulated the scholars, parents and educators, then followed by stating his reminiscence of his life when he was the age of the scholars. He explained how reading can change the trajectory of one's life and once he started reading, he realized he had control over his future and didn't have to live in poverty. When one of his teachers held up a shiny black rock in class to see who could identify it, Ben was the only one who could, which was a direct result of his reading program!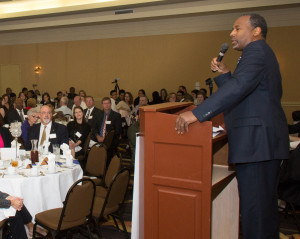 He recalled meeting one of his hemispherectomy patients recently after one of his talks. Dr. Carson had operated on him as a child and removed half of his brain to stop seizures. Here it was more than 20 years later, and the young man informed Dr. Carson that not only had he graduated from college, but he graduated at the top of his class! He closed his remarks by saying, "We all need to be thinking not about what we can't do, but about what we can do and continue to THINK BIG!"
Candy Carson came up next and described the Ben Carson Reading Room program, how it works and the unique beauty of several of the rooms. She noted the two rooms that opened that same week in the Chicago area. The 131 Ben Carson Reading Rooms established over the years are serving students in 17 states and Washington, D.C. She asked the audience to watch a video of the newest initiative relative to the reading rooms, a young children's book about Ben Carson's struggles and achievements called Anything Is Possible.
Dr. Carson came back to the microphone to acquaint everyone with the logistics of obtaining the book as well as the procedures for processing the paperwork on the tables. He then welcomed Dr. Goldberg and Will Gilliam back to the stage to help honor and recognize the scholars.
As Dr. Goldberg read off the scholar's names, Dr. Carson carefully placed the medals over the honorees' heads, Will Gilliam presented each with their certificate and Mrs. Carson shook hands and positioned each recipient for the photo. The shining glow sticks were not as bright as the scholar's beaming faces while the song "Impossible Dream" played to conclude the ceremony.
Special thanks to:
Mr. Jack & Mrs. Ana Berger – In the name of John W. Fountain
Mr. Stephen Bonner
Ms. Linda Brodine
Mr. Greg Brown
Dr. & Mrs. Jack Cole
Eli Lilly Foundation Endowment
Mr. Stanley & Mrs. Monique Friedman
Ms. Toni Mooney Gardner
Mr. Matthew Hoffman
Indiana University School of Medicine Endowment
Indianapolis Colts
Mr. & Mrs. Dan Jorndt
Mr. Doug Kathol
Ms. Laura Lavendar
Mr. Kenneth Lukhard
Mr. Wendell Oman
Mr. Bill & Mrs. Catherine Perez
Ms. Carol Rickerson
Mr. Tony & Mrs. Sandy Rose
The Rose Aspiring Minds and Character Endowment
Mr. Patrick Wargo & Ms. Julienne Turner
Our volunteers Mary Miratello, Sam Tomko-Jones and Anel Vacca