In Events on April 16, 2015 - 3:12 pm
2015 Florida Awards Banquet
The soothing, oceanic aquamarine waves rolling in to caress the sand captured the sights of the guests through the long bank of windows spanning one entire side of the Harborside Convention Center of Fort Myers, Florida. This gorgeous vista, witnessed by all as they checked in to attend the 7th annual Florida Carson Scholars Banquet, is a very tangible representation of the limitless possibilities open to the newest Carson scholars! Over 500 guests were in attendance to celebrate academic achievement.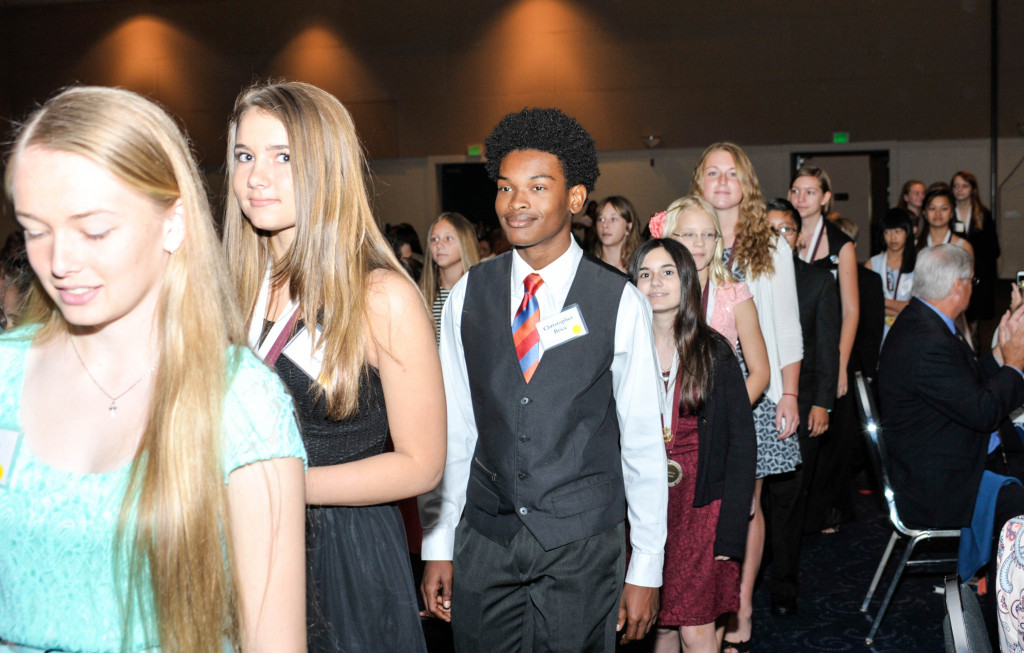 To view the entire Awards Banquet album, click here.
Brian Colleran, news anchor for NBC2 returned as emcee, noting that this year the new scholars are 63 in number, with 101 repeat scholars from across the state of Florida! Scholars marched in from adjacent double doors at the rear of the banquet hall in double file and turned in opposite directions once they were on stage to continue to their seats.
The welcome was conveyed by Candy Carson who brought greetings from the other side of the state where she and Dr. Carson now reside. She explained the drive behind the fund, which was started in 1994.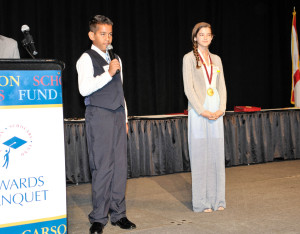 2015 Carson Scholar and 5th grader from Diplomat Elementary School, Daniel Munoz, solemnly led the audience in the Pledge of Allegiance. Rebekah McDaniel, a 3-time Carson Scholar and 7th grader at Gulf Middle School then wowed the audience as she sang the National Anthem with a budding clear lyric soprano voice!
Next, Lee County's favorite attorney and humanitarian, Johnny Sheppard, fervently prayed a blessing over all present, petitioning the creator, sustainer and giver of all life while thanking Him for each individual's talents. He went on to say that they would use them and recognize that each day is not only a gift, but also an opportunity to do good and help others around us.
While lunch was served, Alexandra O'Brien, a 2015 scholar and 11th grader from Alexander W. Dreyfoos, Jr. School of the Arts, performed classical music on the piano. One of her unique accomplishments was an honor received by the Boca Delray Music Society.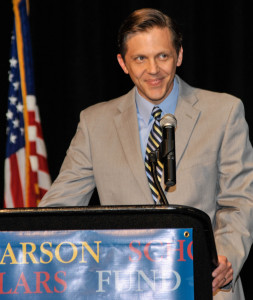 Mr. Colleran continued with a short history of the Fund, noting that more than 6,700 scholarships have been awarded in all 50 states and Washington D.C., and that over 3.6 million dollars have been paid out to date. The alumni network has reached over 3,200! A video showcasing several alumni was then played on the 20-foot screens.
Olympic Heights Community High School sophomore, Rebecca Zerbo, presented insight on the reality of being a Carson Scholar. To her, "scholarship is about striving to do your best academically…while utilizing determination, perseverance and heart to go out into the community and create a positive change. " This is something she has done with the not-for-profit organization she founded 4 years ago while in 6th grade, called Positive Pocket, Inc. This organization was created to empower, motivate, and inspire youth and adults who suffer from the negative effects of bullying and other social/emotional issues that are current in our culture today. Her organization has even reached Puerto Rico, Singapore and Australia.
She started wrapping up with a quote from Dr. Carson saying, "Success is determined not by whether or not you face obstacles but by your reaction to them.
And if you look at these obstacles as a containing fence, they become your excuse for failure. If you look at them as hurdles, each one strengthens you for the next." Her conclusion to the scholars was, "we are all successes, especially as we accept these awards. But this is not an excuse to be lazy, it is an opportunity to go back out into the world and make an even bigger impact."
The Carsons' dream of having a Carson Scholar in every school in the nation was a vision that was captured several years ago by educator, builder and philanthropist, Dr. Bill Frey, and his wife Lorraine. Through their efforts, more than 400 scholars have been honored and have been impacting their communities! In addition, twenty elementary schools have endowments, ensuring a scholar every year in perpetuity!
Bill's remarks began with his acknowledgement of his wife, Lorraine as his partner in commencing and developing this successful endeavor in Florida. Congratulating the students for all their achievements, as well as their parents, guardians and teachers was a natural follow up to his philosophy that "you are who you are because of the people around you." The secrets, he said, that he could enumerate about Dr. Carson were summarized in his statement that Dr. Carson was a "problem child," a conclusion anyone could resolve after reading the autobiography or watching the movie. But "where Dr. Carson had been led is a gift from the Almighty," Dr. Frey continued. The similarities in their ideals and values are ones that he is so passionate about. He joked that people usually take bets on how soon during his speech that he would start crying! After citing some of the more significant honors Dr. Carson had received, he closed with his feeling that it was his honor to not only introduce Dr. Carson, but to call him a friend.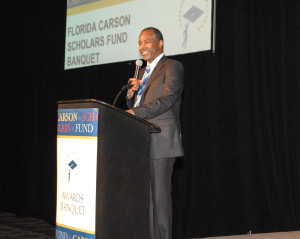 After welcoming and thanking everyone for their part in the success of the banquet and in the success of the lives of the scholars, Dr. Carson went on to say he had never met a person of accomplishment who couldn't point to an educator who had a significant impact on their life, and then proceeded to recognize the educators. He took the audience on his life journey beginning with poverty. He cited that the key to his success was having a mother who refused to be a victim and who prayed for wisdom, which ultimately resulted in a special reading program instrumental in developing his love for learning. The prevailing theme of 'thinking out of the box' to solve problems and come up with alternative methods of completing tasks, was illustrated by his summer employment during college. He charged the students to be cognizant of naysayers, but to recognize that their advice does not apply to someone like them, who "thinks out of the box." His final thoughts surrounding the acronym THINK BIG included how cultivating your talent will take you a long way.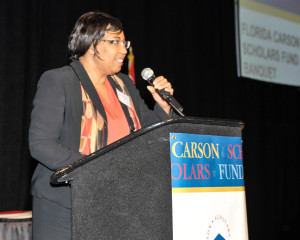 Up next was Candy Carson, co-founder of the organization, who described the second initiative of CSF, the Reading Room Program. The two Ben Carson Reading Rooms currently in Florida, Marianna and Palm Beach, will soon be joined by four more in a few weeks. This is due to the generosity of the Harry F. Duncan Foundation, the West Palm Beach Chapter of the Carson Scholars Fund and Dr. Carson's childhood physician and his wife, Dr. and Mrs. Donald Janower!
The Anything is Possible video that followed launched the new children's book that is available through pre-orders as well as on the website. The request for surveys to improve the programs and donor cards to be completed was the last bit of business before the scholar awards were given.
Each scholar walked up as their name was called while the screens portrayed their accomplishments. Dr. Frey, Dr. & Mrs. Ben Carson and Dr. Nancy Graham (superintendent of Lee County Public Schools) presented medals, certificates and congratulations to the awardees as they crossed the stage. Thunderous applause resounded at the end of each group of honorees – first-time winners and repeat winners.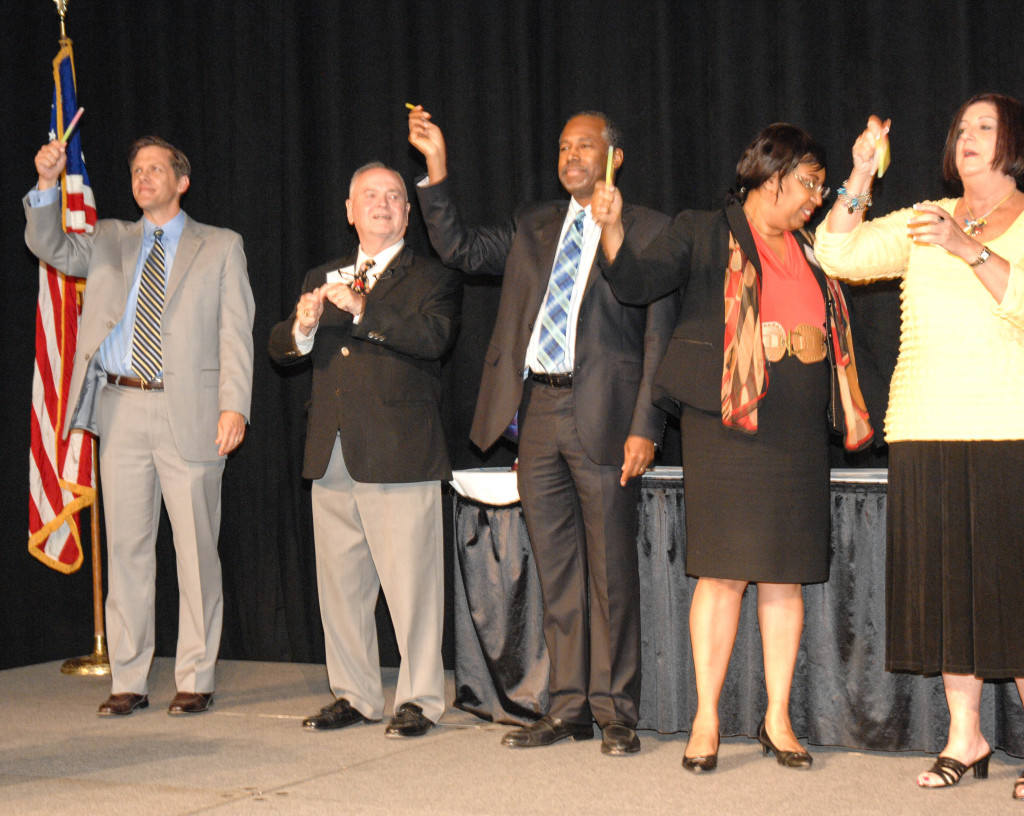 Special thanks were given to CSF staff which included, Katie Damaroda, Scholarship Director; Jessie Monteleone, Southeast Expansion Coordinator; AmyWarner, Executive Director; and volunteers Bryan Monteleone and Teresa Evans.
The program concluded with the scholars waving their glow sticks, letting their lights shine, while "The Impossible Dream" played to remind us all that dreams can come true!