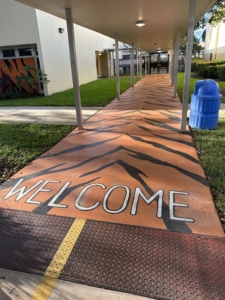 The "tiger spirit" at Jerry Thomas Elementary School is evident before you even reach the sidewalk! The concrete under the covered walkway begins with a tiger face, encircled by the name of the school (in school colors, of course!) connected to a 30-foot serpentine tail, drawing closer to the building to where the entire walkway resembles a tiger's back… encouraging students to 'Take a (an informative educational) ride with tiger pride!' (the special support that can only be found at Jerry Thomas Elementary!)
In the cafeteria, as soon as Principal Kristen King started to mention the program was about to start, silence suddenly filled the room….in anticipation! After she welcomed one and all to the "home of the Tigers", she proclaimed, "Books are magical places!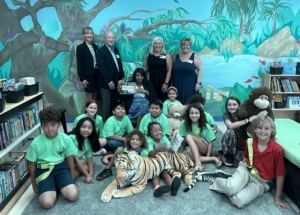 … a doorway, where you can enter any place you can imagine, as well as places you never dreamed of! The reading room was built as another way to encourage and aid "Tigers" to reach new heights! The transformation of the old computer lab, which was dusty, outdated and messy, was an amazing feat!
Fifth grade students solemnly led the Pledge of Allegiance: Quin Yacko, Sophia Titkova, Cyrus Hunter, and MJ Freeman, after which Principal King recognized special guests. Guests included:
Palm Beach County School Board Representative District 1 Barbara Quin

Palm Beach School District Superintendent Mr. Michael J. Burke

North Regional Superintendent Dr. Camille Long

Town of Jupiter Councilman Cameron May
BallenIsles Charities Foundation Committee Members: 
President Mark Freeman

Vice President Judy Passov

Vice President Chere Goldstein

Grants Committee Member Miriam Hirsch
Representatives from the Carson Scholars Fund:  Jessie Monteleone and Candy Carson.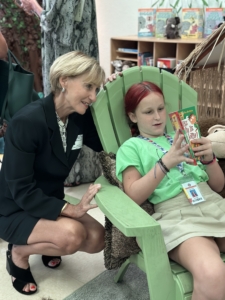 Principal King also thanked Vice Principal Rachel Roche, the PTA President Jillian Falco and Vice President Cat Galina, the art teacher/muralist Katherine Gebhart and the more than 20 staff members who served on strategic committees to facilitate the establishment of the special room.
In his complimentary remarks, Palm Beach County School Superintendent Michael J. Burke brought to light that there had been 28 Ben Carson THINK BIG Reading Rooms established in the county! He then pointed out the special significance of this particular number. Mathematically speaking, 28 is a "perfect number", which is a positive integer that equals the sum of its factors. (Factors are the numbers you can multiply to reach 28. Number 28's factors: 2, 14, 4 and 7 add up to 28!)
Since 2017, BallenIsles Charities Foundation has partnered with the Carson Scholars Fund in establishing Ben Carson THINK BIG Reading Rooms in Palm Beach County. Vice President Jody Passov who has been present at most, if not all, of the reading room openings, noted that this room is the eighth to be installed by their organization! She said she hoped everyone was as excited about the new room as they were!!  One of their primary motivations is the fact that "if children can't read, they can't learn!"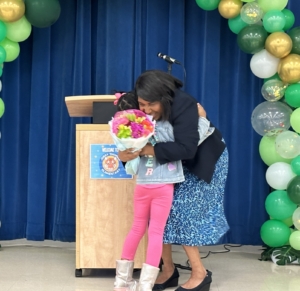 BallenIsles Charities Foundation appreciates having the opportunity to install places where children can develop themselves even more, in a fun and effective way!
Next, second grader Summer Love Sparks in her matching hot pink stretch pants and top clearly intoned the motivating words of Jane Baskwill's poem entitled "Open a Book"… and didn't miss a beat!!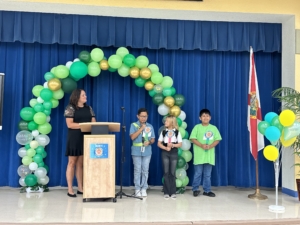 In celebration of Hispanic Heritage Month, fifth grader, Matthias Garcia, and fourth graders Celeste Gomez Pardo and Yorio Lopez Ramirez, detailed the manner in which the school was celebrating the special month associated with Hispanic history. The boys took turns giving details about the decorations and activities, after which Celeste would give the translation in fluent Spanish! 
CSF Co-Founder Candy Carson then related interesting facts about our brains and learning potential, as well as the idea that the person who has the most to do with what happens to you…is you, and how that works!! The motivational story she shared of how a little girl who had half of her brain removed by Dr. Carson to cure seizures, and still rose to the top of her class, had quite an impact.

Words of inspiration were shared by Dr. Ben Carson via video including his academic transformation from the bottom to the top of the class due to his mother's-imposed reading program. He also spoke of his chosen profession, neurosurgery, as well as why he and his wife started the Carson Scholars Fund…to encourage students to do their best and help them come closer to reaching their full potential through reading.
After final encouraging reflections by Assistant Principal Rachel Roche, guests were dismissed to the ribbon-cutting ceremony, with the promise that each class would have the opportunity to see the room later in the day.
---
The Room:  "It's a jungle out there!"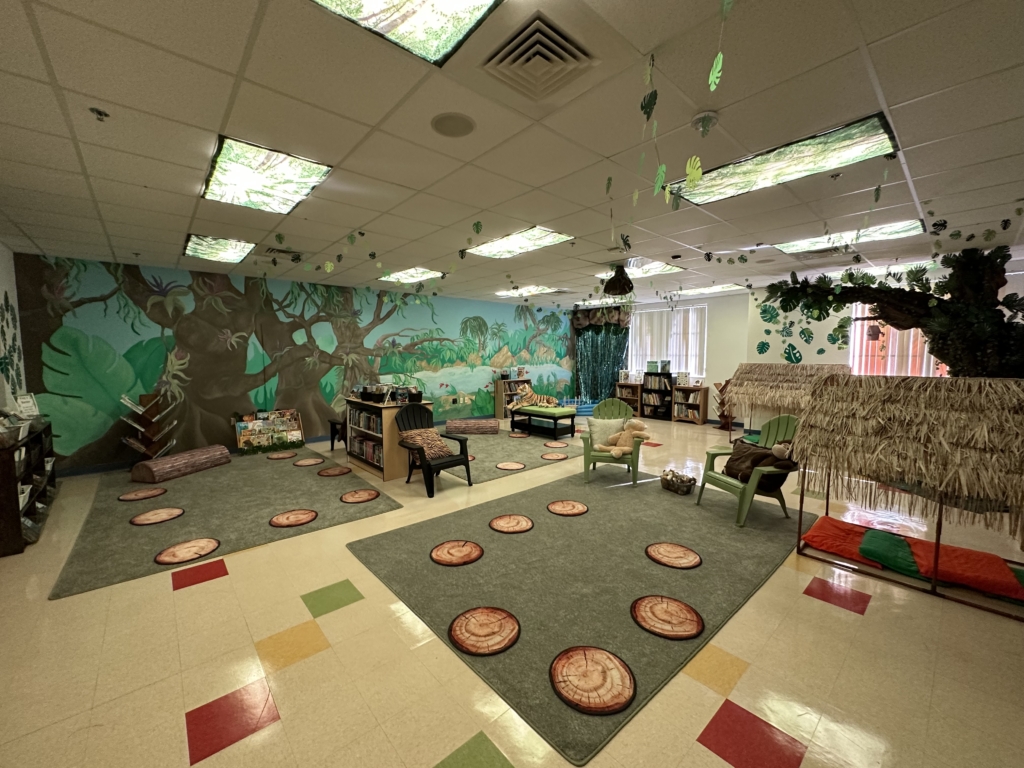 With the tiger as the school mascot, it just seems logical that the place where a tiger would thrive would be its natural habitat: the jungle. So the art teacher painted a huge, vibrant mural and brought the jungle inside for the "student tigers" to grow and mature academically! So to coin the appropriate phrase, "It's a jungle in here!"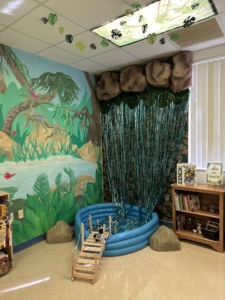 As you enter the room, on the left are the sinks…water access…decorated 
with grass you would find near water in the wild! Keeping watch from a safe place above the "water" are several indigenous species. But there are no other creatures on the walls. As a fundraiser, the art teacher came up with the idea of having donors adopt a fine arts classroom and have each classroom vote on their favorite from a list of animals that live in this habitat so that the students would have input in the project and learn which animals live in the jungle.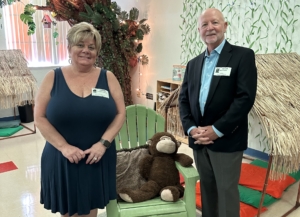 Area rugs resembling a jungle floor are peppered with stump-decorated pillows along with 5-foot-long log pillows for reading adventurers to relax on as they take their journeys.
Reading buddies (stuffed animals) of various sizes abound as well and are strategically placed for easy access. Adirondack chairs have larger buddies in them, including a bear and monkey! And a large stuffed tiger is situated near the center of the room…guarding his domain!
Leaves suspended from the ceiling, a very life-like jungle tree in the corner (created and hand-built by speech pathologist Marianne Salem, an eye-catching waterfall composed of silver/blue tinsel-like streamers flowing into a blue wading pool accessed by a wooden bridge, thatch-roofed reading huts populated with large square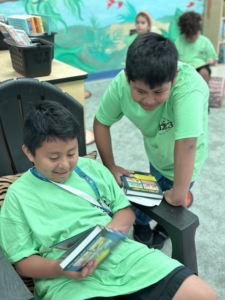 pillows for comfort, and books, books and more books make this room a unique haven!
For several years, Principal King had saved a number of books that were treasures for her and her own children. She had been looking for a place to donate them. The reading room was the perfect place! So in similar fashion to U.S. Founding Father Thomas Jefferson, who donated his entire library to start the Library of Congress, her books now reside in the section of the reading room called "King's Corner."
View more photos from the day here