In Events on October 22, 2015 - 2:59 pm
Fifth Annual Domtar Vendor Partnership Meeting and Charity Golf Event
Update: Thanks to the generosity of Independent Container Line, CSF will be receiving another $5,000. The grand total is now $160,000.00!
---
The beautiful Ballantyne Hotel and Lodge was the backdrop for the Fifth Annual Domtar Vendor Partnership Meeting and Charity Golf Event. The event commenced Monday, October 19, 2015 with a reception and dinner with the Domtar management team and their vendor partners. Domtar announced that the Carson Scholars Fund was the beneficiary of the event with the donation directly benefitting the Ben Carson Reading Room Project. Amy Warner shared that this donation by Domtar and the participating vendor partners was the 'largest single donation earmarked for the Reading Room Project that CSF has received to date.'  She went on to share with the group that the generous donation would provide funding for 10 Ben Carson Reading Rooms in Domtar facility areas. Commitments are already in place in Bennettsville, SC; Ashdown, AR; and Plymouth, NC. Seven other rooms are in process in nearby Domtar communities.
Tuesday dawned sunny and crisp as 124 golfers headed out for the shotgun start. Domtar executives, managers and their vendors and suppliers maneuvered the pristine course at Ballantyne. A fantastic day on the course was had by all.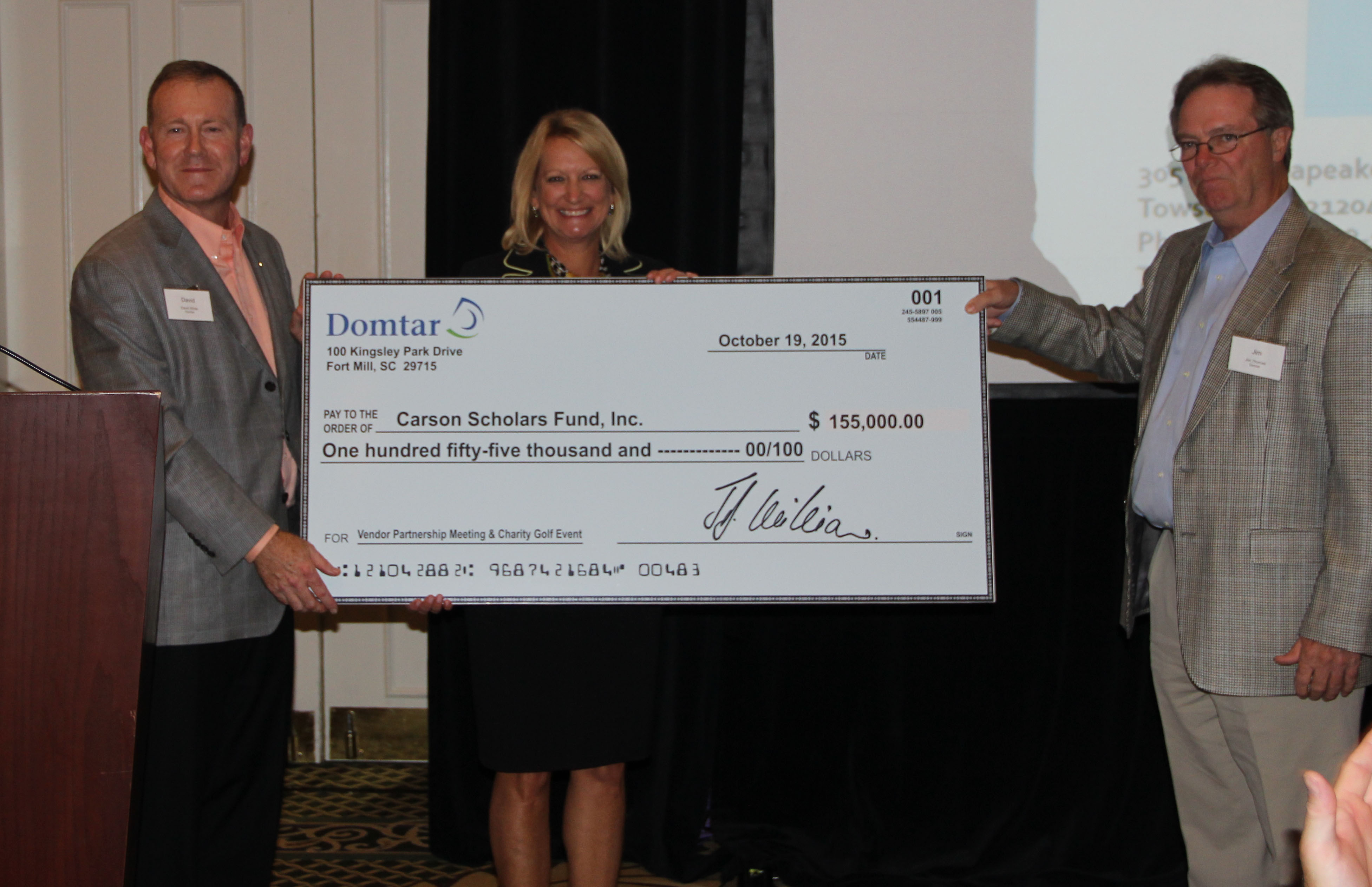 David White (left) and Jim Thomas (right), with Domtar, present a check to Amy Warner with the Carson Scholars Fund for the proceeds from their 5th Annual Charity Golf Event.
Sincere thanks to:
John Williams, President and CEO of Domtar
Lu Ann Debolt, Events & Operations Coordinator, Sustainability & Business Communications of Domtar
A special thanks to:
ABB
AFN LLC
Andritz, Inc.
Asten Johnson
Bison Transport, Inc.
Buckman
Chemtrade
Childress Klein Properties
CP Rail
DHR International
Akzo Nobel PPC (Eka Chemicals)
Eric Mower and Associates
Fuel Transport Inc.
Georgia Pacific
Independent Container Line
Interstate Distributor Company
Kemira Chemicals, Inc.
KITS Brokerage Inc.
Motion Industries
Nalco Company
Nekoosa Coated Products, LLC
OxyChem
Omya Inc.
Packaging Corporation of America
Printpack Inc.
Sonoco Products
Tate & Lyle
Thompson Construction Group, Inc.
TransWorks
Valmet, Inc.
Voith Paper Fabrics & Roll Systems Inc.