In General on December 6, 2020 - 8:19 am
Giving Tuesday and Year End Giving 2020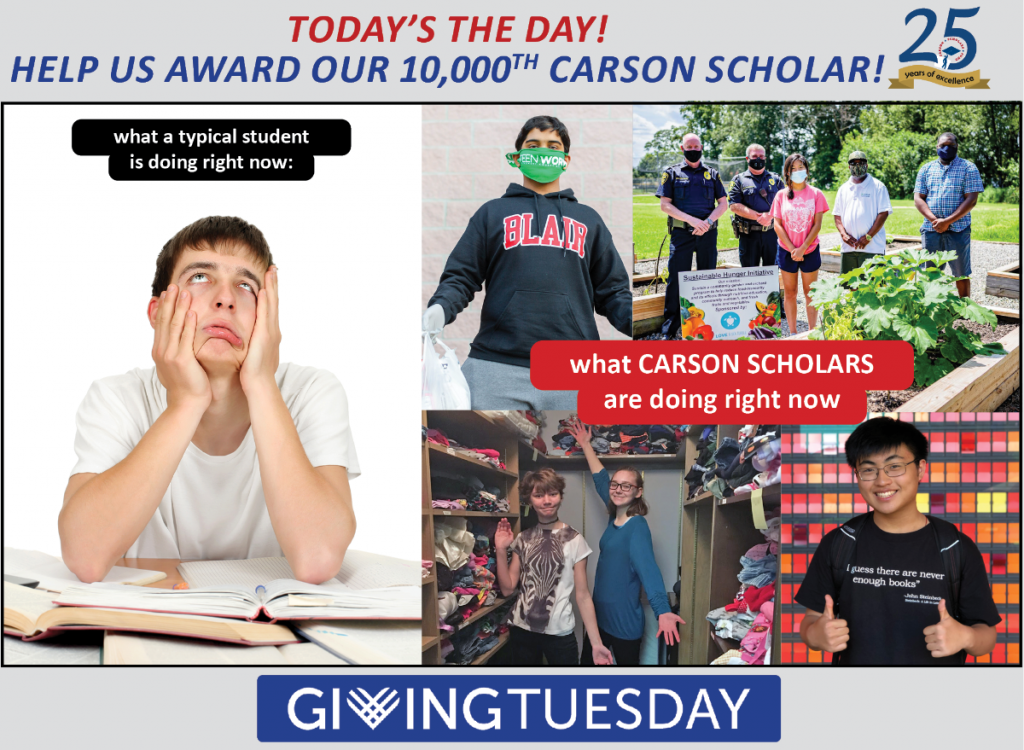 Giving Tuesday 2020
Giving Tuesday, a global movement to encourage and inspire people to give and celebrate generosity on a single day of the year by giving to charity, has turned into one of the most important days in giving for charities worldwide.
At Carson Scholars Fund, we reached out to you and asked you to help us raise $15,000 to support our initiatives on #GivingTuesday. Through direct mail, our website, social media and email, we spotlighted how our scholars go Above and Beyond.  We are so pleased to share that we exceeded our goal and raised $16,952.  THANK YOU!
Year End Giving
As we approach the end of 2020 (phew!) we will be entering our 25th year of awarding scholarships to promising youth who go Above and Beyond both academically and altruistically and our 20th year of building reading rooms. It has been our great privilege to connect you with these amazing youth. We are excited to share that we are within reach of awarding our 10,000th scholarship to a deserving student.  During our Year End Giving appeal, we are asking you to please consider investing in a scholarship package, a $1,500 investment, which will allow us to empower youth in this country to continue energizing their communities through academics, problem solving and using their talents to make positive change in the world.
An inaugural and 2-time Carson Scholar, Dr. Jason L. James, Jr. shared some wonderful advice for today's scholars: "Be kind to yourselves and the world around you. Be curious about people, places, and things around you. Learn all you can from all you can."
**To ensure your gift makes the 2020 tax deductible deadline, please read the following instructions:
Mailing a gift:
The date on the check must be before or on 12/31/2020.
The post mark date must be before or on 12/31/2020.
Credit Card gifts online:
11:59 p.m. Eastern Standard Time on 12/31/2020.
Donating Stock:
If donating stock, stock must be received by 12/31/2020.
For more information, please contact Amy Warner at awarner@carsonscholars.org or Pam Marshner at pmarshner@carsonscholars.org.