In Scholars on October 10, 2019 - 9:19 am
Hall of Fame Spotlight on Joe Wyrwas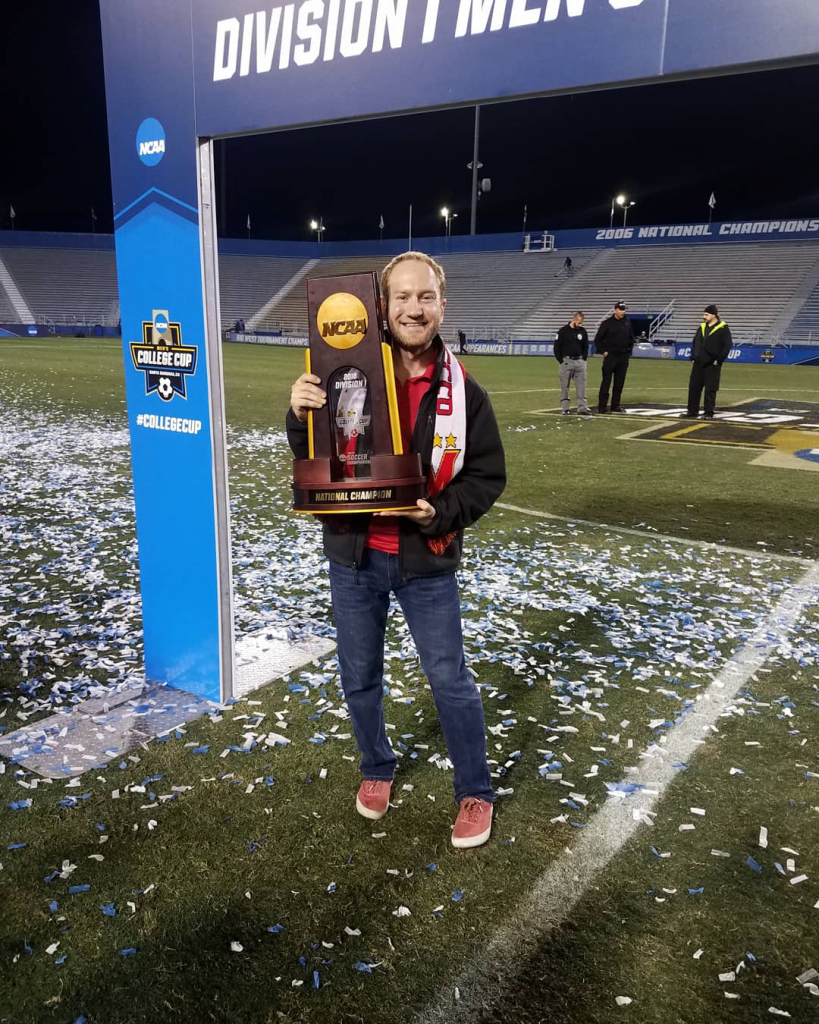 This year, we wanted to shine a spotlight on some of our Hall of Fame members. We encouraged them to "Rep their School" and send us a photo showing their school spirit. Along with the photo, they answered a couple questions about their university and other interesting facts. Joe Wyrwas, inducted into the CSF's Hall of Fame in 2018, attended The University of Maryland – College Park. The photo he attached shows Joe posing with the Maryland soccer trophy they won for the 2018 National Championship. Read on to learn more about Joe Wyrwas!
Q – What made you choose your university?
A – There were many reasons that added up to make the University of Maryland, College Park my best choice for college. My brother attended the University of Maryland studying engineering and highly recommended attending. I received academic scholarships that offset most of the cost of tuition and room and board (who wants student loans?!?). There were many campus clubs and organizations that interested me and I know I'd have a fun and engaging college experience. That's just to name the top few reasons!
Q – What's one thing that makes your university special?
A – The University of Maryland has the first living/learning entrepreneurship program on a college campus called Hinman CEOs. I was part of the experience my junior and senior year and absolutely loved being immersed in entrepreneurship discussions and surrounded by likeminded individuals from many diverse majors from each college.
Q – If you had to teach a class on one thing, what would it be?
A – Leadership and personal development! I volunteer with Hugh O'Brian Youth Leadership (HOBY) at both the state and national level, facilitating and teaching leadership to high school sophomores.
Q – What's the best piece of advice you've ever been given?
A – Over communicate, especially to those above you in an organization. We assume leaders know exactly what's going on, including what problems we're encountering. As members of a team, we can create an inclusive environment and create winning solutions by making sure we're all "on the same page." I've never been told by a boss or manager that they didn't want the information I shared and many times was thanked for bringing information to their attention.
Q – What would your superpower be and why?
A – I'd love to teleport! I enjoy traveling and also hate commuting to work and think it would be amazing if I could instantly show up to any location of choosing.
The CSF Hall of Fame is comprised of Carson Scholar alumni who continue to accomplish extraordinary achievements and represent our mission – demonstrate success and excellence in the work force, excel academically, and make significant contributions in their communities. Joe Wyrwas is just one of our many members in the Hall of Fame program doing extraordinary things in their community! Read more about our Hall of Fame members here.