Each fall, the Carson Scholars Fund receives stellar applications from students across the nation. These students, who are nominated by their schools, consistently demonstrate kindness towards others and dedication to their academics that is above and beyond. We are thrilled to introduce you to the 2018 class of Carson Scholars: young men and women who are on their way to becoming our future leaders.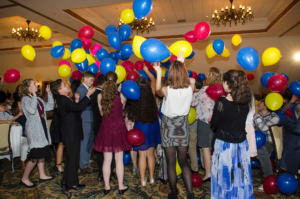 This year, 501 of the country's best and brightest students have been named 2018 Carson Scholars. They will each receive a $1,000 college scholarship and recognition package, as well as an invitation to one of our regional banquets.
We are also eager to announce that 866 previous scholarship winners have maintained their status as Carson Scholars and achieved recognition status in 2018. Year after year, these students demonstrate their commitment to leadership in their communities and their classrooms.
To celebrate this year's 1,367 new and recognized Carson Scholars, we will be holding seven awards banquets across the country. If you are interested in attending one of these events, please visit our Event Tickets page. If you are interested in sponsoring an event, please visit our Event Sponsorship page.
Congratulations to the 2018 Carson Scholars! View the complete list of new scholars and the complete list of recognized scholars.
The 2018 Carson Scholars will be honored at the following banquets:
Saturday, April 7 – Pittsburgh Awards Banquet
Sunday, April 15 – Florida Awards Banquet
Sunday, April 22 – 22nd Annual Maryland Awards Ceremony
Saturday, April 28 – North Carolina Awards Banquet
Sunday, April 29 – Chattanooga/Atlanta Awards Banquet
Sunday, May 6 – West Coast Awards Banquet
Friday, May 11 – Battle Creek Awards Banquet
We couldn't do what we do without donors who share our vision of awarding academic excellence, volunteers who spend countless hours scoring applications, and our school partners across the country. Thank you for your commitment to supporting young superstars!