In Reading Rooms on October 4, 2019 - 10:53 am
Live Oak Elementary Opens Think Big Reading Room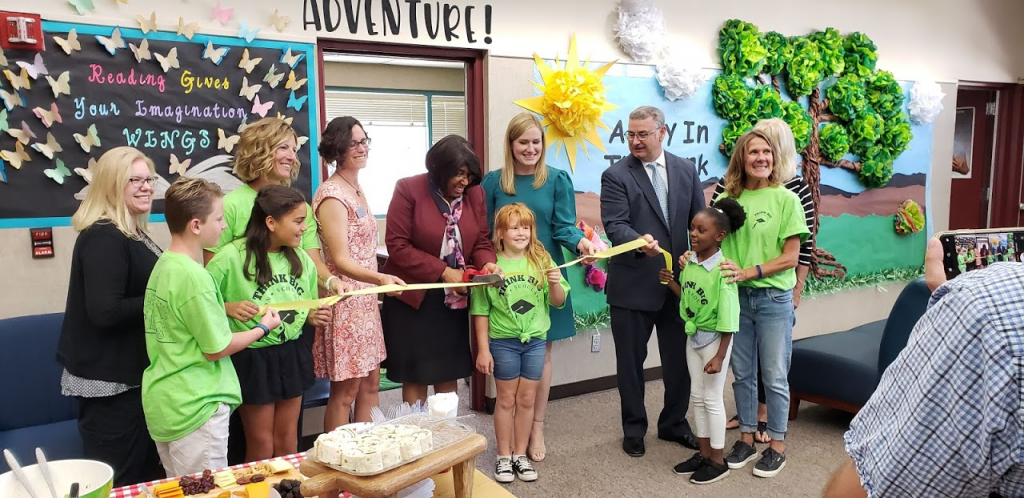 Friday, September 20 will go down in history as an exceptional day at Live Oak Elementary in Fallbrook, California.  The morning was like any other with an abundance of reading, writing and arithmetic taking place inside the classrooms.  As the afternoon wore on, anticipation filled the air.  Special guests would soon be arriving to open the school's Think Big Reading Room.  The special guests included CSF Co-founder Mrs. Candy Carson,  Yorba Linda Mayor Tara Campbell, the youngest female mayor in U.S. history of a city with a population of more than 30,000, as well as the youngest female mayor in California.
The afternoon began with students gathering in the library for a special program to celebrate the completion of the school's Think Big Reading Room.  Immediately following the ceremony, guests were ushered into the reading room where they had the opportunity to explore a day-in-the-park-themed reading room.  The decorating committee thought it was appropriate that a live oak tree mural complete with woodland animals be included in the décor of the reading room, especially since it is the school's namesake. To incorporate nature even more, children have the option of sitting on tree trunk stools.  Throw pillows with birds, dragonflies, and bumble bees are placed on the remaining furniture throughout the room.  The best part of the reading room is the books!  Over 500 of the most popular titles line the bookshelves.  Children are sure to enjoy this reading room for years to come.
This is the 25th reading room to be sponsored by the Eleni and Wolfgang Gagon Trust.
Click here for more photos from the opening.