In Scholars on September 13, 2019 - 11:03 am
Meet Enzo Santillan, Our CSF Newsletter Design Contest Winner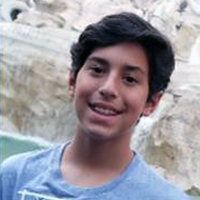 Meet our newsletter design contest winner, Enzo Santillan, a 3-time Carson Scholar from Chicago, Illinois. Enzo is an 8th grader whose hobbies include playing soccer, coding, drawing, building with Legos and playing video games. He is also a member of his school's student council and National Junior Honor Society.
Enzo, who has loved to draw ever since he can remember, is currently learning to use Adobe Photoshop. "I entered the contest to try something new. I wanted to try to practice with Photoshop to get better at it, and now that I've won this contest, I can't even imagine what I will be able to do in a few months," he said. Enzo's design inspiration was to create a unique look with a catchy name. "I wanted it to pop out when someone looks at it. I didn't want a simple design without any sparkle to it," Enzo added.
Enzo is very involved with soccer, and he would love to become a professional soccer player in the future. He plays for Kuba Elite Soccer Club and volunteers his time coaching younger players in the program. Besides coaching, Enzo is involved with the Honeycomb Project in Chicago, Adopt a Family at St. Viator Church, and the PepsiCo Recycle Challenge.
This summer, Enzo enjoyed traveling to visit family in Ecuador and spent time at El Hotel Del Coronado in San Diego, California.