In Reading Rooms on March 2, 2018 - 1:50 pm
Reading Room Spotlight: Beaver Falls Middle School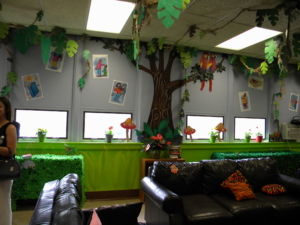 Thanks to the Saxer Family Foundation, the reading room at Beaver Falls Middle School opened in May 2016 in Beaver Falls, PA.  Creators of the reading room at Beaver Falls used vibrant colors and three-dimensional decorations to create the jungle-themed room.  Vines and leaves hang from the walls and ceiling, and animals painted in the mural seem to jump out at you.
In its first year of operation, students spent over 50,000 minutes reading both new and old favorites in the reading room.  During the school year, students can always be found pouring over good books. According to one student, "the atmosphere of the reading room is very conducive to making students feel comfortable and safe, which allows them the opportunity to read and explore high interest books." A mentor reading club also utilizes the reading room for its meetings.  While students frequently use the reading room during the school day, it is also open during the summer.  Two times a week over summer break, students are able to come to the reading room to spend time reading for pleasure.  Community members and organizations have been extremely generous in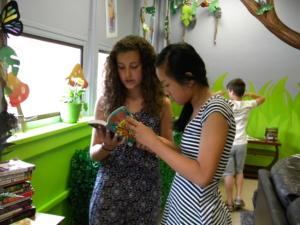 helping Beaver Falls with their reading room.  The school has received book and furniture donations since opening to provide more options for students.
Andrea Piccione, reading room coordinator at Beaver Falls, is constantly in awe of what the reading room has brought to students: "There are many moments when I'm amazed at how grateful the kids are that we have the reading room in our school. I'm so grateful that it's here and the kids enjoy it so much."
Fast Facts:
Enrollment: 379
Average number of students visiting the reading room per day: 20 – 30 students
Average length of visit to the reading room: 30 minutes – 1 hour
Frequency of visits: Multiple times per day
Most popularly selected books: Diary of a Wimpy Kid, Dork Diaries, Guinness Book of World Record, and Ripley's Believe It or Not
Fun fact: This jungle-themed reading room features an ornate bookshelf/bench that encompasses an entire wall.