In Reading Rooms on April 4, 2018 - 4:31 pm
Reading Room Spotlight: Bedford Elementary School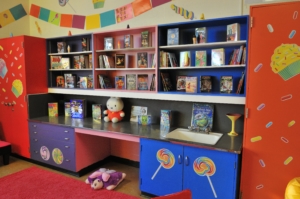 Back in February of 2014, students and staff at Bedford Elementary School in Pikesville, MD celebrated the opening of their brand new Candyland-themed reading room.  Thanks to the Beverly K. and Jerome M. Fine Foundation, the room is a bright and colorful oasis where students can read books surrounded by pictures of sweet treats.
During the 2016-2017 school year, students recorded about 27,000 minutes of reading in the reading room.  Since the room first opened, more books and furniture have been added to continue to entice young readers to visit the room.  Students love being able to read books of their choice for enjoyment while visiting the reading room. One student stated that he likes the reading room because it provides a space for him to sit quietly and read.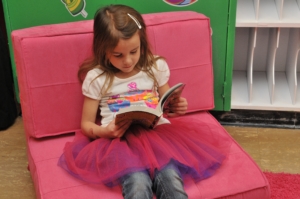 School staff members are also grateful for the reading room, and have seen notable impacts within the school community since the room opened.  "The Carson [Reading] Room has been a great addition to our school and a wonderful reading resource for our students," shared reading specialist Tonia Roberts.  Staff members have also noticed an increased desire among students to read and improvements in behavior so that they are able to visit the reading room.
Fast Facts:
Enrollment: 320 students
Average number of students visiting the reading room per day: 15 students
Average length of visit to the reading room: 20 minutes
Frequency of visits: Multiple times per day
Most popularly selected books: Diary of a Wimpy Kid, Harry Potter, and Bones
Fun fact: The reading room at Bedford is home to over 2,000 books!