In Reading Rooms on June 6, 2018 - 2:43 pm
Reading Room Spotlight: Belle Glade Elementary School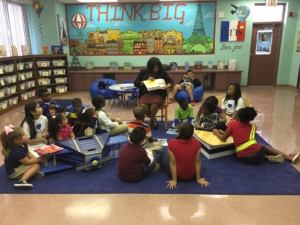 Thanks to the Palm Beach County Chapter of the CSF, Belle Glade Elementary school opened their reading room in November 2016.  Belle Glade selected a transportation theme for their reading room designed to remind students of all of the places they're able to go.  Students who visit the reading room have unique options for where they can sit with a good book and travel off to faraway places: a boat, a plane, and even a hot air balloon!
Belle Glade's reading room transcends generations and appeals not only to children, but their parents as well.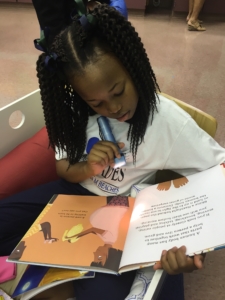 Throughout the school year, the room is open to parents who are taking Rosetta Stone classes to learn other languages.  Future plans for the room include hosting a reading night where parents and children can visit the room to read to one another.
Students love the atmosphere of the reading room and enjoy choosing from a variety of popular reads,  especially the Flashlight books. M. Adelle Sumner, assistant principal at Belle Glade Elementary, says that the students are just as eager to visit the room today as they were the day that it opened. "The Ben Carson Reading Room is their favorite room in the whole school. All the worries in the world are left at the door!"
Fast Facts:
Enrollment: 757 students
Average number of students visiting the reading room per day: 100 students
Average length of visit to the reading room: 30 minutes
Frequency of visits: Multiple times per day
Most popularly selected books: Shine a Light books