In Reading Rooms on February 1, 2018 - 2:07 pm
Reading Room Spotlight: Bonsall West Elementary School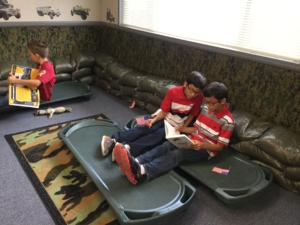 Bonsall West's reading room, sponsored by Mr. John Kendall, opened in April 2016. The school, located in Oceanside, CA, is outside of Camp Pendleton, the U.S. Marine Corps Base. Being so close to the military base, it was only fitting for the reading room to have a military theme. One of the most special things about the room is the photo collage of current and past military heroes in Bonsall West students' and staff's families. The reading room at Bonsall West is open throughout the day so that students have many opportunities to visit during recess, lunch and before school.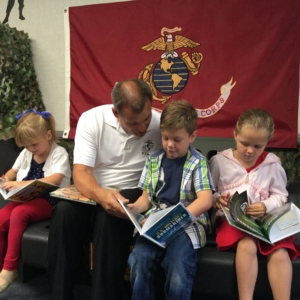 Volunteers also utilize the room to tutor struggling readers in small groups and through one-on-one reading sessions. Students like that the books in the reading room are different from those kept in the school library, especially the interactive science books. They also like that when they select a book to read in the reading room, there is no pressure to take tests to measure their reading skills.
"I think it's fun because you can just go there and read if you don't want to play outside or do running club. There's always a book in there and it's fun to go in there and read." -Wyatt T., Bonsall West student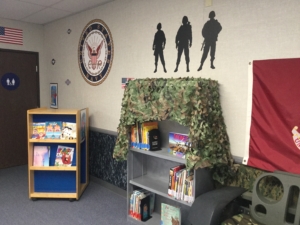 "I think it's a place that's very nice, quiet and instead of chairs, like a library, there are other fun things to sit on while reading." – Alice H., Bonsall West student
Educators at Bonsall West have witnessed a positive impact on the school environment and in student and family attitudes toward reading as a result of the reading room. School staff members attribute students' increased interest in non-fiction books to the reading room. "Just watching the children quietly interacting over a picture, quote, or puzzle in a book or magazine is so rewarding…since the Ben Carson Reading Room has been open, I have seen children who weren't comfortable sitting and reading a book transform into children who can't wait to discover the wonders that a book can unfold," shared Jane Hodges, teacher and reading room coordinator.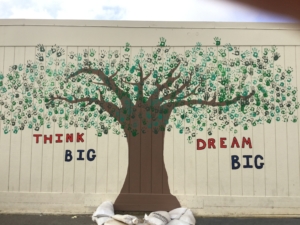 Fast Facts:
Enrollment: 557 students
Average number of students visiting the reading room per week: approximately 523 students
Average length of visit to the reading room: 15-30 minutes per student
Number of minutes read in the 2016-2017 school year: 98,280 minutes!
Most popularly selected books: MindBenders, The Action Bible, and Bazoof and Ask magazines