In Reading Rooms on January 2, 2018 - 10:17 am
Reading Room Spotlight: Havre de Grace Elementary School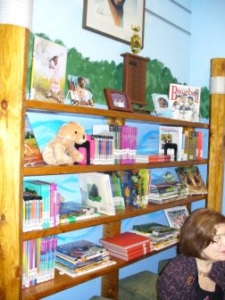 Thanks to a generous donation from Stack & Store, Havre de Grace Elementary was able to open their very own reading room in June of 2006. Reflecting on their waterfront community, the reading room chose a bay theme which features a wooden pier that runs the full length of one wall, complete with marine varnish and marine-rope encircled posts. This unique feature is just the perfect height for students to lounge on with a book, and was built by one of the parents! Above the pier, a hand-painted mural (the work of the art teacher) visually takes you out to sea. The comfortable bean-bag chairs rest on sand-covered carpet, edged with sea-blue carpet to represent the water! Besides stuffed and carved replicas of sea creatures, they even have a glass wall-fountain with the state bird (heron) and continuously piped-in relaxing sounds of waves.
Now in its 11th year, Havre de Grace's reading room continues to thrive thanks to an additional donation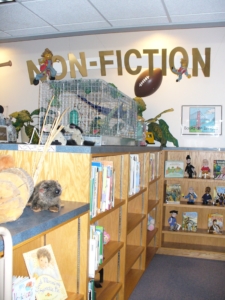 from the Friedman Foundation. In 2017, about 175,500 minutes were dedicated to the reading room with 45 students reading at least 30 minutes daily. Students love to visit the room and when positive behavior is achieved, students are rewarded extra time to stay. Ann Muir, reading room coordinator, hopes that in the future, there will be more time for students to enjoy reading, more guest readers (especially around the holidays), and having an intermediate parent/child reading group to meet weekly.
A second grader said, "I just love it when my class gets to come to the reading room. I like to sit on the pier and read my book." While a third grader said, "There are so many books to choose from here. I can't wait to come back and read again!"
Fast Facts:
Enrollment: 469
Average number of students visiting the reading room per day: 43
Average length of visit to the reading room: 30 minutes
Frequency of visits:  Multiple times per day
Most popularly selected books: Diary of a Wimpy Kid, Dork Diaries, Guinness Book of World Record, and Ripley's Believe It or Not
Fun fact:  There's a bulletin board where the children can write a review of a book they have read and hang it on the board to encourage others to read the book. They enjoy being able to recommend a book to friends that may not be in their class.