In Reading Rooms on September 7, 2018 - 10:35 am
Reading Room Spotlight: J. Covington Elementary
Through the generosity of Advocate Christ Medical Center, J. Covington Elementary School opened their Ben Carson Reading Room on April 11, 2014 in Oak Lawn, IL. In the past four years since its inception, the jungle-themed reading room has been a beloved school addition by the students and staff of Covington.
Visitors to the room are greeted by a colorful jungle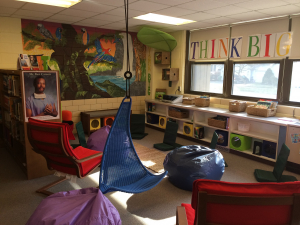 mural featuring a waterfall, a gorilla, a smiling alligator, and a pair of bright macaws in flight. Bookshelves teeming with books are surrounded with comfy bean-bag chairs and a royal blue wicker chair hung from the ceiling.
In addition to improved student behavior and leisure reading outside of school hours, the accession of the reading room has impacted the students' opinion of reading. "Students' opinion of reading is better," reported parent coordinator Amani Abbasi, who has seen a marked improvement in students' attitudes toward reading in the last four years. Among the accomplishments in the reading room this year are opening the reading room after school so that parents and students could use it together. It was such a success that the school has decided to continue next year and offer an additional night as well as hold family events in the reading room.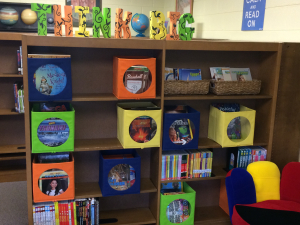 Fast Facts:
Enrollment: 445 students
Average number of students visiting the reading room per day: 15-20% of the student body
Average length of visit to the reading room: 20-30 minutes
Frequency of visits: 2-3 times per week
Fun fact: The reading room organizers developed a raffle-like drawing system for students to select from the variety of seating options. The oversized-baseball mitt chair and the hanging rattan chair are among the most coveted reading spots.