In Scholars on August 15, 2018 - 3:50 pm
Scholar Spotlight: Makenzie Greenwood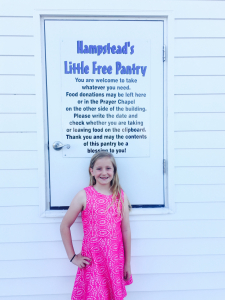 Taking a drive down Main Street in Hampstead, MD, you'll notice the makings of a charming small town: family-owned restaurants, auto shops, salons, and churches. Behind one particular church, Makenzie Greenwood is changing the lives of people in her community.
A two-time Carson Scholar and sixth grader at Shiloh Middle School, Makenzie crafted the plans for Hampstead's Little Free Pantry at the age of nine. Inspired by Little Free Libraries that are now staples in many neighborhoods, she began drafting proposals and rounding up helpers to make the pantry a reality. With the help of her church and a local scouting group, the Little Free Pantry opened in January 2017 and has since been accessed over 600 times by people both donating and taking food.
Makenzie's reason for opening the pantry is simple: "I thought it would be a nice way for me to help people in my community." The pantry, which requires no paperwork and is open 24/7, is stocked by members of the community with everything from non-perishable food to laundry detergent. Makenzie visits several times a week to organize donations and restock the shelves. While there, she is able to see the impact of her efforts through anonymous notes of gratitude left by those who utilize the pantry.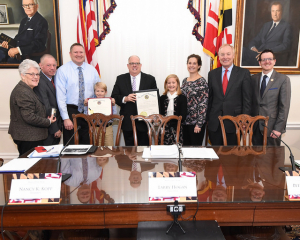 Makenzie is already looking towards the future of the Little Free Pantry with hopes of opening others around Maryland. Her work has not gone unnoticed, receiving a variety of honors including the Baltimore Orioles Birdland Hero Award, the William Donald Shaefer Helping People Award and a Governor's Citation by Governor Larry Hogan. Most recently, Makenzie received the WBFF FOX45 Pay It Forward Award, including a check that she plans to use to offer a grant to help other kids open pantries in their communities.
When she isn't checking on the pantry, Makenzie can be found volunteering for her school's Safety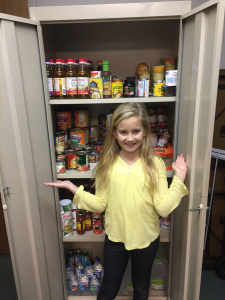 Patrol, practicing her clarinet and ukulele, and swimming for a local swim team. Each summer, she helps the Sea Turtle Preservation Society in Florida by taking stranded baby sea turtles to the facility so that they can be rehabilitated and released back into the wild. One day, she hopes to be a fourth grade social studies teacher.
Down the road, Makenzie plans to visit schools, churches and scouting groups to share her story and encourage other kids to start their own service projects in their neighborhoods.
"It is important to me that kids know that we can make a difference."
Interested in learning more? Follow Hampstead's Little Free Pantry on Facebook. 
Makenzie's scholarship is sponsored by The Kahlert Foundation.