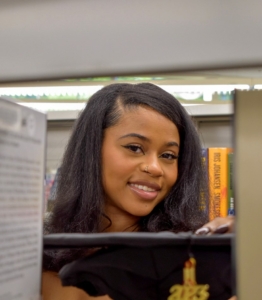 Amani is the new reading room coordinator at the Carson Scholars Fund and is excited to help children discover a love for reading. She is dedicated to bringing new ideas and creativity to the Ben Carson Reading Project and diligently working to establish more reading rooms across the country.
Our newest member has previous experience in the nonprofit world and finds great joy in working toward a cause greater than herself. In 2022, she interned as an assistant project manager at a nonprofit for six months, where she cultivated her project and event management skills. Recently, she graduated from the University of Maryland Global Campus (UMGC) in May 2023 with a bachelor of arts in Communication Studies. During her time as an undergrad student, Amani was employed as an administrative assistant for approximately three years. Currently, she is earning a master's of science in Strategic Communications at UMGC.
Outside of her professional life, Amani enjoys diving into the wonders of a good book. She found the joy of reading at a very young age when she realized books could take her just about anywhere she'd like to go, without having to physically travel. Much of her time now is spent finding niche bookstores that offer the latest novels and a good cup of coffee. As a book lover, she is honored to be part of the Ben Carson Reading Project.